From Bluejay to Wolf
An inside scoop on how Coach King is adjusting to ENHS
Elkhorn North welcomes new teacher, and head boy's basketball coach, Mr. King, to the brand new school with open arms and eagerness.
The transition process from Creighton Prep to Elkhorn North has been an overall good experience so far. Mr. King believes that it would've been easier if it wasn't because of COVID-19 because it added more of a challenge. Yet many teachers have been able to give a helping hand to King and aid him in his adjustment to ENHS.
From attending 4 years of high school at Prep and teaching there for 10 years, it became like a second home to King. He was ready for a change and ENHS gave him the perfect opportunity with becoming head coach for boys basketball. "Prep was super comfortable to me, I definitely miss a lot of the people," said King. 
Mr. King teaches Algebra 1, Algebra 2, and essential skills in algebra. "The best way to learn math is to do math, I'm big on self accountability," said King. He enjoys math the most and, to him, there is no better subject.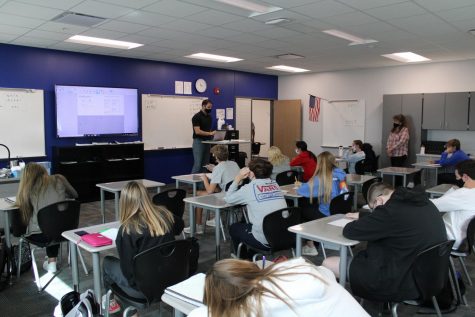 Many students have talked about how King is one of the best teachers for math. Tommy Meckna,  a freshman, said, "He keeps the class involved by making it interesting like with chapter reviews, those are really fun. He's not a scary guy so I'm comfortable asking questions and he's very helpful." 
Things change up a bit from his laid back persona in the classroom to his loud, fiery personality on the court. King started to lean more towards the idea of coaching in college. He learned a lot and was feeling inspired about coaching after playing for Coach Jimmy Tillette.
"He has since retired and I still talk to him to this day, he's the smartest basketball mind I've ever been around and learning a lot of the ins and outs of basketball through him at that level sort of sparked my interest in coaching even more," Mr. King said. He knew that after college he still wanted to be around basketball and the guys that came with it. 
Hearing great things about his coaching career so far, many people are looking forward to having Mr. King as the head coach. Luke Jungers, a basketball player from Prep, said, "What I liked most about Coach King was his relatability and his understanding of the game of basketball. Especially his ability to coach different people, different ways and to get everyone to play better. Elkhorn is lucky to have him."
Coach King has been playing basketball ever since he was two years old and shooting hoops with a fishers price hoop. He grew up playing the sport and later played D1 for 5 years in college. "College is much more like a full time job. A lot of time in high school you can get by, by being good and not putting in time. In college you have to put in time because everyone is as good or better than you and you're constantly proving yourself," King said about the difference between high school and college ball. 
With the fast approaching basketball season, King has been making the boys work. They've been in the gym since July lifting and conditioning until they were able to use basketballs. Coach King is heavy on skill development and works hard on shooting and ball handling. The team played in a summer league against opposing schools and are now doing the same for the fall to better prepare.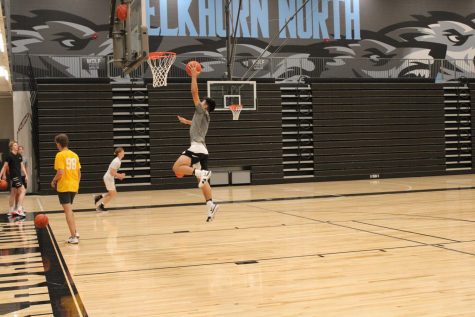 What Coach King is looking for in a player is someone who's unselfish and plays super hard with the skills that come with playing basketball, as well. He likes to play a fast pace game with 5 guys on the court who can dribble, shoot and pass the ball well. King is focusing on making the boys the best shooters possible. 
He's hoping to really develop the style of play for the program and to establish a good foundation. "I like him. He's doing really well starting out a program so far," Carson Ripley, a sophomore ENHS basketball player, said. His main goal is to better the team and make it to state, no matter their ranking. 
With the somewhat challenging transition to ENHS, King is looking forward to the season with great expectations. Fans are excited to see how the team does this year and to see Coach King in action. King is hoping to leave a mark on this season showing that Elkhorn North plays hard and confident.