Wolf of the Week: Makenzie Peter
Makenzie Peter shows her determination in school and swimming and is awarded Wolf of the Week.
Because of Makenzie Peter's outstanding performance throughout the season, she was fittingly nominated by her teammates for wolf of the week. 
"Perseverance is a big trait she shows. Even when she is injured or tired, she keeps working as hard as she can and keeps going no matter what. She is always so determined, and always strives for improvement," teammate Jenna Polking said.
Peter makes many great contributions to her team inside and outside of practice. She works hard to improve her times, so that she can do her best at her meets, and shave off time. The love she has for her sport is so inspiring.
"She is so encouraging to all of her teammates and just wants everyone to do their best," teammate Sadie Jacobson said.
Even though Peter is a sophomore, she is still a leader to her teammates. Besides the hard work she puts into improving her times, Peter is also great at showing her love and support to the other girls.
"She is so nice and welcoming to others. She is so humble and easy to talk to. She always works her best and all of these traits encourage other girls to do the same," Polking said.
Peter brings so much positive energy to the team, and makes sure all the girls feel like a valuable member of the team.
"Makenzie brings so much encouragement and helps others feel welcome and when I'm nervous about a race, she encourages and definitely helps me realize that it won't be that bad. She also is always motivated and encourages others by her motivation, determination, and hard work," Polking said.
Peter's teammates are so supportive of her by encouraging her during meets and cheering her on during her races.
"She has such an incredible gift from Lord Jesus and is really fast, showing He has strengthened her and carried her all the way," Polking said.
Leave a Comment
About the Contributor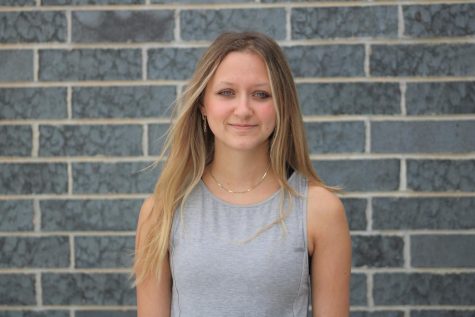 Ellie Kennington, Reporter
Ellie Kennington is a senior, it is her second year on staff and she is a reporter. Outside of school she works as a host at a restaurant and loves to shop.