Rescuing Man's Best Friend
The benefits and stories from those who have adopted furry friends from local shelters.
Dogs everywhere are looking for not only a place to call home in the cold winter months but also a companion to have, making adopting from a rescue a perfect solution.
Especially in recent years, getting puppies from breeders has been a trend, costing thousands of dollars and promoting the idea that dogs are only good if they are puppies or come from fancy breeders. This idea is incorrect and hurtful to the dogs in shelters, who are usually seen in a bad light. Many people in the area have adopted dogs from shelters to help to break this stigma.
"I have three dogs, that I adopted from the Nebraska Humane Society, Rocky, Dash, and Koko." science teacher Abby Sekle said. "They're all super, super loving. But they all have very different personalities."
Anyone who has had multiple pets before knows just how different two dogs can be from each other, especially if they are adopted because they have had different life experiences. 
Some families feel the need to save a dog and provide for them because others can't and some shelters euthanize dogs if they stay in the shelter for too long with anyone wanting to adopt them. 
"I am happy I got my dog from the animal shelter because dogs stay in kennels for a long time and deserve a loving home and a better situation than where they came from." Junior Kendall Grasmick said. "I have such a good bond with my dog now and I wouldn't be able to have it without the help of the shelters."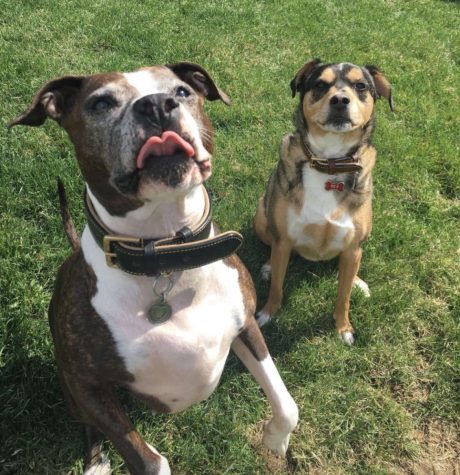 Most people who adopt their dogs from the shelter think about not only how they are helping the animals, but also how budget-friendly it is especially since breeders are charging up to thousands of dollars depending on the breed.
"My family got both of our dogs from a shelter because we felt like breeders were way overpriced and since we mainly wanted our dogs to be purebred, we knew that most breeders lie about things like that," sophomore Addi Rutter said. 
One major worry for most when adopting pets is how the dogs will act, especially because the negative connotation with rescued dogs is very objective and mainly comes from how they were treated in their old homes. 
"If you've got a dog who has been beaten or abused, they do have some trouble that you have to work past sometimes," Sekle said. 
Dogs who come from the shelter have many different backgrounds and amounts of time in the shelter, which is one reason why some owners make up stories about what their furry friends went through.
"I like to think that my dog Layla was alone in the animal shelter and from when she was a stray and is now thankful that she has a loving home," Grasmick said.
These dogs are not the ones who should suffer just because someone could not take care of them or had to surrender them.
"Even just looking at the Humane Society website, it just breaks your heart because these pets, no matter how mean people are to them, will always love you," Sekle said. "They're always good to us, and so if you can go and save a pet that has been abandoned, I would because they deserve to be loved just like how puppies and kittens are because they are so worthy of being loved and having a good life."