Club Update: Band
A brief on the three bands at ENHS led by Mr. Rom.
At Elkhorn North, Mr. Rom takes the role as band director for all three bands provided by the school. Jazz, show, and concert band all have distinct differences.
Jazz band plays primarily jazz music and attends competitions throughout the year. They are a decent sized group, but don't have enough members to split in two. Show band plays beats and background music for show choir to perform and uses music written by show choir directors. Both jazz and show bands meet before and after school. Concert band performs occasional concerts and has music written by band directors.
Junior Selah Halweg is a member of all three bands led by Mr. Rom at ENHS. She has been in band all three years of high school. Band is not just a leisure activity for Halweg. Much time and effort is put in to ensure performances go well.
"Band is really fun, it's a lot of hard work, you have to practice a lot," Halweg said.
Although band may seem hobby-like, it's just as time consuming and intricate as any other sport. One of the most attracting factors to the school band, besides playing music, is the community that evolves throughout the school year.
"It's like you are part of a giant family," Halweg said. "I am really glad I did band."
Band at ENHS can be described as any other sport, it's time-consuming, takes hard work, and practice is very important. The show band can be seen playing most Saturdays beginning in January for show choir, and the concert and jazz bands will have opportunities to showcase their skills at competitions through the rest of the school year. More dates will be specified after winter break!
Leave a Comment
About the Writer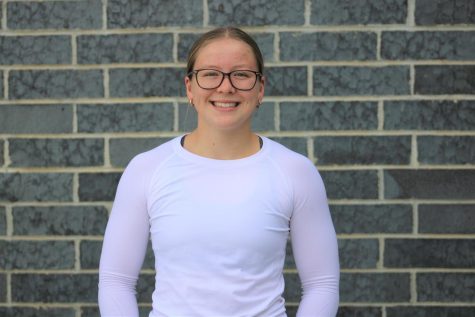 Cameron Mead, Reporter
Cameron Mead is a senior and this is her second year on staff. She likes to laugh and enjoys spending time with family.