Many high school students let their fear of embarrassment keep them from partaking in all the activities they have interest in, but not junior Jayse Munter. Munter is not afraid of others' opinions and is always willing to try new things.
Munter has been involved in nearly a dozen different school activities while also working a part-time job at Chipotle and playing club volleyball. At school, Munter is involved in bowling, golf, basketball, intramural volleyball and basketball, chess club, show choir, concert choir, the musical, and is the volleyball team manager.
With so much going on, many students would get stressed and overwhelmed, letting it affect their performance and mood, but Munter remains energetic and passionate.
"Jayse is always happy and never lets his schedule overwhelm him," junior Colin McMahon said. "He is always super excited to do whatever is next in an hour and a half and put his best work forward."
Munter is also enrolled in multiple AP and honors classes. He finds balance by choosing what is most important to him and deciding what must take priority in each moment. Most find it shocking that Munter is involved in so many extracurriculars and is still able to manage his school work.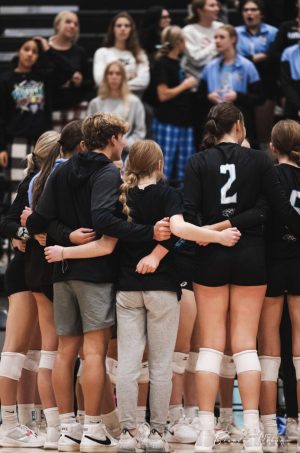 "It is a great thing to be involved in many different activities," teacher Wilkerson-Peterson said. "It is a lot of time and you have to organize your time wisely, but I am glad that Jayse is doing what makes him happy."
In his job at Chipotle, Munter holds the title of "grill master". He works around 12 hours each week, all in one shift because Sunday is the only day he has time to work with all his other commitments.
"I go in at about 7:30 or 8 in morning and I prepare the food for the day for the opening. I get all the food on the front line and get all the food for backups," Munter said. "During my whole shift I am constantly cooking meat, beans, and rice."
While Munter's Sundays are spent at work, his winter weekends are also filled with show choir. Most Saturdays, Munter competes with his AdrENaline teammates.
"Jayse has a solo during the costume change," show choir director Casey Allen said. "He comes out and has a super funny solo. We are doing whip it by Devo, but we changed all of the lyrics to ship it because our show is about mail. It is a crowd pleaser and his personality is able to come out."
Although Munter is a busy guy, he still manages to find time for his friends, known as the "Tux Boys".
"Jayse is a really funny guy, who is super easy to talk to and is a super close friend," junior Sam Thomas said. "Jayse might be super busy, but somehow he always finds a way to hangout with our friend group."
Munter is known for his outgoing personality and his desire to talk to all students. His involvement in many different activities has given him the opportunity to meet and befriend many different types of people.
"He has a perspective on almost everything," McMahon said. "He is friends with people in sports and theater and can see their views for both. This makes him a super well-rounded person."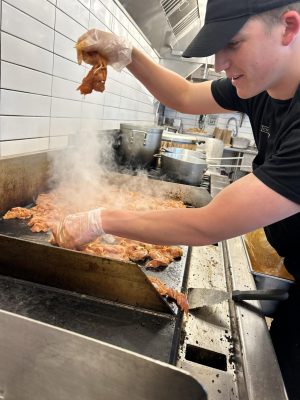 Munter's personality is contagious as he shows off his honest self. He participates in anything he is interested in and is not afraid of judgment from his peers.
"If you are busy, getting embarrassed about what you do and what others think of you and see you as, at the end of the day it is not that deep," Munter said. "You have to learn to mute them out and do what you have to do."
Despite being involved in a multitude of activities, Munter is always giving his best effort and performance at whatever he is involved in.
"Jayse is who he is," Allen said. "He is super proud of carrying the torch of being someone who is heavily involved in both sports and music. He is a great example to show that you can do anything and do it really well."