Adjusting to a New Career
Once a chiropractor, now a teacher, Dr. Dischler continues to share his skills.
In any classroom, students are counting down the minutes until they can leave. But some people, like Dr. Daniel Dischler, enjoy the time they spend at school.
With a passion and love for science, Dischler has taught anatomy, biology, and physical science for five years. However, his career in science started long before.
Dischler earned his bachelor's degree in Humanities in Medicine at UNL, and simultaneously worked towards his master's degree in Sports Science Rehab and a doctorate of chiropractic. After completing six and a half years of schooling, in 2011, Dischler graduated and began his career as a chiropractor.
He first practiced in a mobile clinic, contracting with automotive companies to help employees who work in the factory lines and experience pain because of their work. Workers that repeat the same action for eight hours a day are more likely to get get certain syndromes and experience the joints being used to wear out. While helping these patients to his best ability worked, the help his patients needed was outside of what his abilities were.
"It was great money, but the downside of it was that I was putting band aids on issues that they needed more help with," Dischler said. "I kind of fell out of it. I just really liked treating my patients and [did not like] having to charge them."
With a passion and heart to help others, Dischler realized that he needed to make a change within his career, and his extensive education allowed him to do more.
"My masters in sports science rehab is an academic degree," Dischler said. "I did that because I figured I would do some sort of teaching somewhere, I just was not sure the shape or form."
Dischler began his teaching career in 2017 by getting a certificate from the University of Omaha Nebraska through the Teacher Academy Project (TAP), and was able to start as a full time teacher in the fall of 2018 at Omaha Northwest High School.
Though TAP was a one year program, that does not mean it was not difficult. As a dad of two at the time, Dischler faced new challenges in school than the last time he was a student.
"There were nights where I would have to start at around 11:00 pm on school because I was doing dad stuff in the day," Dischler said. "I would [on those nights] be up all night long typing papers for school and then go to class without sleeping."
At first, he still practiced chiropractic on the side. In the end, practicing chiropractic and teaching became more of a hassle than it was worth to Dischler.
"I kept practicing because I liked treating my long time patients,"Dischler said. " It's also a lot more work trying to run a business and having a full time job; you continuously are splitting your mind into different areas."
Although Dischler only taught at Omaha Northwest Highschool for three years, he was able to gain experience and help people in a new way.
"It was a good experience that I wouldn't trade for anything and was really eye opening in some regards," Dischler said. "One thing I must say I do miss about North West is how accepting the students were of others no matter their background and how little bullying went on between students."
Dischler left after three years due to burn out and the stress that came with hybrid, in person and remote teaching.
In the fall of 2021, Dischler decided to switch schools, and join the staff of Elkhorn North High School teaching Physical Science and Biology. Science teacher Abby Sekle began the same year.
"Him [Dischler] and I are both team players, and we work well together," Sekle said. "He is very much a heart on his sleeve kind of person, you can tell that he cares. He will sit and listen to you if you need to talk about anything, and kids know that."
With a heart for his students and a real passion to teach, Dischler is valued by his students and they know they can talk to him. Senior Cameron Mead takes Dischler's anatomy class.
"He adds so much more information than what is on the slides," Mead said. "He always finds a way to keep us engaged."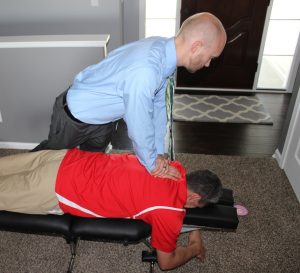 Thanks to his medical background and first-hand experience, Dischler adds valuable knowledge and a deeper understanding to his lessons.
Freshman Logan Thomas is in Dischler's physical science class, also enjoys having him as not only a teacher, but also a mentor.
"If I am stuck, he will come over and work through [it] step by step until I understand," Thomas said.
Dischler has a love for helping others and uses his past experiences to teach and give insightful advice.
"I am the kind of person who feels like I can do anything, if I put my mind to it," Dischler said. "The adaptability in my personality makes it [change] slightly easier."
While so many count down the minutes in life and avoid change, Dischler embraces each moment, and welcomes new opportunities.
"I am teaching now, but who knows where I will be in ten years," Dischler said.
Leave a Comment
Your donation will support the student journalists of Elkhorn North High School. Your contribution will allow us to purchase equipment and cover our annual website hosting costs.
About the Contributor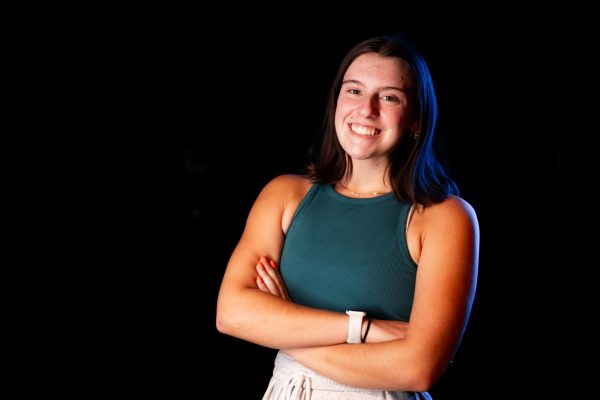 Courtney Hagestad, Editor
Courtney Hagestad is an editor for the North Howler, plays tennis, serves on the FCCLA State Officer Team, and loves to be with friends and family.