For the Good, Not the Glory
Cunningham shines through dedication to others and selfless leadership.
Senior year is full of stress and the fear of what's coming next. Many choose to take the easy road and only do what is required to graduate. In contrast, Meghan Cunningham chose to live every moment of her senior year to its fullest as she leads and exceeds all expectations.
Cunningham makes up an important part of many people's lives through her kindness, bubbly personality, and openness to others. Her reach extends through her classes, friendships, and extracurriculars.
"In my freshman year, all of my friends and I were super nervous about cross-country and summer running," sophomore Ella Ford said. "On the first day of practice, Meghan came in and talked to us and made us all feel welcomed."
Cunningham's goodness does not mean she hasn't faced her own challenges. Between her junior and senior years, Cunningham's running coach retired. This transition between coaches can be terrifying for athletes, especially for those about to wrap up their final high school season while still working on college recruitments.
"Going into your senior year with a new coach coming in, that's really tough," Cross country coach Jordan Fuglestad said. "Not many people would trust their coach right away, but Meghan bought into everything really early in the summer which helped everyone get on board."
As the connection between the team and coach, Cunningham stepped into a leadership role and took charge during the season, serving almost like a captain to the other runners.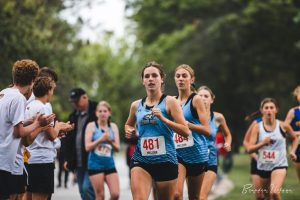 "She's a natural-born leader with a work ethic like no one else," Fuglestad said. "She works just as hard as the person next to her and then pushes it to another level."
Cunningham's perseverance and hard work allow her to excel in athletics and also in her role as the student council co-president.
As co-presidents, Cunningham and senior Wells Johnson have many responsibilities such as attending school board meetings, setting up fundraisers, and organizing school events. In January 2023, Cunningham and Johnson led the front in making a Winter Formal dance happen for the first time.
"They [Cunningham and Johnson] just took charge," Student council sponsor Teresa Vann said. "They wanted to bring back the dance that was at Elkhorn High in the past, and they truly just made it happen. They raised over $2000 in order to make the magic happen."
Serving the student body requires unique skills, which Cunningham exemplifies on both student council and on the newspaper editorial team. Cunningham runs the social media accounts for the North Howler and supports staff with feedback and logistics.
"Meghan is a one-of-a-kind kid," Newspaper adviser Chloe Healy said. "She is so full of empathy, encouragement, and authenticity. She puts thought, care, and intention into each assignment, responsibility, interaction, and conversation she is a part of. We couldn't even tell her we we're writing this because we knew she'd object. Meghan is the kid that deserves all the good attention yet wants none of it."
These character traits that make up who Cunningham is have been noticed not only by her teachers and classmates, but by her coaches as well.
"Meghan is the type of person trying to serve others," Fuglestad said. "She's always looking out for others before herself. She demonstrates what a true leader should be; she builds connections with people as opposed to just giving orders to someone else."
Throughout all the business and excitement that is senior year, Cunningham continues to leave a positive impact wherever she goes. She's the kind of leader who chooses to move all of the attention off of herself and instead shines it on others. Cunningham makes an active choice every single day to do and be her best for others while building them up to be their best as well.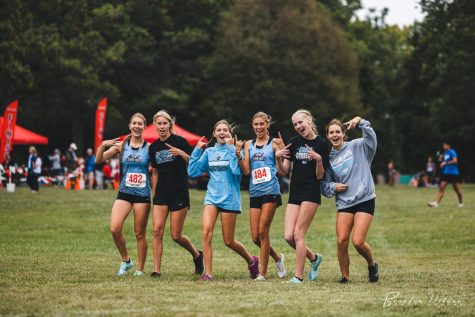 As one of her teammates, I have experienced Cunningham's kindness, generosity, and selflessness first hand, and it is truly something special. I know the team will feel her absence.
"I can't even begin to describe how much I am going to miss her when she graduates, she's one of my closest friends," Ford said. "I am going to miss everything about her. She is the most humble person I know. She's such a genuine and great person and I will miss our conversations and workouts together."
Leave a Comment
Your donation will support the student journalists of Elkhorn North High School. Your contribution will allow us to purchase equipment and cover our annual website hosting costs.
About the Contributor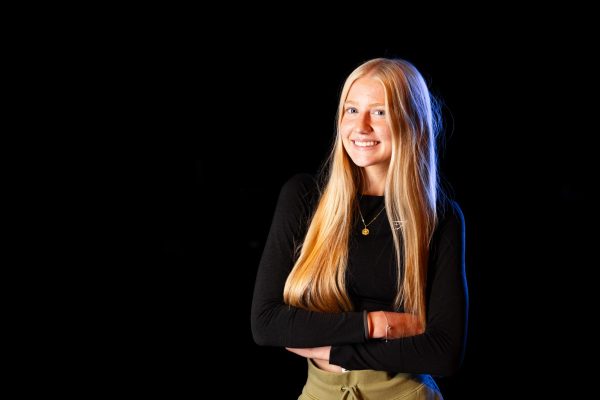 Kailey O'Brien, Content Editor
Kailey O'Brien is an editor on staff for her second year as part of the North Howler. Outside of newspaper, Kailey is involved in varsity cross country and track along with FCA and SADD.