The Rise of Colleen (WHO?)ver
Author Colleen Hoover's novels are the newest epidemic among youth.
Author Colleen Hoover's romance novels frequently appear on desk tops, taking over the minds and free time of teens all over the country.
Hoover's recent popularity comes from "#BookTok," a section of TikTok for avid readers to talk about and recommend novels in specific genres. In this realm, Hoover is referred to as "CoHo" and her work comes up again and again in video recommendations for Realistic Fiction, Romance, and Drama. Some of Hoover's novels written years ago are now resurfacing and gaining mass attention.
Now, I will admit it: I succumbed to the trend and read several Hoover novels this past summer. I was two chapters into Ugly Love when I realized her books were addicting. All of them have a sense of familiarity and what I would call a "Hoover twist." Each of the novels I read features a love story with a challenge the couple must overcome to be together.
#1 November 9
4.75 stars
Without giving too much away, November 9th features a desperate love story that can't seem to work out. Ben and Fallon meet each year on the same day each year, but for the other 364 days of the year they are thousands of miles apart. This continues for many years until a life changing secret is revealed to Fallon about Ben and she has a paramount decision to make. I picked up this book one morning and my mom could not pry it from my hands until that evening when I flipped to the last page.
I appreciate the different perspectives that are predominant in most of Hoover's work, and the mysterious flashback that I had no idea would be relevant till the very end. The book was oddly inspiring as it takes readers through a path of character development, forgiveness, and acceptance. I only took one point off because the storyline didn't seem to be overly realistic, though it was entertaining. I am a realist and the chance of falling in love over a single night, seeing each other once a year, and staying together during that duration is slim.
#2 Reminders of Him
4.25 stars
Reminders of Him is about a recently released inmate, Kenna, who is desperate to make her life right again. She is met wiath many obstacles, including facing the people whose lives she destroyed with the catastrophic mistake that landed her in jail. Much like other romance novels, Kenna meets a man in a bar, Ledger, and she later learns his connection to the night she cannot forget.
This novel was incredibly well written and struck emotions that I was not expecting while reading what I thought would be a tragic break-up story. I admit I assumed the content of this book solely from its title and I did not read the summary, whoops. I dropped 1.5 points because as a high school student, like many of her readers, it was a tad hard for me to relate to. The main characters were well into their 20s and a child is involved. Granted, Hoover still had me ugly-crying in the middle of the night because I felt lonely even thinking about Kenna's position in life.
#3 Verity
4 stars
Calling all lovers of mystery, evil, and plot twists, this book is for you! This is the outlier of the Hoover novels I have read. While it does feature a love story, it has a dark fear factor that makes the plot addicting. Verity is also one of her more mature books (to say the least). It features a young writer, Lowen, who was granted a once in a lifetime opportunity to finish writing a series for an established author who was in a tragic accident. All goes well until she meets the author's husband, a shell of a man who has experienced unimaginable pain and who has a quite attractive exterior.
I brought down Verity's ranking two points due to the slightly disturbing nature of the book. I appreciate mystery and tension, but this was intense for a relatively innocent mind. I found several of the chapters overly and unnecessarily provocative. Despite this complaint, I again found myself heavily invested in the different perspectives of the characters. The way it bounced back and forth until the final section when Hoover introduced the accident victim's view was almost a jumpscare. It was a completely unexpected turn, and the secrets revealed kept me thinking for days on end
#4 Ugly Love
3.5 star
It physically pains me to put my first Hoover novel second to last, but it had to be done. Ugly Love is again about a love story, but this time it is between a pilot with commitment issues and an independent nurse who falls for her brother's best friend. Hoover takes her readers through a complicated situationship that is supposed to remain simple, but both are in denial of their true feelings and baggage. This is one of the more lighthearted books in her repertoire, but it still strikes many emotions.
This one is ranked low compared to my top three because of how repetitive I found the plot. They would fight, make-up, reassure themselves they are "just friends," then repeat. I finished it to know how it ends, and it was easier to take breaks from this book than the others. This one would go really well for people who love chick-flicks or simple romance with slight complications and depressing backgrounds.
#5 It Ends With Us
2.5 stars
TW: Spoilers, Physical Abuse, and Sexual Abuse
Finally, what I am predicting to be my most controversial decision yet. It Ends with Us features a wealthy neurosurgeon (Ryle) and a florist's (Lily) toxicity throughout their relationship. It did not start out as toxic, but slowly grew into a repetitive pattern of abuse. Lily faces tough decisions and is burdened by the reappearance of her first love, Atlas.
I know many others found this book to be one of their top favorites, but I stand by dropping this book five points. I absolutely hated the ending; it implies Lily needs a man to be happy. It came down to a choice between Ryle and Atlas: an abusive man or a man she hasn't seen in over a decade. In reality, Lily could have healed herself alone and leaned on her best friend instead of a love interest. Despite my complaints, I do appreciate how Hoover refrained from romanticizing parental and partner abuse. I hope that Hoover will redeem the ending of It Ends with Us in the sequel..
EXTRA! EXTRA!
In October 2022, Hoover released the sequel to It Ends With Us called It Starts With Us. It is also featuring Lily, Atlas, and Ryle; but this time with a child and Lily's complicated love life with baggage and history.
I will say I enjoyed It Starts With Us at least 10x more than its predecessor because it made it easier for me to enjoy the Atlas storyline. In the original book Atlas's plot felt very forced, but Hoover's new novel gives a more detailed love journey that makes Lily's feelings more understandable. If you've already taken the time to read It Ends With Us I would highly recommend taking a few hours to binge It Starts With Us.
In Conclusion…
While I definitely enjoyed some of Hoover's books more than others, there isn't a single one I would not recommend to readers who enjoy a slightly cringy love story with dramatic twists and slightly toxic patterns. Colleen Hoover is well deserving of her recent fame on TikTok and increase in book sales. She has received many credible honors and awards for her work in years past with the novels Confess, It Ends with Us, and Without Merit.
Ultimately if any of these reviews striked some interest I would highly suggest you give one of these books a read. I truly do not believe you would regret it, and everyone can benefit from a steamy romance novel every once in a while.
Leave a Comment
About the Contributor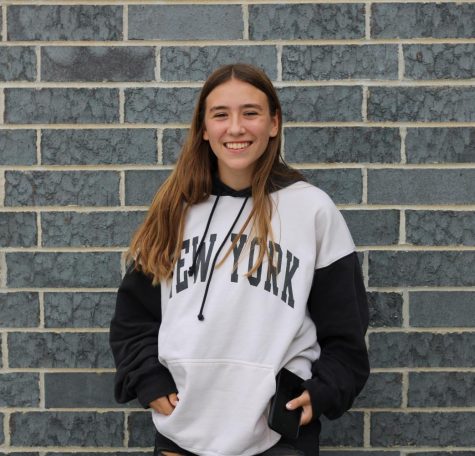 Mallory Ringenberg, Content Editor
Mallory Ringenberg is a junior on staff who serves as a Content Editor. She participates in many school activities such as soccer, Student Council, and FCCLA.