Taylor Swift Fans Not So Swift
Fans turn into detectives investigating the artist's clues and hidden messages.

Taylor Swift is one of the most successful artists of all time; yes, her music is catchy and she puts on a great show, but there is a deeper reason behind the fame she has acquired since her debut in 2006.
With such regular release of music and content, Swift has found ways to keep her fans on their toes when predicting what's to come for her musical career. She does this through using hidden clues and cryptic messages.
These so-called "easter eggs" have allowed Swift to maintain her spotlight even after a decade of music release. They create suspense and excitement for her fans, forcing them to pay more attention to things she posts and solve puzzles in hopes of predicting what's next.
Recent instances of these "easter eggs" in Swift's music can be found on almost every single one of her platforms: things she says in TikTok posts, music video scenes and props, and even lyrics off her recent album, Midnights.
Sophomore Lydia Pruch, one of Elkhorn North's many avid Swift fans, believes Swift plans out every little thing she posts or does ahead of time, and nothing at all is a coincidence.
"There were so many clues in the new Bejeweled music video that I just couldn't catch them all," Pruch said. "In the dialogue in the beginning she says "Speak Not", and there's no way that's just something a person would say without it meaning something."
Pruch and many others believe the words "Speak Not" may be Swift hinting at her possible next album rerecording. Small hints like this snuck into the dialogue in a music video often hold deeper meaning, leading Swift's fans to pick apart everything she releases in attempts to find anything at all that could be a clue.
These hints have just recently gained major fan attention, but Swift has been crafting them for the entirety of her career.
"An old-school one that she used to do was capitalize random letters in things she wrote," English teacher Amanda Hayworth said. "I had the album CD booklets when I was little and would always try to figure out what the words meant."
This tactic has carried Swift incredibly far in the past few years. Midnights, her most recent album, broke the record for most streamed album in a day. This album was also the one in which she used the most easter eggs to promote it.
"I think it's definitely for fan interaction," Hayworth said. It's a smart marketing move because she's a really good businesswoman."
Hayworth isn't the only fan who believes Swift has a motive behind her clues.
"I think she does this to keep everybody engaged. Once a woman hits 30 she kind of fizzles off music-wise, but Taylor Swift hasn't and she's still going strong," Pruch said. "I think it's because of her engaging her fans with what she's planning on doing and creatively setting everything up."
Swift's influence has resulted in other artists embedding their own cryptic messages. For example, Harry Styles mirrors one of his One Direction songs titled "If I Could Fly" by using the lyric "I would fly to you" in his new album, Harry's House.
"Nobody else really does it like her," senior Ava Hearty said. "She does it for her and her fans."
Though current clues have led fans to predict Swift's next album rerecording will be Speak Now, nobody really knows what will come next in her career. All her fans can be sure of is that they will be kept on their toes, putting pieces together in hopes that they can uncover any hidden messages they can find.
"I don't know what's coming next for Taylor," Hearty said. "She's just crazy and unpredictable."
Leave a Comment
About the Contributor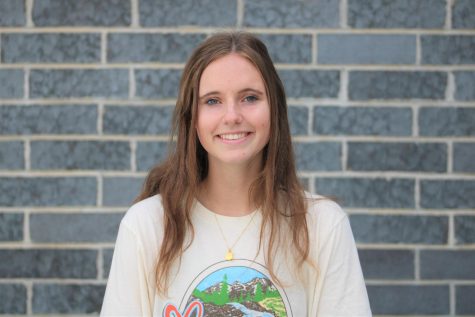 Meghan Cunningham, Content Editor
Meghan Cunningham is a senior and an editor on staff. Outside of newspaper, she is involved in XC, track, student council, and SADD. She likes to be with friends and listen to music.