Draft Discussion
Caleb and Mason give their takes surrounding the 2023 NFL draft
Over 300,000 people crowded Union Station in Kansas City, Missouri to watch maybe the most eventful NFL draft in recent memory. From blockbuster trades to exciting draft picks, the 2023 NFL Draft did not disappoint. With that being said, Caleb Polking and Mason Salisbury are here to give their thoughts on the best front office performances, the biggest disappointments, the surprises, and many more.
Biggest First Round Surprise
Caleb: There were a host of surprises in the first round. Anthony Richardson being taken at pick number four was certainly not on the radar of many. The consensus from the majority of scouts and draft analysts was that Richardson was full of raw talent but needed to prime his skill set. Ultimately, though, this pick wasn't terribly surprising for me as the Colts needed a quarterback desperately. The Matt Ryan-Sam Ehlinger combination in 2022 was abysmal. In my opinion, the biggest surprise was the Detroit Lions taking Alabama running back Jahmyr Gibbs at pick number 12. It's rare to see a running back taken in the first round, and the Lions had already shored up their running back corps with the addition of David Montgomery in the off-season. The trading of D'Andre Swift to the Eagles makes this pick a bit more clear but still, the Lions left solid edge rushers and offensive tackles on the board to draft one of the least valuable positions. We'll see how it turns out. 
Mason: One of the more surprising first rounds in recent history included a ton of unique and questionable picks, but also players who were slept on and fell a lot more than their expected draft positions. Starting off, I thought Jalen Carter falling to number 9 was one of the best picks of the draft. While Carter may have off the field issues he was arguably the best player in this entire draft class. The Eagles, who already had a dominant line on both sides of the ball, upgraded exponentially and possibly have built one of the best teams in the entire NFL with their two first round draft picks in Jalen Carter and Nolan Smith, who is a linebacker also from Georgia. Next is one of the more questionable picks I saw in the first round, and that was Will McDonald IV from Iowa State. Don't get me wrong he had an okay year for the Cyclones but there are many better options to pick at this position from better programs around the nation. I'm not saying McDonald is going to have a bad career but at number fifteen that seems like a stretch for someone of his caliber.
Best Front Office Performance
Caleb: There were a few teams that excelled better than most in this year's draft. Many would, initially, say that the Houston Texans had the best draft of any team. The Texans got their immediate starting quarterback in C.J. Stroud and traded up to select future all-pro Will Anderson. However, I'm going to give this title to the Seattle Seahawks. Pete Carroll's playoff team from 2022-23 had a fantastic draft as Seattle selected the best defensive back in the draft class in Devon Witherspoon from Illinois. The Seahawks were also able to build around Geno Smith by getting a steal, selecting the field's best wide receiver, Ohio State's Jaxon Smith-Njigba, at pick number 20. I think Seattle also had one of the more underrated picks in the draft by taking UCLA running back Zach Charbonnet who will be a nice backfield complement to Kenneth Walker. Overall, the Seahawks did an outstanding job acquiring the right pieces to fit into what is already a very talented roster. 
Mason: I thought there were multiple teams who had a fantastic draft, but it's hard to overlook the Eagles once again. The Eagles coming off a historic season once again have retained their status of having one of the best defenses in the NFL, by drafting Carter, and Smith. At this point the Eagles pretty much have a triple A team like baseball and that is the Georgia Bulldogs. In the 4th round of the draft the Eagles selected Kelee Ringo who was a standout cornerback from you guessed it, Georgia. Caleb already discussed it, but it's hard to overlook the outstanding job that the Seattle Seahawks did with setting up their future. Being able to draft the best overall cornerback in the draft, and then being able to get the best wide receiver in the draft shows truly how successful their front office was this year.
Most Disappointing Team:
Caleb: This one is going to have to be the Denver Broncos. The Broncos hit a major home run with the hiring of Sean Payton as the new head coach, but they needed a successful draft as well. That didn't happen. The selection of Oklahoma receiver Marvin Mims was a head-scratcher as it never felt like receiver was a major concern last year. Denver could have used this second round pick to shore up its offensive line or secondary, two units that significantly struggled last season. The Broncos only took one defensive back in Iowa's Riley Moss who will be solid, but it would have been nice to take one more. Ultimately, the Broncos added some high-end talent, but it feels like there were some huge missed opportunities here. 
Mason: There were a few teams that came to mind when thinking about awful draft selections. Personally I think the Bills had an unsuccessful draft. With their first selection they took Dalton Kincaid, but he was argued to not even be the best prospect at his position. And on top of that there were no other tight ends selected in the first round. What really made this selection confusing is how Dawson Knox is still on the Bills roster. Looking at the Bills' later draft selections, they didn't take any big play-makers that can make a significant difference immediately. If the Bills would have traded up or selected a running back to complement the big play-makers on offense their draft would have been a totally different story. 
Biggest Steal in the Draft:
Caleb: The Philadelphia Eagles selecting Georgia defensive tackle Jalen Carter at round one, pick number nine is, in my opinion, the biggest steal in the draft and it isn't particularly close. Most scouts and draft analysts agreed that Carter was the best player in this year's draft class and wouldn't fall past the first three picks. Some off the field issues have plagued Jalen Carter this off-season which partially explains why he fell so far, but the Eagles hit the jackpot by taking him at pick number nine. He will be part of one of the NFL's best defensive lines and line up alongside Haason Reddick, Josh Sweat, and Fletcher Cox. The Eagles have to be exuberant about this selection. 
Mason: I agree with Caleb that Carter was a fantastic pick at that position but I'll switch it up and say BIjan Robinson was the best pick in this draft. The Falcons have not been relevant since prime Julio Jones, and Robinson might be the young play-maker they have been looking for. The Falcons have been setting up their future beautifully as they now have a young all around core that will only get better together. While I am not a fan of taking running backs this year in the draft at the Falcons' position at number 8, it seemed like a must to get the best player at his position by a long shot, I think overall it was a great selection. The Falcons' future is bright and with adding Robinson to this young explosive team, in 3-5 years they will be a playoff contender.
Biggest Trade:
Caleb: Although this trade wasn't actually on draft night, I'm still going to call it the biggest trade that occurred. It's the trade that happened back in March between the Chicago Bears and the Carolina Panthers which paved the way for Carolina to select Alabama quarterback Bryce Young at pick number one overall. This was certainly a gamble from the Panthers. They gave up two first round picks, second round picks in 2023 and 2025, and star receiver D.J. Moore in return for solely the number one overall pick to select who they hope to be their franchise quarterback in Young. I predicted that something of this sort would occur next year when Caleb Williams is in the draft, who most agree to be even better than Bryce Young, but it is clear that Carolina is ready now. Its roster is shaping up to be solid through and through, and the addition of a competent quarterback in Young plus playing in a bad division could give Carolina the boost to be a playoff team this year. On the Chicago side of things, this trade was a 10/10 as the Bears essentially didn't give up anything by losing the number one overall pick and they were still able to draft an offensive tackle in Darnell Wright. On top of that, Chicago acquired D.J. Moore, who will be a fantastic offensive threat for Justin Fields. 
Mason: This year was different than others as there were a decent amount of trades within the top 10 and throughout the entire draft. I think the Texans trading up to 3 and selecting Will Anderson was a great move on their part and gives them a little bit of hope for their future. If the Texans can obtain some more offensive play-makers to surround C.J. Stroud this Texans team might just have some hope for their future. We know their defense will keep them competitive as they got, once again, arguably the best defensive player in this draft. It's tough to say who will have a better career between Carter and Anderson, but many scouts and other analysts indicated that without Carter's off field issues, he could have been a top 3 pick in this draft. Out of all the trades within this draft I think the Texans moving up to 3 will benefit their future the most out of all the teams in this draft class.
Leave a Comment
About the Contributors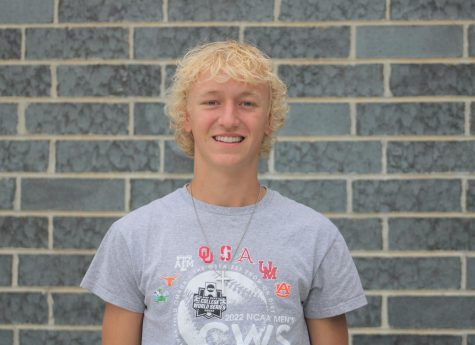 Caleb Polking, Sports Editor
Caleb Polking is a senior in his third year on staff. He's a STRIV guy and helps run the Howler's sports scene. He also loves to jump on desks and put peanut butter in the ceiling.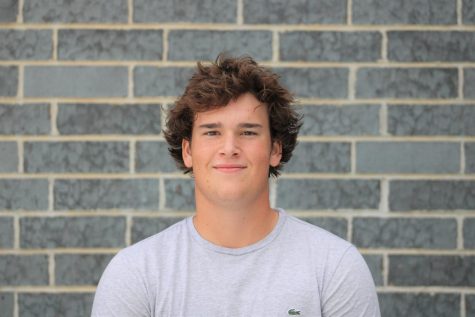 Mason Salisbury, Reporter
This is Mason Salisbury's second year on staff. Outside of newspaper, Mason plays golf for Elkhorn North.