Fall Fun: COVID Edition
A look into what popular fall activities will be like this year.
The fall season is always filled with many different activities that people look forward to all-year-round, but with the pandemic this year, the season is slightly altered.
 Especially in Omaha, there is always so much to do; pumpkin patches, haunted houses, festivals, and much more. One of the most popular Autumn attractions, Vala's Pumpkin Patch, draws in hundreds of thousands of people each season. The food, animals, corn maze, apple and pumpkin picking, and hundreds of activities allow for people of all sorts of ages to enjoy their time at the 400+ acre pumpkin patch.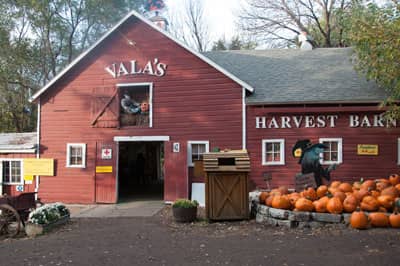 With COVID-19, Vala's, like many other establishments, has had to put mandates and rules in place in order to stop the spread. According to the website, masks are not mandatory when outside but indoors, guests above 5 years old are required to wear them. 
With the large space that the establishment contains, it is very easy to use social distancing skills, while still continuing to have a fun time.  
Vala's also has a "cashless policy" in which they only take cards throughout the entire facility. If customers only have cash, they do offer an option to buy gift cards to use within the pumpkin patch. Along with hand sanitizer and handwashing stations being everywhere for guest's convenience, buildings at the establishment have limits to the number of people allowed in at a time.
Although there are many changes to the fall favorite, Vala's was just as fun and exciting as any other year. Though there are risks to visiting any public place, the pumpkin patch has many protocols to keep guests safe. If you are willing to risk possible contact with the virus, Vala's remains a great place to go this fall. 
If you are not willing to take the risk but you do want the iconic Vala's food items, they are offering a curbside delivery on some dates. 
If you plan on going to Vala's during this year's season, you should expect it to be much different than any other year. No matter the changes in store this fall season, you should still expect to have a great time during the best time of the year.
Straying away from the age-inclusive fun of Vala's, one of the most popular scary attractions in Omaha, Scary Acres opened up this season despite many others remaining closed. One particular haunted house that chose to keep their doors closed this season is Mystery Manor, which would have been in its 37th season.

Similar to Vala's, masks are not required, unless in an appropriate situation. There are a handful of visitors who wore masks, but the majority of guests do not wear a mask. 
Unlike Vala's, Scary Acres has a limited amount of COVID-19 safety protocols. According to the website, masks should be worn when appropriate, guests should distance themselves, and enjoy the outdoors. 
In some people's opinions, the haunted houses are mostly the same every year, but the website says that there are renovations annually. Like Vala's Pumpkin Patch, Scary Acres never seems to disappoint. 
Although this year is extremely different in most aspects, the fall season will still go on and be one of the best seasons, like every year. The season may be different when it comes to wearing masks and social distancing, but people can still choose to participate in fall activities such as going to Vala's or Scary Acres.