Cactus Jack & Mickey D's
Travis Scott and McDonald's collaboration take the fast food industry and pop culture by storm.
Jacques Webster II, more famously known as Travis Scott or Cactus Jack, had a collaboration with McDonalds where they sell the new Travis Scott Meal, clothing and other accessories. The new collaboration has taken the fast food industry by storm so much that some locations sold out of the burger. 
The beginning of September was when rumors of Travis Scott and McDonalds having a collaboration first began. Pictures of happy meal boxes, toys, and clothing were all around the internet. A couple days later on September 3rd, McDonalds confirmed the rumors and announced that the Travis Scott meal would premier on September 8th. The last celebrity to have a meal with McDonalds was basketball star, Michael Jordan, in 1992. As a high demand came for the $6 Travis Scott meal, so did the memes. 
A trend surfaced on the internet where one would go through the drive-thru and blast the song "Sicko Mode" by Travis Scott to get the meal. The burger also got its own nickname called the "Travy Patty". Although the drive-thru trend seemed like a harmless joke, workers expressed their hatred towards it. 
"Being in the kitchen and hearing the orders was a lot. It just got annoying hearing 'Sicko Mode' every few minutes," 9th grader, Jeriah Station, said. 
Despite the trend annoying the workers, they got their own perks from the collaboration. All workers got a "Cactus Jack Crew" shirt that had the McDonald's golden arches logo and the beloved Cactus Jack Logo right underneath the golden M. Many workers have been selling this shirt because of how trendy Travis Scott has been. An authentic shirt can go up to $650. " I got one of the Cactus Jack Crew shirts, but I sold it for $150," junior Elijah McKing said.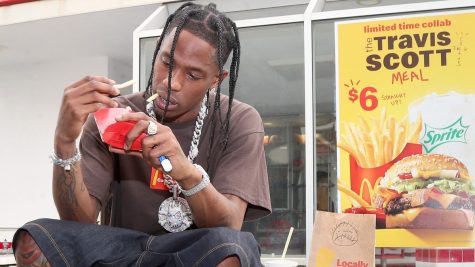 The meal itself got very mixed reviews, people either loved it or kind of liked it; there were not many people who actually hated the burger. The Travis Scott burger was a double quarter pounder with cheese and a twist of bacon and lettuce. The meal included a sprite, fries, and sides of McDonald's "Tangy BBQ" sauce to dip your fries in. A good amount of people really enjoyed the meal and praised it. "I tried it with my friend, Joe Norman, and I would give it a 10/10," Sophomore Luke Hunsberger said. 
On the other hand, many people only thought the burger was okay. The main criticism was that it was just overhyped when in reality it was just a double quarter pounder with some extras on it.  "I had it to see what all the hype was about and to be honest I think it was overhyped. I give it a 7/10," 9th grader, Tommy Meckna, said. 
The meal was inspired by what Travis Scott always ordered as a kid growing up. Scott explained how bacon was one of his first favorite foods and how he loved the double quarter pounder. This caused him to add two things together to make his beloved childhood order. "I like the culture of how big Travis Scott is mainly and how this meal is one of his favorite things from his childhood," Station said.
Travis Scott and McDonald's both shook the world, as McDonalds always has been high in the fast food industry and as Travis Scott is on the rise in the rap game. It is obvious how both are so influential in the culture of today's world and society. It'll be exciting to see what both do in the future whether it be together or individually.