Leaving Home for a New One
Athletic Director Luke Ford left Elkhorn High to be one of the founders of brand new Elkhorn North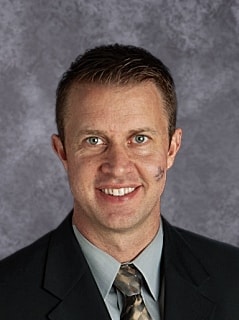 16 years of teaching and administration, coaching, and now three different schools, has been the story for Elkhorn North Athletic Director Luke Ford. 
Ford recently made the transition from assistant principal to athletic director when he made the switch from Elkhorn High to Elkhorn North. 11 years as an assistant principal for Elkhorn High meant leaving behind long-time friends and the countless memories he had made throughout his duration there.
"The comparison that I've told people is that it was a lot like the feeling of when you're a kid and you're leaving home to go to college," Ford said when asked about his take on leaving Elkhorn High for the new school. "You're really excited about it, but yet you also didn't want to leave home. Elkhorn High felt like home and it was a family of teachers and students." Ford explained that he had a tough decision, but it was the perfect opportunity for him that he couldn't pass up. 
Ford has done a lot in just 16 years in the education field. He's been at three schools: Papio South for 5 years, Elkhorn for 11, and now Elkhorn North for its first year. He has taught history, coached basketball, been an assistant principal, and is now an athletic director. 
Going into college, Ford wanted to be a radiologist. However, he soon found out that the education and coaching path was more suitable for him. 
"I enjoyed athletics growing up, especially basketball, so it was a pivot at that time to know that to go into education and coach basketball was my dream," Ford said, "In all the classes I had taken, my favorite subject was social sciences, and I really wanted to coach. I love the athletic realm, the competition, the memories you make as an athlete, so that was what pushed me to pursue education."
Mr. Ford made a big change in his duties when moving from Elkhorn High to Elkhorn North. At Elkhorn, he was the assistant principal, meaning he was more involved in the academic side of things. However, he is now the athletic director of Elkhorn North meaning he is more involved in the athletic side of things. 
"I'm going to have my kids going to school here too, so I thought it would be the perfect opportunity to merge family life watching your kids play sports, and also going back to the reason I went into education in the first place was athletics so it was just a perfect scenario," Ford said.
Mr. Ford had a tough time leaving the people he considered family behind at Elkhorn High, but he loves what he is doing at Elkhorn North and is very excited for all the opportunities that lay ahead. 
"When you watch a coach interacting with kids in the competition arena, whatever sport it may be, I feel like it brings out the best in everybody," Ford said. "It brings out the best in the coach, the athlete, and some of the best memories from my high school career were made in those situations."
When asked what Ford has learned from his career in education, he said "I think in anything that you do, you need to be able to communicate very well. Face to face communication is crucial, so no matter what field you are going into, you need to be able to communicate."
Obviously, transitioning from one school for the next is a hard task, especially for a teacher. Ford has had an even harder feat as he has changed his job as well moving from Elkhorn to Elkhorn North.
"It's been a little overwhelming, and creating athletic schedules was difficult," Ford said. "Most schools already have their schedules laid out for them, but we had to start from scratch." Ford had a tough task for him but he has also had a lot of fun as well.
 "Hiring the coaches was amazing. To go through all those interviews and listen to people articulate their excitement for starting a new program and building traditions was a great experience. Everybody in the coaching staff is on the same page and wants the same thing."
Ford has been very happy with the new opportunity he has been given, and while he does miss Elkhorn High, his excitement for Elkhorn North outweighs that. 
"The most challenging thing has been the most fun thing. Starting everything from scratch, ordering all the equipment, getting everyone situated, and really building the foundation of Elkhorn North sports has been a great deal for everyone," Ford said.