Hear the Wolves Howl
A look into the show choir season at ENHS
As the Elkhorn North show choir team prepares for their first-ever season, they are dealing with new COVID protocols, creating bonds, and building a foundation for the next generation. 
In order to have a season this year, the Elkhorn North show choir rehearsals must take into account new health and safety protocols. During rehearsals, the show choir can sing in one room for thirty minutes with masks on, while staying six feet apart. There is no competitive season this year, this means that no Elkhorn Show Choirs will attend or host any competitions. Many are hopeful that they'll be able to perform in front of family and friends.
"After discussing this with directors in the Omaha Metro/Nebraska, and throughout the Midwest, there is a growing consensus that hosting or attending competitions during this current climate would not be in the best interest of our students or our program. To that end, most competitions in the Midwest have already been cancelled. We remain hopeful that, should conditions allow, we can participate in collaborative events with other schools to give our students the performance opportunities they deserve," Director, Rachel Simmons said.
Rehearsals are about two hours long. During these two hours, the show choir starts rehearsals with a group warm-up. After warm-ups, the show choir alternates between vocals and choreography every thirty minutes. They also incorporate some form of bonding activities with designated members in a group to get to know group members better.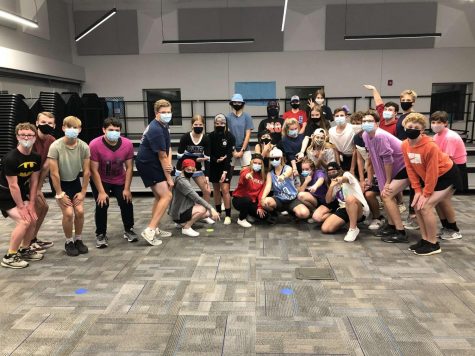 Due to the big split between the schools, Elkhorn North's show choir is smaller and has no seniors compared to Elkhorn High's.  Many of the previous show choir members miss the traditions and the friendships made at Elkhorn High. 
"Elkhorn High had such a big reputation and was able to go to big-time competitions when we had them. At North, that's not the case. If we had competitions, it would be more of the smaller ones because we are such a new school. We also don't have seniors, which is always upsetting, " Sophomore, Emily Miller said.
"The thing that I missed most about Elkhorn High's show choir was performing with the other Exhilaration girls. We always had so much fun getting on stage and performing together," Sophomore, Mia Steiger said. 
Many of the students that participate in show choir enjoy every aspect of performing and building new bonds along the way.  "I love everything about show choir. The dancing and singing is a challenge when you do it at the same time, but it's so fun to see it all come together. I love the family that forms through this group. We all get so close and everyone becomes best friends by the end of the season," Miller said.
"The students in show choir are so energetic and enthusiastic about the group and about show choir.  They are up for trying new things and open minded to others and they have so much fun during rehearsal but are able to buckle down when needed," Director, Rachel Simmons said.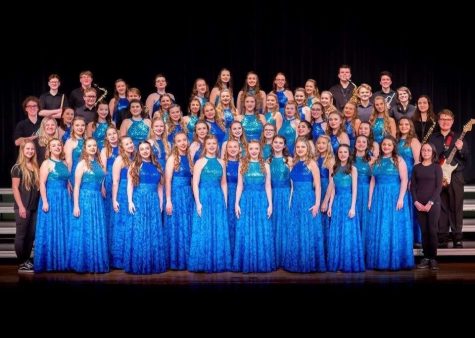 Simmons has been directing show choir for fifteen years. She enjoys the familial atmosphere that her students have created this year. She enjoys watching this group connect through music, performance, and grow closer together as one team. 
When asked the question, "How would you describe show choir in one word?" Stieger said, "Family is one word I would use to describe show choir because in the past it has always brought us very close, especially last year. Last year our show was about friendship and I feel that we were able to truly express this throughout the show because of how close we were as a group." 
For anyone considering joining show choir next year, Simmons stated, "Auditioning is scary sometimes but the more you do it the better you get. Also, it is always better to try and get involved with as many activities as you can in high school.  If you enjoy singing, show choir is a great place to meet great people and be a part of a fun performance group that is unlike anything else."
So far the show choir season at Elkhorn North has gone through many ups and downs with the new school being built, no seniors, and Covid 19. They have to deal with new Covid protocols in order to have a season and deal with a non-competitive season. They continue to work hard every day in hopes that they will at least get to perform in front of their families.