Swinging For Glory
Emily Karmazin, varsity golfer, repeatedly sets high standards for Elkhorn North girls golf.
By Colin Keith, Reporter
November 11, 2020
 Emily Karmazin, Elkhorn North girls golfer, placed 4th in state. She had a great journey with the girl's golf team to make it to state and place in the top 5.
Playing golf takes a lot of practice to get right. It can also be very time consuming and might take a lot of practice to get better. Karmazin said "It comes natural to me because of time but always more improvement can come."
Karmazin  is an outstanding student and golf athlete which can make her a great leader in and out of school. She has been playing since she was two but she never started playing competitively until she was eight. She is a junior and has a sister who also attends ENHS as a freshman. Karmazin will be the first class to graduate from ENHS.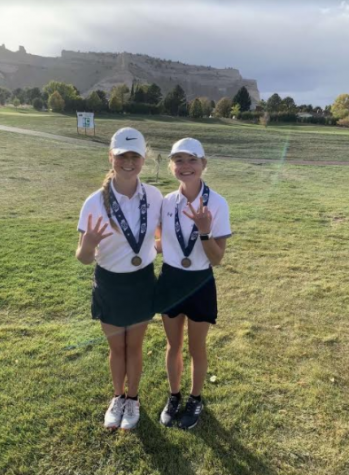 Her sister Julia plays golf alongside on the ENHS girls golf team. "I had a lot of fun playing with my sister this year and being a leader for this young team." Karmazin said. She placed fourth in state and her sister placed third. Although, next year she would like to improve her game to be the best she can. Playing golf can take lots of practice to get right. 
Karmazin said she has a practice facility she can go to, or a driving range. She did say though, "We have a simulator and putting green in our basement." Having those two things at home is a great tool to be able to practice whenever and not having to even leave her house. That would make it even more convenient for her to get prepared for when she would want to play college golf.
Karmazin loves to use her driver, the longest golf club with the largest head, because she hits the ball the farthest with it. The driver she uses is called Taylormade M2. The head is very big so you can almost always hit the ball. She likes her driver also because she said that she is pretty consistent with it. She would be able to hit the ball near the same spot on the course. That would make her scores go down even less from having to hit the ball less times. 
Also, Karmazin said she would like to have the opportunity to play college golf. She said she would like to stay somewhere close to home like UNL, UNO, or Wesleyan. She thinks her sportsmanship, shows little to no emotion and not letting the bad days get to her,and how she treats others would make her stand out.
When asked if she had any superstitions she said that, "I have this shirt that I do well if she wore it. I have a hat with the same ball mark and I feel better with an even number of golf balls." She does have to get into a mentality that she feels prepared in so she can play freely.
Emily Karmazin has been in the golf game for many years and is continuing to get better. She has done a great job leading this ENHS golf team this year and hopefully she gets better and does even better next year.