Life of a Single-Sport Athlete
Being a single-sport athlete allows more time to perfect the game and work on skills and muscle gains. 
When it comes to offseason work, spending time on skills or spending time on gaining muscle depends on the sport and how close the season is. For Jack Lusk, a basketball player, his offseason is more skill work.
"A lot of shooting, ball handling, lifting, and conditioning," Lusk said. Basketball is a sport involving a lot of skill for shooting and dribbling so he is sure to leave time for both.
"Usually around an hour in the gym, 40 minutes shooting and 20 minutes ball handling and finishing if I'm working out alone," Lusk said. Getting lots of shots in is important for the player to improve. He tries to get some lifting in as well as skill work when he can. 
Baseball player, Drew Broady, involves both skill work and muscle gain in his offseason. "I focus on gaining weight while mixing skills work in too," Broady said. As a baseball player, skills work includes hitting a lot, working their swing, along with throwing. He practices his hitting by going against different pitchers at facilities along with machines to see different types of pitches and their velocity or speed. Broady tries to increase his throwing velocity too by going to the EAA facility to practice.  
Soccer requires a lot of great footwork and control of the ball so keeping one glued to your feet as often as you can is important. "I work on skill all year because with the club I am year round," Riley Wilson said. Playing a club sport is beneficial due to the fact then you are playing the sport more than just what is in the high school season. Riley Wilson said that her club team practices up to two times a week and then potentially has two games a week.  
Baseball is not only big in highschool playing and practicing a lot, but so is club. Broady described the summer as important even though it really isn't an offseas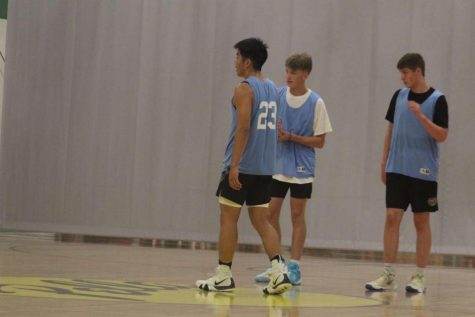 on. With the club he practices up to three times a day with a workout, then hitting, then a full team practice involving everything. It also involved a lot of traveling and lots of games.
For Jack Lusk, playing basketball during the summer involved his club team through OSA and working on his own too. Through OSA he practices once a week during the summer but then plays tournaments over the weekend as well. During this time in the summer he also tries to go to the gym once a day to work on everything.
For both Jack Lusk and Drew Broady, getting together with the team is important. For Lusk and his teammates, going to play pickup games whenever they can allows them to play together before the season begins. Not only do they play pickup, but also try to do shooting and ball handling drills together too. Broady described getting with the baseball kids as once everyone figures out who everyone is, they get together to go throw or hit outside of practice. 
Single-sport athletes have more time to work on their aspects in the game to make them a better player.