A December to Remember
What people are able to do during their Winter break.
By Colin Keith, Reporter
January 11, 2021
Counting down, minute by minute as winter break comes closer. Kids get even more excited everyday. Parents prepare for the long awaited break. 
Many people will go on vacations for breaks from school. Students Haley Rohrig and Kaden McCandless, both sophomores at ENHS, went on vacations this winter break. Rohrig went to Scottsdale, Ariz. and McCandless went to Kearney, Neb. 
Many people go on a vacation to visit family and/or friends. Many people have family in different states and they like to visit them, but this year due to COVID some people weren't able to be visited. The family members who live out of state might not be able to go to there families state to visit them.
COVID is still around this 2020 winter break. This means many people weren't able to go see a certain family this break. The amount of people who normally travel over break has lowered due to COVID. AAA said that roughly 85 million people are going to travel during Dec. 23 and Jan. 3, but that would mean it would've dropped ⅓ from last year. It also stopped families from coming to them.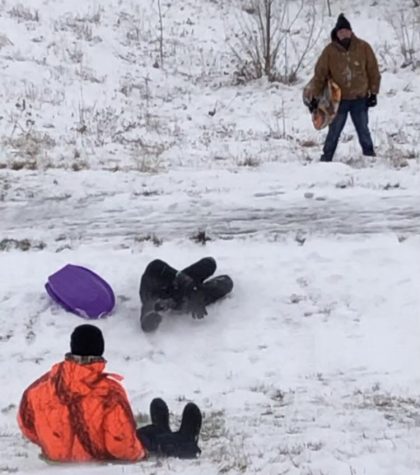 Rohrig went to Scottsdale with all her family to experience things that she couldn't experience here in Elkhorn. She hiked many trails in Sedona in the 60  degree sun. Normally when she travels she likes having the experience of getting exposed to the new people. Rohrig said she always goes on vacations but this year she was there for only 4 days. She could've been there longer if there was no COVID.
McCandless had gone to Kearney this year because his dad had a shoulder surgery there and wanted him there. He would normally spend 2 weeks in Kearny and a week in Florida before COVID hit. He likes how he can get away from the normal life and do fun things when he travels. When he's in Kearney he goes and sees his grandparents. When he is out there he helps them with chores and all around help.
The activities winter offers are endless opportunities, and sledding is one of the more popular one. McCandless said, "When I got back I went sledding with the boys and took pictures in the creek and then went to our friend Carson's house and went on Omegle." Many families go sledding to have fun with their kids, or students go with their friends. 
Two weeks off of school could make it harder to get back in the rhythm is very beneficial. The
break allowed people to keep sanity and have those weeks to enjoy a stress free time. McCandless liked how it was an environment where he could do almost anything and have reduced stress.
Having this break allowed students to feel free and not worry about school. Even with COVID people can still travel and go sledding and do things with their families. Winter break is two weeks long for most students and allows them to have fun with friends and do what they want without the worry of school.