Students Make Gains Outside of School
Working out outside of school and sports is a hobby of many students at Elkhorn North.
Many students who like to workout on their own have access to either an at home gym, or they have a membership at a public gym. The Elkhorn district has many gyms around such as West O, Common Ground, and Anytime Fitness. Students use working out not only to get better in shape and stronger but also to escape from the outside world. 
Freshman Tommy Meckna works out everyday in his own at-home gym. He exercises alone but would like to change that eventually. Tommy's favorite time to workout is between 7-10 PM, and he uses it to feel better about himself and see progress.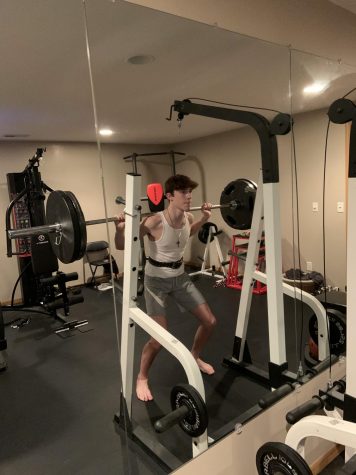 He tries to eat a lot of protein to go along with lifting to help build muscle. "Make sure you have a good routine, and you will not see results right away. It takes time to see progression," said Meckna when asked to give advice to new lifters. 
Carson Ripley, a sophomore at Elkhorn North, also works out outside of school and sports. He goes to Common Ground to work out around 5-6 times a week. He likes to go to the gym with his friends but when they get there they usually do their own thing.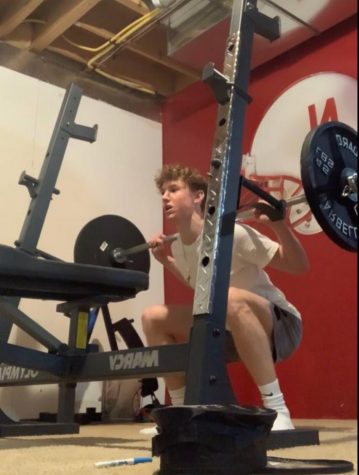 Ripley's favorite time to workout is the morning even though he doesn't get the chance to do that often. "My favorite thing about working out is just the fact that I get to be alone with my thoughts for a bit and it's a good stress reliever," said Ripley. 
His favorite lifting day is leg day which he saw a lot of progress toward the beginning but it eventually started to slow down. Ripley bulk eats during his offseason for basketball but during his season he eats normally and tries to maintain his weight. 
Ripley's advice for new lifters is to just stay consistent, try to find things that make it fun like friends, and to take pre-workout. 
Junior Aleah Winegar likes to workout at least 5 times a week. She goes to West O with her friends and usually ends up doing the same workout as them. Her favorite time to workout is in the morning before school or at night after work when the gym is pretty empty. 
Winegar started lifting in the past months and fell in love with it. "It gives me the chance to get everything off my mind and makes me feel good," responded Winegar after being asked why she likes it so much. Her favorite days at the gym would be her pull or glute days. Her advice to new lifters is to just stay dedicated.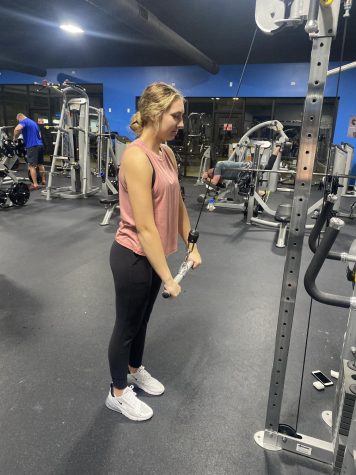 Many lifters like to follow a certain split to keep on top of their schedule and stay motivated. Meckna does chest, arms, legs, back and shoulders, chest, arms, then legs. Ripley does push, pull, and shoulders and legs. 
Winegar's split is a bit different because she wants to work different muscles more. Her split is quads, push, glutes and hamstrings, pull, and then cardio and core. Push days at the gym are triceps, chest, and shoulders. Pull days at the gym are typically biceps and back. 
Working out by yourself has so many positive impacts on a person's life. It helps you get into a schedule and be more motivated for everything. It makes you feel better about yourself even when you're not seeing much progress. And lastly, it helps you escape and just be in your own world.