Student Spotlight: Zach Kuo
Elkhorn North's tennis phenom, Zach Kuo, has dreams of playing college tennis one day.
The hot sun beats down on the synthetic layers of the tennis court with the prominent white lines creating boundaries. Fuzzy, neon green tennis balls are hit back and forth between two contenders. Cheers and awes come from the crowd. This is the setting of a tennis match and for junior Zach Kuo, this is a second home. 
When it comes to high school sports, tennis usually isn't the first thing most people think about. Zach Kuo, on the other hand, picked up his first tennis racket at age 6. At his young age, Zach didn't enjoy playing much but his mother forced him to play and his aspirations of becoming better increased. 
"When he was young he didn't enjoy playing, but as he grew up his desire to play increased dramatically. When he was 8 or 9 he started to play tennis more than 5 times a week." said, Timothy Kuo, Zach's father.
Without his father, Timothy Kuo, Zach may have taken tennis as seriously. Timothy Kuo played tennis in high school but was a very average player. He decided then that he wanted to make his children into great tennis players. He has coached Zach for his whole life. His plan has been successful; Zach's work ethic is on a whole other level. 
"Zach has a great work ethic when it comes to tennis. Before he could drive he would drag me out to go practice late at night." Timothy Kuo said.
Zach's father has had a huge impact on his tennis dreams but so has his mother, Kristie Kuo. As someone once said, mothers always know best and that was apparent in this situation as Kristie Kuo was the one who originally forced Zach to play tennis. Not only did she have a huge part in why he plays today, but she also sacrificed a lot of her time driving Zach to practices and matches before he could drive. She acknowledges Zach's good nature, discipline, and diligence. "He is a great team player and is always willing to put it all out. As a mother, I hope Zach can play tennis at his dream college."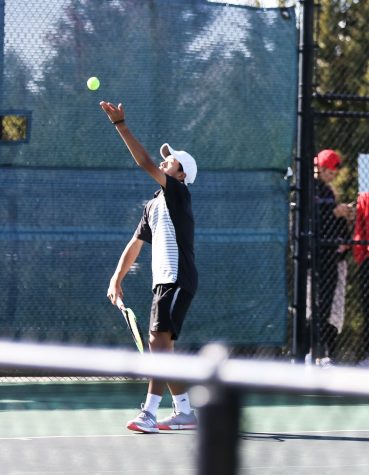 Growing up, Zach's parents both wanted Zach to try other sports as well. Ranging from soccer, to golf, to basketball, but once Zach picked up that racket, there were never any doubts of him becoming a great tennis player. 
All of his hard work led up to Zach competing in the Class A State Tennis Tournament in 2019. Zach had played almost 8 hours of tennis in one day and still managed to pull through a win in his last match of the day, showing his competitive nature. 
"At Class A State, Zach played for about 7.5 hours of tennis," Timothy Kuo said.  
"And in his last match he came back from only being one point away from losing to winning that match." Timothy Kuo said. 
Zach also has a private coach, Rick Faust, who has been his coach for about eight years now. Both Faust and Timothy Kuo have had a huge impact on Zach's journey, as they have been coaching him for years on years. Zach also plays doubles outside of high school competition with his friend from St. Louis. All of these people have been really important for Zach. 
"Tennis has had a huge impact in my life. By far the biggest impact I've had is the people I've met throughout these 10 years. Some of my best friends come from tennis. Also, tennis has taught me how to work hard and it helped me develop a work ethic." said Zach. 
Zach wants to play Division 1 tennis one day, and his all of his hard work has not gone unnoticed. These 10 years of playing tennis have really made Zach into the person he is today.