In Exie's Eyes
A high school girl who sees the world in a whole different way.
Exie Burke is a 17-year-old junior at Elkhorn North High School. She has been in the Elkhorn district her entire life and absolutely loves it.
Burke was diagnosed with Autism Spectrum Disorder (ASD) when she was little and sees life a little differently than everyone else. "Being different is what your personality is," said Burke. 
Burke excels in school on an academic level, but she can get very stressed with all the tests and homework. Because of this, she has figured out how to narrow it down to what is most important to get done. Burke is also given one-on-one help inside and outside of the classroom.
One of Burke's main daily struggles is keeping calm. "Sometimes I laugh a lot and can't control it. Sometimes I get angry and take a deep breath and find another strategy and go from there," Burke said. When she is overwhelmed, she likes to take breaks from all things going on around her. 
Burke does not struggle with making friends inside or outside of Elkhorn North. "I have a lot of friends here; everyone is my friend," said Burke. 
Sometimes she struggles with making eye contact with her friends, but she has been working on it. "I know to look them in the eyes when someone is talking, and I have gotten better."
Burke tends to stray off topic when in the middle of a conversation. "Staying on topic is hard sometimes. I don't want to stay on the same topic and I like to share all my ideas," said Burke.
With COVID-19 and everyone having to wear a mask, Burke sometimes struggles with conversation. Sometimes she mumbles and does not realize it and other times she struggles to understand emotions in someone which is very important to her. "If they are mad then I will be in trouble, and if they are happy then I am doing something great." 
Burke also knows how important rules are and how important it is to follow those rules. 
In class Burke has a lot of thoughts she wants to share with everyone which can cause her to blurt out. Burke went on to say how she should raise her hand in class, but this can sometimes be hard for her. She said, "I blurt out the answers."
Burke discussed how she feels about having Autism. She said "I feel great at some points and sometimes completely way different."
One of Burke's favorite things about having Autism is that she can meet other people like her. Outside of high school, she meets up with a group of young girls who all have autism. 
Burke's least favorite thing about having Autism is that she sometimes struggles having conversations and can't remember people's names. 
She also does not like to be touched very much. Burke knows how important social distancing is especially right now and she likes her personal space. 
Burke is an amazing young girl, and she knows it. She is aware that she is different and so is everyone else and she is okay with that. She knows that being different is what makes someone stand out.
"Yes, I am different from everybody else," Burke said. "But I am happy with that."
View Comments (4)
About the Contributor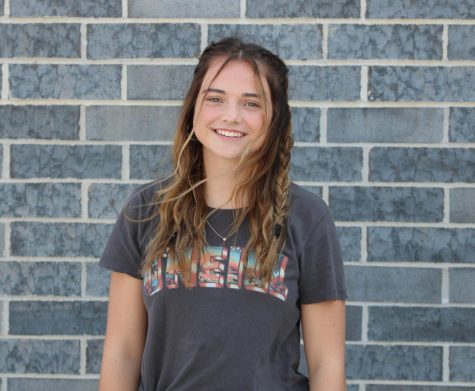 Payton Coulter, Social Media Manager
Payton Coulter is a junior at Elkhorn North and is the Social Media Manager for the newspaper. Her favorite sport is soccer. She loves to meet new people and take pictures. She hopes to work with special needs children her whole life.