First Season on The Hill
The Elkhorn North baseball team has made great strides in its inaugural season
May 21, 2021
Rain, piercing wind, cold weather, and a group of guys with a passion for baseball have forged the new program at Elkhorn North. The Wolves have finished their first season on the diamond impressing everyone despite the absence of seniors, a heavy Class A schedule, and barely any spring baseball varsity experience prior to this year. However, the Wolves, led by Head Coach Anthony Dunn, had their fair share of accomplishments and paved the way for the future of Elkhorn North baseball.
Dunn, who came from his teaching and coaching careers at Bellevue East and Papillion LaVista, has built the foundation of baseball at Elkhorn North for years to come in its first season.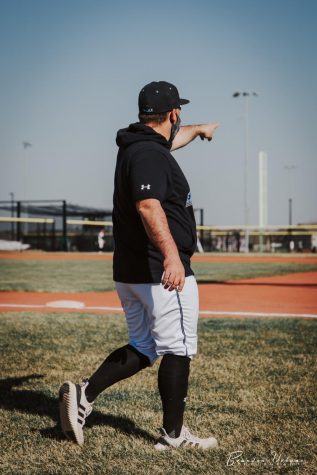 "I think we had a really successful season and we finished twelfth out of thirty-eight in the Class B power rankings," Dunn said. "We competed with everybody we played and I was really proud of the guys and how they competed and how they played. We beat a couple really good teams that are still playing in the state tournament."
The Wolves faced a lot of challenges in year one, just like any other first year schools. The squad had to battle adversity amidst no seniors, limited varsity experience before this season, a Class A heavy schedule, and the overall difficult task of creating a brand new program with new players and new coaches. 
"I was proud of the way our guys continued to compete together even as we played Class A teams and some of the best Class B teams down the stretch," Dunn said. "We easily could have made excuses and taken it, but we fought back and it was a good learning lesson."
The Wolves started out the season strong with a record of 4-2 after impressively defeating Class A adversary, Omaha South, 13-0 and stunning Omaha Skutt by winning 1-0 in a high-stakes game in which Ryan Harrahill, a division 1 commit to Nebraska, and Rowan Leahy combined to give up only two hits and struck out twelve. In this stretch, the Wolves accomplished their first couple of wins on The Hill, the name given by the team to the home field at Elkhorn North.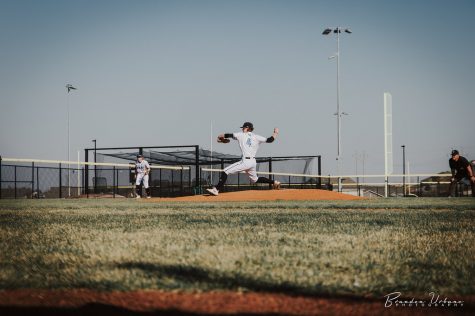 They then lost four straight in which three of those four games were against tough Class A teams: Lincoln Southeast and Grand Island in a double header. Following that, Elkhorn North won three straight games, defeating Lincoln Christian, Mount Michael, and Adams Central.
The Wolves then took a loss to Waverly, but beat both Bennington and Concordia after that. Then the Wolves took on the brute of their schedule in which they lost four straight to Class A opponents Millard North, Millard South twice, and Bellevue East. They defeated Blair, then lost to Bennington and the Elkhorn Antlers in the newborn rivalry game to conclude the regular season. 
Entering into districts, the Wolves defeated Maxwell in a beatdown of 21-0 in which Nathan Cunningham and Easton Maines each had two home runs. They were unfortunately then beaten by Mount Michael in the second round of districts to conclude the Wolves' inaugural baseball season.
Junior shortstop Nathan Cunningham was one of the team's premier players this year. He had four homeruns on the season and made some big plays in the field.
"I feel like we became closer as a team and began to boost our chemistry and play better together as the season progressed," Cunningham said. "My favorite moment was beating Bennington in an intense game or hitting the first homerun at our home field."
Junior Ethan Edwards was one of the squad's biggest contributors this year and finished with one of the best batting averages in the state at .392. What made this feat even more impressive was the fact that Edwards played reserve legion baseball last year, but made the jump to not only being a varsity player, but one of the best hitters in the state this year. 
"Going from reserve to varsity is a challenging jump, but through hard work and just competing is what made me a great player," Edwards said. "I may not have been the tallest, strongest, or oldest player on the field, but I always made sure to compete harder than the pitcher."
Sophomore Xavier Cavenaugh also worked his way from reserve legion last summer to becoming the starting varsity second baseman and another big contributor to the team.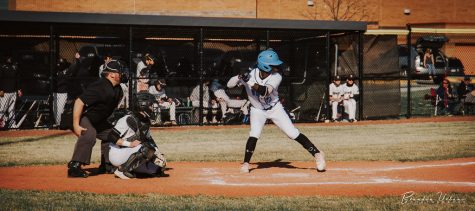 "It felt amazing," Cavenaugh said. "I've been working my whole life to play baseball and being where I am now makes me feel really good. My favorite moment of the year was winning our first game as a school and also my first ever base hit on varsity when we played Platte Valley."
Being the first players in a brand new program, the Elkhorn North ball players had to build traditions and create the future for Wolves' baseball. Junior Drew Broady, one of the designated "G.L.U.E Guys" (Grit, Love, Uncommon, and Excellence), was a leader in the foundation of the program.
"It's good to lay the foundation and give people younger than us a standard of how we do things all year," Broady said. "I'm very excited to get back into it and to be able to play another year for a great team and a great coach."
As the Wolves look ahead to next year, promise shows for a very successful season. The entire roster will be back along with the addition of a new freshman class. This gives the Wolves a prime opportunity to make a run next year. Junior Trey Wells is excited for what next season can hold.
"Next year we will have a huge advantage over any other school in Nebraska since we have no seniors leaving," Wells said. "I honestly think we have a high chance at being able to play at Werner Park next year and winning it all."
Despite the difficulties faced over the course of the season, the Wolves are happy with the great strides they made and the progress that built the foundation for Elkhorn North baseball.
"My proudest moment of the season was the collective coming together of the team," Dunn said. "To see the guys come together and stick together through some adversity and playing some really tough opponents down the stretch was a big step in building our program for the future."