Elkhorn North's Front Yard
A look into the upcoming development on 180th and Maple
September 8, 2021
Since 2020 Elkhorn residents driving past the intersection of 180th and Maple Streets have turned their attention to a modern and industrial looking building: Elkhorn North High School. However, positioned directly in front of ENHS, there is a plot of vacant land that is often overlooked, but not for long.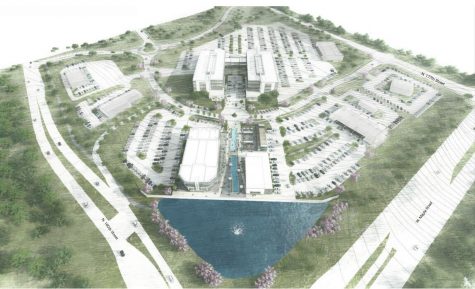 Over the next year, a Mixed-Use Commercial development will begin to cover the landscape. Called "The Forum", it will culminate in an office, restaurant, and retail center with an exciting park-like space with a water feature running through it. This will all be overseen by the developer of the build, the White Lotus Group. 
The White Lotus Group has worked on numerous projects both statewide and locally. 
"Some of our most notable local projects include the renovation and revitalization of Hotel Deco, the development of 30 Metro, and West Dodge Pointe at 168th and Dodge which includes Nebraska Realty's headquarters, Baxter Auto's new headquarters and a State of Nebraska Department of Motor Vehicles," the Vice President of Development at White Lotus Group Delaney Nelson said.
With so much success in the area, the group was ready to jump in on an opportunity in front of Elkhorn North. 
"The 180th and Maple location was interesting to the team because we saw all of the exciting residential and commercial development happening around it," Nelson said. 
Not only was all the growth in the area important to the group, but also access to it. 
"We also see how important the Maple corridor is becoming to the city of Omaha, especially with the 180th street bridge," Nelson said.
August 31 was the opening date of the 180th street bridge to Blondo. In the next year, the street will go through to Maple which will allow increased access to The Forum and North Elkhorn.
Not only is the location of high interest to Nelson and her team, but also to the students attending Elkhorn North High School. Many students have begun wondering what specifically will be introduced to the area.
Senior Michael Franzen looks forward to seeing restaurants go into the development. 
"Having a Chipotle or Chick-Fil-A there would be great," Franzen said. "A donut place like Krispy Kreme would also be a great addition to the area."
Kayla Beachy, a junior, highlights the wants of many students. 
"A coffee shop like Scooters or Starbucks would be pretty popular," Kayla said.
Having a closer location for that morning boost would be enjoyed by both students and those living close by. Although specific restaurants going into the build are not known, there will be space zoned for restaurants.
With all this excitement, the only thing that stands in the way of people to enjoy this development is it actually being built. As of right now, all that can be seen is a field of dirt. 
"Site grading has been completed and we are working to start to bring this project to life over the next year or so," Nelson said.
With this anticipation, when it is all said and done, Elkhorn residents and beyond will be able to enjoy this development in its prime location thanks to the White Lotus Group.