A Dane in Omaha
Katrine Nielsen describes what it's like moving away from her home country.
The first day of school nerves are a common feeling among new students everywhere. The struggle of making new friends, getting used to a completely new environment, and trying to fit into the student body are just a few of the many hardships new students face. 
That is the case for junior Katrine Nielsen. Nielsen moved from Denmark two months ago due to her father's job relocating. Nielsen was only a little nervous going into a brand new school in a different country. 
"(I was) a little bit nervous, but since I have transferred schools before back in Denmark, I kind of knew what it was like being the new student," Nielsen said. "But I am in a new country where everything is so different." 
Nielsen faced several challenges going into Elkhorn North, mainly, the language differences. Nielsen's native language is Danish and, although Nielsen has been learning English since second grade, it was difficult for her to grasp American English here in the U.S. 
"We actually learn British English in Denmark, so it's pretty different here," Nielsen said. "Every time I take a test, I am always the last one to finish because I have to rethink everything and comprehend the questions differently." 
Despite the different type of English, Nielsen thrives in school. She has good grades, mainly because she has already learned many of the topics back in Denmark. 
Aside from the different language, Nielsen notices that the school systems in the US and Denmark are different too. In the US, students would move to their next class once the bell rings. However, in Denmark, the teachers are the ones who move to the next class, not the students. 
"In Denmark, I would stay in the same class with the same people for the entire day," Nielsen said. "I like school in Omaha because I get to move around a lot more and meet many new people. But I quite miss the community in my class back in Denmark." 
Nielsen's math teacher, Erin Kasner describes her as an interactive student who takes good notes in class. Kasner admits that if she was in Nielsen's shoes, she would be in a difficult situation. 
"I grew up with a twin so I always had a backup person, which made things a little easier. But moving to a whole new country is completely different," Kasner said. "I would say something in class and she would say 'That's not how we say it in my country.' So I think catching onto the language is a hard thing for her." 
When Nielsen walked into Elkhorn North three weeks ago, she liked how everyone was very friendly and welcoming to her, especially junior Haley Rohrig. Nielsen and Rohrig met in their chemistry class and since then, they have been close friends. Similarly to Kasner, Rohrig says that she thinks it would be a challenging situation to be in Nielsen's shoes.
"I have no language experience at all," Rohrig said. "That would be like dropping me in Denmark and having to learn Danish."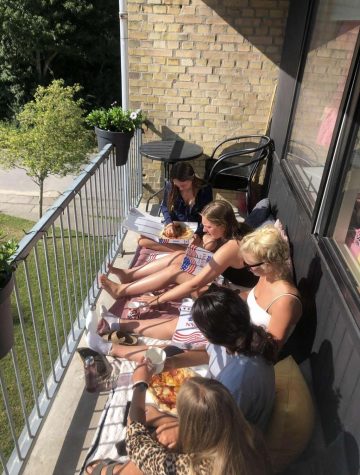 High school traditions like football games and homecoming are the essence of having an enjoyable high school experience. Nielsen has never experienced school traditions quite like the US.
"It is just like the movies so far with all the cheerleaders and the football games. I'm excited for homecoming, but I'm mostly excited for prom," Nielsen said.
Moving to a foreign country is a daunting task for anyone. Adjusting to a whole new life, missing family and friends, and getting homesick seems intimidating for anyone who would move away from home. However, Nielsen says she does not miss Denmark much so far, but she will be anticipating getting homesick once she sees her friends back home spending time without her.
Despite these challenges, Nielsen appreciates everyone in the school for being very welcoming to her and she cannot wait to experience high school life here in Elkhorn North. 
Leave a Comment
Your donation will support the student journalists of Elkhorn North High School. Your contribution will allow us to purchase equipment and cover our annual website hosting costs.
About the Contributor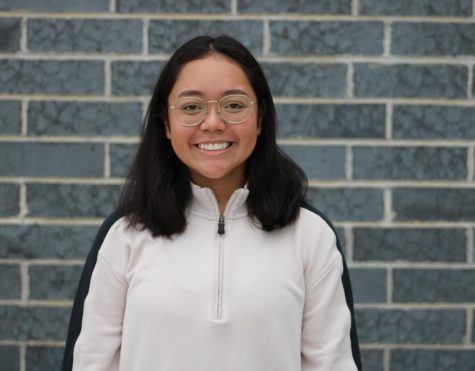 Tara Binte Sharil, Managing Editor
Tara Binte Sharil is a senior and the managing editor in the North Howler. This is her third year on staff and she enjoys designing the print issue. Tara loves to listen to rock and R&B.