Boys Tennis Trains to Take Victory
An outlook on the off season training and new additions to the boys tennis team
After a tough inaugural season for the Wolves tennis team, they're back to assert dominance this year. The Wolves finished sixteenth at state in 2020, where they played some very tough competition.
The boys tennis team comes back with a new lineup this year. In 2020, they competed with eight on varsity, but this year they will be competing with six. The Wolves still have no seniors this year, but they will be much more experienced as all but one player has varsity experience. The players also had to work hard this summer to prepare for the tough upcoming season.
"I played two and a half hours everyday with friends, working to get better", Freshman Sheamus Sinnott said.
The Wolves are used to freshmen on their varsity roster as they had three freshmen on the varsity team in their first season together. Sinnott will be playing alongside Sophomore Luke Butler at two doubles. The freshmen and sophomore duo will be one of the younger pairs in the state, but it definitely hasn't held them back, as they defeated the duo from Elkhorn Highschool 8-0 on August 31. Not only did Sinnott and Butler win their match, but the entire varsity roster won their match as well. 
"My biggest strength in my game is hitting a lob over my opponent's head," Sophomore Eli Shada said.
Shada is currently ranked at one singles for the Wolves, and will be facing some of the best competition from around the state. Not only did Shada play tennis over the off season but he lifted about three times a week. Shada has a unique play style that differs from others on his team, he prefers to hit a lob. Shada's lob makes it very difficult on the opponent to return the ball and keep the rally going, but mastering this skill gives some of his best competitors a tough time.
 Shada is coming off of a win against Elkhorn High where he defeated Senior Scott Riddell, 8-2. Shada is a leader for  the Wolves and adds a lot of talent for the  second year of the Elkhorn North Tennis program.
"Coming into this year, I expected to be better. After getting beat last year to an extremely competitive Skutt team and barely losing this year is very encouraging", said head coach, Lance Kush.
Kush had the duties of being the first ever head Varsity tennis coach at Elkhorn North. He was previously  the varsity coach for the Elkhorn South Storm before accepting to take over as head coach for  the brand new ENHS tennis team. Kush was excited for the season and very pleased to see that his second year team could compete with the very talented Skutt Catholic team that finished second in state in 2020.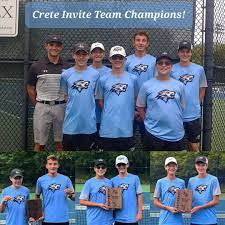 Juniors Ian Armbrust and Jon Doscher are also seen as a breakout doubles pair, as they are undefeated so far this season. Armbrust and Doscher compete at the one doubles spot where they face off against the best class B doubles teams in the state. 
Sophomore Ryan Mensch is also one of the highly anticipated players for the Wolves. Mensch did not compete in state last year, but will be playing at number two singles for the Wolves this season.
The Wolves have a tough road ahead, but with a promising start to the season, the Wolves will be a tough opponent for their opponents . The Elkhorn North Tennis team, led by head coach Lance Kush, are looking to add their own State title to the very new and empty Elkhorn North trophy case.
Leave a Comment
About the Contributor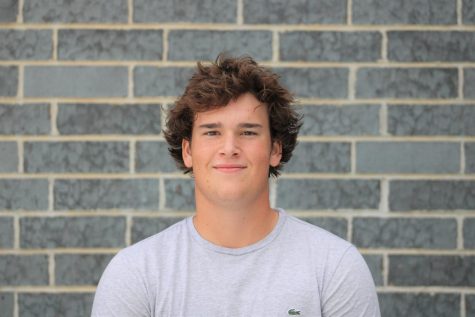 Mason Salisbury, Reporter
This is Mason Salisbury's second year on staff. Outside of newspaper, Mason plays golf for Elkhorn North.