The Homework Hustle
The ongoing debate in schools over the importance of homework and its effects
October 27, 2021
No matter what grade, district, or class a student is in, the question of whether homework is actually beneficial is bound to be something that crosses their mind at some point in their education career. 
During almost any day of the school year, students come home with varying amounts of homework from each class, and for some, this means multiple honors or AP courses. According to a poll of the student body, 61% of students at Elkhorn North spend over an hour each night on homework. 
"On days I have work, I spend around an hour on homework, but on days I don't, I can spend up to two," Junior Sam Norman said. 
Grades are very important for junior Piper Connelly, so she has to find ways to fit the heavy workload of three AP classes into her busy after-school schedule of sports, clubs, work, and more. 
"I do homework literally whenever I can. It's hard to have a set time to do it when my schedule changes every night. Sometimes it's during dinner or late at night. Sometimes I am sitting in the parking lot waiting for my practice to start and doing homework," Connelly said.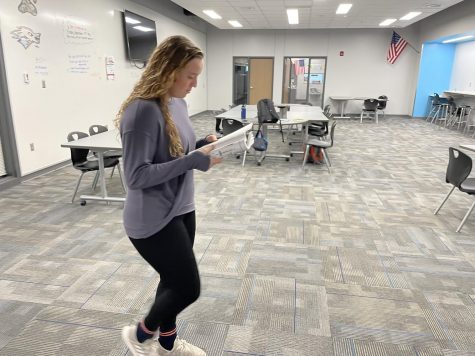 With all of the stress loaded onto students to get a GPA that they can be proud of, it brings the question to the table of whether the amount of homework they are doing is really worth it, or how much it truly influences their grade.
"I definitely think that because we have such a hard grading scale, it can be tough to focus on the actual learning instead of just getting a good score," Connelly said. "For math, having a lot of practice problems sometimes makes me just do the assignment to get it done." 
Math teacher Michelle Seger has the philosophy of "quality over quantity" when it comes to giving homework to her students in order to avoid this type of mindset. 
"I try to make it manageable with all of their other classes," Seger said. "Doing a few problems but doing them really well as opposed to having too many, and then not having time to do them is more beneficial for their learning." 
Homework adds stress to a student's after school life and can put more pressure on them to maintain a strong GPA. However, some students believe it helps them in at least a few of their classes. Norman sees more of an importance for homework in certain classes over others. 
"In math and science, you need the homework to practice. But for classes like English, I see less of a purpose for it." Norman said. 
So, what's the final verdict? Homework can be a pain, especially on top of all other extracurriculars students are involved in. However, if done in moderation and with purpose, it can help students advance the depth of their education at a more efficient pace. 
"Homework is like practice," Seger said. "I think if you want to be good at anything, you need to practice."