China's Crypto: The Digital Yuan
A look into the future of China's national currency.
No one would have known then, but a little over a decade ago the creation of digital currency (or cryptocurrency) would end up leading to the fundamental change in money as the world knows it.
There is no doubt that countless individuals use online payment services today through credit cards, debit cards, e-wallets, and more, instead of cold hard cash.
Taking these realities into account it begs the question: why not switch to a fully digitized form of currency?
To answer this, China has become the first nation to embark on the goal to transform their national currency, the Yuan, to a centralized form of cryptocurrency known as digital currency through the Peoples Bank of China. 
With this unprecedented plan, many wonder just how this switch from physical to digital will be executed.
"The digital yuan is designed to replace cash in circulation, such as coins and bank notes, not money deposited long-term in bank accounts," said Alun John of Reuters. "Commercial banks will have a role in distributing the digital currency to users, and to do so they must deposit exactly the same amount of their reserves with the PBOC as the digital yuan they distribute."
If these changes were to take place in other countries around the world, including the United States, it would lead to a fundamental shift in the use of money as cash is still in circulation. However in China, cash is scarce.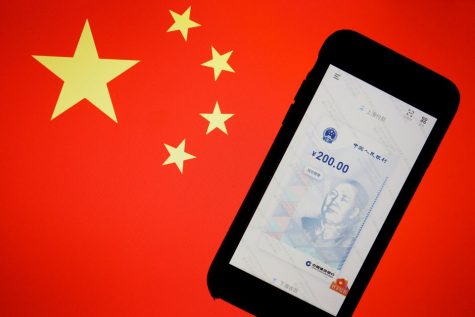 "Chinese commerce is already largely digitized, thanks to the private duopoly of WeChat and Alipay, which together comprise 96% of all mobile payments in the country," said Charlie Campbell of TIME.
So, why is China even making the switch if the majority of the country already uses online forms of payment? It's simple: power.
"The biggest reason for them (the PBOC) to do this is to level the playing field. Another reason is maybe to create a new platform payment system that will increase efficiency," said Arjun Kharpal of CNBC. 
Leveling the playing field is exactly what China has done. Over the course of this year, China has gone from restricting to prohibiting the transactions of all cryptocurrencies, including Bitcoin. With the PBOC setting up the dominance of the digital yuan for the future, there are concerns about the digital currency being the only method of payment.
"Critics have argued that the digital RMB will simply become an extension of the surveillance state. Linked to China's social credit system, it could see citizens fined in a split second for behaviors deemed undesirable," said Campbell. "Dissidents and activists could see their wallets emptied or taken offline. Countries and companies doing business with China could be required to use the digital RMB—giving Beijing an unprecedented storehouse of business data." 
With this, China has had a longstanding reputation for spying on its citizens, silencing opposition, and violating human rights. So, this grab for more power is nothing more than the government making it easier to attain its goal of total control.
Even with these concerns, the currency does have beneficial aspects to it.
"In times of crisis, they enable governments to send aid and stimulus payments directly to the smartphones of affected citizens, regardless of whether the recipients have a bank account," said Campbell.
Not only does it help the government's ability to send relief, it increases the efficiency of transactions across China by giving ease of access to its users as it does not require them to be connected to the internet to make a transaction. 
With this, millions in China have already been able to experience these benefits through pilot programs.
"Transactions in e-CNY, as the currency is known, reached 62 billion yuan ($9.7 billion) in trials rolled out in about a dozen regions, Mu Changchun, head of the PBOC's Digital Currency Institute, said at the Hong Kong Fintech Week conference on Wednesday (Nov 3). The volume of transactions totaled 150 million," said John Liu of Bloomberg News.
This pilot is just the start of what will eventually become a standardized digital yuan. Although no one knows for sure when it will come out, many believe that it will be after the Winter Olympics of 2022.
China doesn't only want this to extend to its citizens, but also to the whole world as the country's goal is to internationalize.
"China has a long-standing aim of internationalizing its currency, and in time, the digital yuan may help with this initiative, making it easier to encourage users in other countries to use the yuan," said Alun John.
Through this goal many believe it will be a direct challenge to the supremacy of the U.S. dollar. Correlating with China's mission to become more and more powerful, it makes sense that China would push for a new type of currency, a digital one.
Leave a Comment