Elkhorn North Doctors in the Making
Anne Cook and Chelsey King are preparing for their future with the UNMC High School Alliance program.
Chelsey King and Anne Cook are not your typical seniors. The dynamic duo starts off their day with three AP classes at Elkhorn North and then a two hour class at UNMC. They are enrolled in a program that most people do not know about: the UNMC High School Alliance. 
The program's goal is to introduce high school students to a healthcare environment and prepare them for a future career in the medical field. Students take classes on weekdays from 1-3 PM. This means that they split their time between UNMC and Elkhorn North, leaving to go to UNMC after third hour each day. 
Students require a basic application, a 250 word essay, and two letters of recommendation to gain admittance into the program.  
"Once I submitted my application, I had to wait a couple months and then I heard back that I got an interview. Usually they do the interviews in person but last year they had to be on zoom because of COVID, so that was interesting," Cook said. "Another month later they sent Chelsey and I an email confirming our acceptance. I was beyond excited". 
"We were just so happy and went to tell Mr. LaFleur right away since he was the one that wrote our recommendation letter," King said. 
Once accepted, students pick their classes from a variety of choices.  
"There is a list of classes you can choose from and you pick two classes a semester. Not everyone gets all of their first picks, but I did," Cook said. "I wanted Pathology and Biomedical Research for the fall semester and Genetics and Anatomy for the spring semester." 
She explained that Biomedical Research has a two week research lab where she will be able to work side by side with a researcher in their lab and that the anatomy class is taught in a cadaver lab. For students that value hands-on learning experience, these are great options.  
"UNMC uses block scheduling. Monday and Wednesday I am in biomedical research and Tuesday and Thursday I am in pathology. Friday we don't technically have a class but we study or do group projects," King said. "Sometimes they bring in a speaker. On Fridays if there's not a speaker I usually get Dunkin' Donuts and walk around the campus with my friends, so it's a nice break from school." 
Cook and King are always extremely busy as they manage school, UNMC, athletics, and a job.
"On a typical school day I get up at 4:45 AM to work out, then I go to school and leave after 3rd hour. I go home, make myself lunch and if I have time I take a quick nap and relax," Cook said. "Then I drive to UNMC and I usually have time to meet up with other students to study or get food. After class I go home and drive to West Dodge Elementary since I work at EKC."
"The big thing is just learning how to manage your time. Once you get into a routine, it's a lot easier than you think," King explains. 
Along with free college-level science classes, students in the Alliance program get free learning materials: an iPad, apple pencil, and uniforms. They have a strict dress code. 
"We have to wear red UNMC polos on Monday, Tuesday, Wednesday, and Thursday, and then on Fridays we have a black polo. Then we have to wear black pants, either scrubs or slacks, closed toed shoes, and socks that are mid calf to cover your ankle. We all have a badge with our name and picture and masks are required," King states. 
Contrary to what most people assume, the workload is not much different than a typical AP class at the Elkhorn North. 
"Most of the material is easy to me because I was in AP Bio last year. A lot of it is a repeat of that. But some of it's in more depth depending on the class that you're in. So for me, I'm in a pathology class. It is a lot more in depth than what AP Bio was because it's more specific to microscopic tissues and disorders," King said.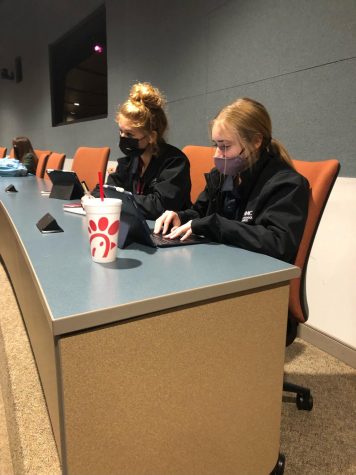 Cook agrees, "The thing that's helped me with the program is seeing how much Elkhorn has prepared me for the classes. We are lucky that our school system is so much more rigorous than other schools. A lot of kids from other districts are struggling with the UNMC classes." 
With a combination of rigorous AP course junior year and the UNMC program, the two feel are well prepared for their future. 
"They are really helpful and they help me make connections with people at UNMC. It's really nice to see firsthand what the medical field looks like. Also the hands on activities and labs are really nice in the facilities. Just gorgeous," Cook said.  
"If you have a lot of rigorous classes in the first three years of high school, then I'd say say definitely apply. But don't cut yourself short of what you can do at Elkhorn North because the classes are harder here for the most part. You will probably get more out of Elkhorn classes depending on what you take your senior year," King explains. "If you're in extracurriculars like band or choir or Spanish, you would most likely have to drop those for the program. So it's just kind of what you are willing to do."
Both King and Cook are hoping to make a living doing something in the medical field. 
"I want to be a Physician's Assistant because they work more hands on with patients than doctors do," Cook said. "I want to impact others through patient care, like making sure they have a good experience with the medical field."
King knows she wants to be a physician, but is still undecided on a specific pathway. 
With the UNMC High School Alliance program and hard work, King and Cook will definitely be prepared for whatever they choose to do in the future.