Elkhorn North Continues to Grow
Elkhorn North High School finally has four classes in the school, and it will continue to grow in large numbers for future years to come.
In its second year of being open, Elkhorn North High School is already bigger than Elkhorn High School. Elkhorn North finally has all four grade levels this school year, and there is a difference already in how spacious the building feels.
Elkhorn North saw around 220 more students attend the high school this year as a whole grade level was added to the school. Along with that came an additional five to six students added to the previous grade levels. This all adds up to a total of 880 kids compared to the 620 in the first year of being open.
"I can totally feel the difference from last year," Senior Oliver Kaminski said. "The halls and stairs feel a little bit more crowded, but not as bad as at Elkhorn High my sophomore year." 
In order to account for the whole new grade level, there had to be classrooms in use as much as possible, and new teachers hired as well. "We have one dark classroom for all seven periods of the day, compared to the six or seven dark classrooms last year," Principal Mr. Radicia said. 
The reason for these many classrooms to open up, and new teachers hired to fill those classrooms, were because of not only the incoming freshman class, but filling the needs of seniors as more optional classes became available to them. 
By next year, every classroom could be in use for a whole day as the incoming freshman (Class of 2026), brings in 280 students. After that, the average projection of students pouring into North is one hundred kids a year. 
As described by Ryan Lindquist, the Executive Director of Business Support Services for Elkhorn Public Schools, the main reason for the large amount of growth year after year is because of all the land that is available to feed into Elkhorn North. By Woodbrook Elementary and Elkhorn North Ridge Middle School, there are still around 1,000 available lots to build houses on, and even more between 180th and 216th street, and between Maple and Ida Street.
With this projection and future growth, North could be seen as a Class A school by the fifth or sixth year of being open. This could be sooner or later as it all depends on the NSAA guidelines and if they change in that time frame. 
North's facilities were built to be bigger just like Elkhorn South High School. The stairs and hallways were built wider to feel more spacious, while the commons were built to also fit a larger number of students.  These parts of the building are able to account for up to around 1,200 students, compared to the 880 now. As North grows, however, there would be additional classrooms added onto the building to cover for the increase.
Elkhorn North will continue to grow for years to come as there is plenty of land to build houses. "It is exciting to watch the district continue to grow," Lindquist said.
Leave a Comment
About the Contributor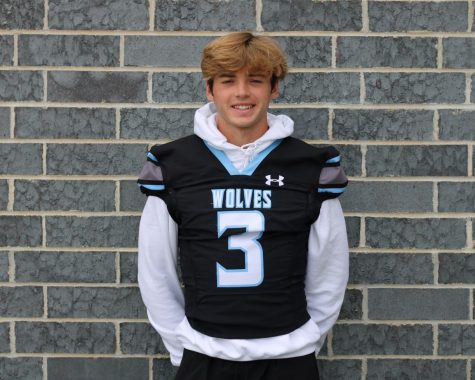 Jack Vokt, Reporter
Jack Vokt is a senior, and it is his second year on staff. He also plays football and soccer for the high school, and loves to spend time with friends and family when he can.