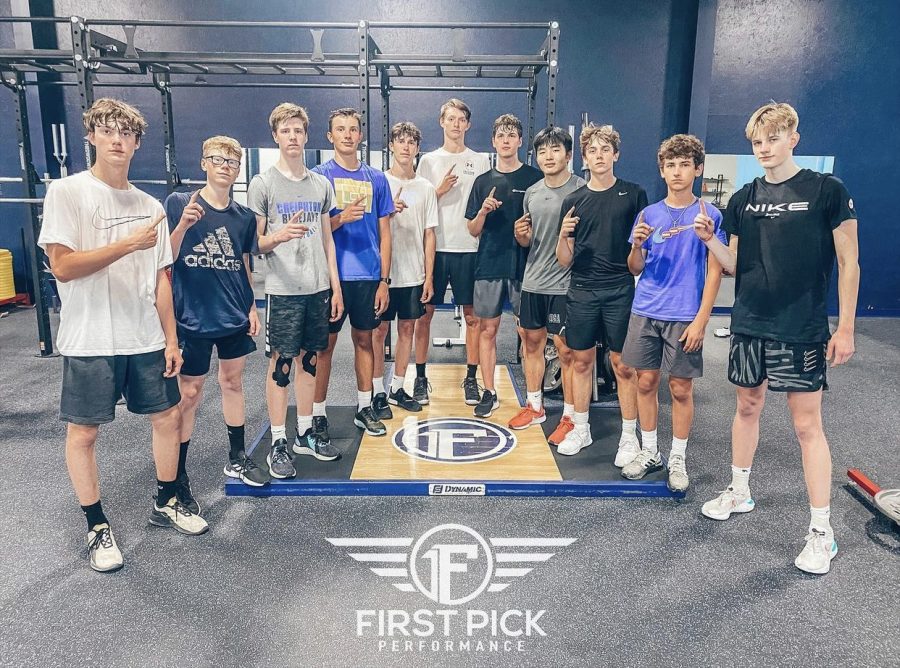 One's up at Elkhorn North
First Pick Performance is a favorite spot for athletes for off-season lifting.
November 19, 2021
Athletics at Elkhorn North are taken seriously by coaches, athletes, and the fans. Lifting is super important when it comes to improving physical attributes to exceed performances in sports. A majority of athletes at Elkhorn North choose to go to First Pick Performance to lift. 
Over the last year, First Pick Performance has worked with numerous athletes and teams from Elkhorn North. Trainer, Zac Novak, has worked with a lot of athletes from North himself. 
"I have worked with most of the basketball players at Elkhorn North and a couple volleyball players as well." Novak said. 
The trainers at First Pick really care about their athletes and want to see them succeed in their sports. Every workout is balanced with whatever sport the athlete is training for. 
Basketball players have basketball specific lifts, volleyball players have volleyball specific lifts and so on. 
Junior, Grace Heaney and freshman, Shay Heaney are two athletes from our school that work with First Pick Performance. 
"I loved seeing athletes commit as well, Grace had grown with us a lot. Shay as well, getting to start varsity as a freshman." First Pick trainer, Kari Volk said. 
Sophomore, Cole Dryak, is also another athlete who has worked with First Pick since he was in middle school. 
"The first time I went to First Pick was 6th grade summer. I went with the basketball team this summer and fall." Dryak said. 
Since then, Dryak's attributes have increased in just about everything. His speed, agility, vertical, quickness, and strength all have improved since March. 
"First Pick Performance has helped me with a lot of agility and strength." Dryak said. 
Elkhorn North athlete's love working with First Pick and First Pick loves working with the school's  athletes. The trainers say that our athlete's are all hard working and have a drive on wanting to get better. 
"The basketball team really came with a 'get better' mentality this summer and I really think it will show in their performance this year." Novak said.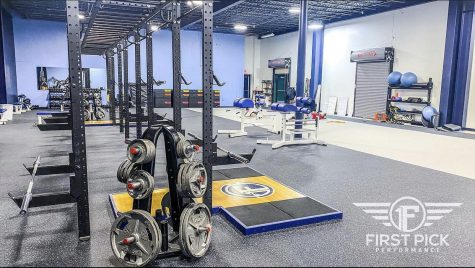 First Pick has worked with many D1 athletes and professional athletes, so it makes sense why so many athletes go there. So athletes from Elkhorn North who truly want to go to the next level and are serious about sports should consider First Pick. 
"I've worked with the boys basketball team, Grace and Shay Heaney, Michaela Palmer, Kenzie Heedum, Anna Martin, Charlotte Christo, Chris Thiessen, Reilly and Reagan Palmer, and Reese Booth." Volk said. 
Personally, I believe that First Pick is a great training program that athletes should invest in, in order to become more athletic for their sports. I have been going since my freshman year and nothing but positive things have happened. My agility, speed, vertical, and strength all went up and it was all because of First Pick Performance. 
Not only that, but all the trainers are great people and they care about your progress. They all want you to succeed and help you become a better person as well. Not only that, but new friendships rose. 
"While I loved lifting there, I also loved bonding with my teammates while training." Dryak said. 
First Pick Performance is the place to be for athletes that want to get better. Whatever you need, First Pick will help with. 
"I recommend it to anyone that plays sports that are serious about getting better." Dryak said. 
Athletics are taken seriously by nearly everybody at Elkhorn North. To succeed as an athlete, lifting is needed. First Pick Performance is a favorite place to go for Elkhorn North athletes.