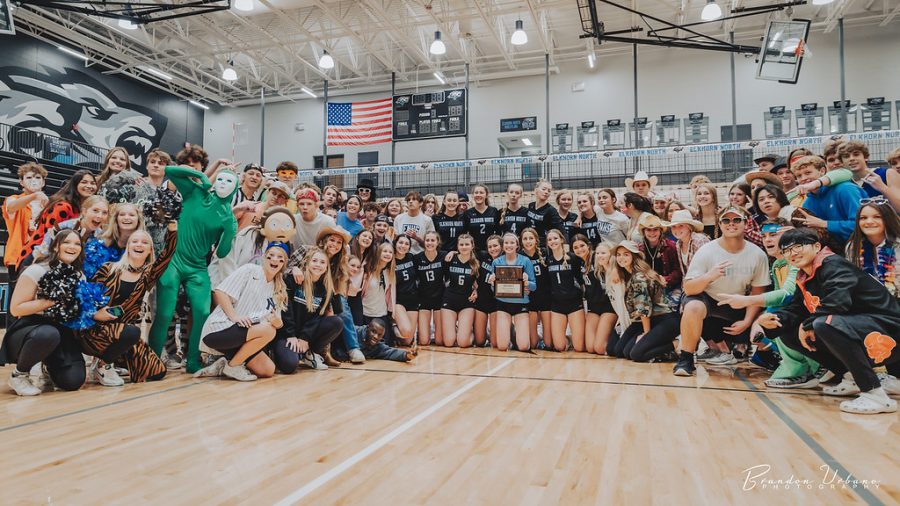 Photo by Brandon Urbano
2021 Fall Sports Recap
Poststeason success, impressive stats, and individual standouts from the 2021 fall sports teams.
November 23, 2021
A summer full of hard work paid off for the Wolves in the 2021 fall sports season, and several new trophies in the case prove it was one for the books.
Girls Golf: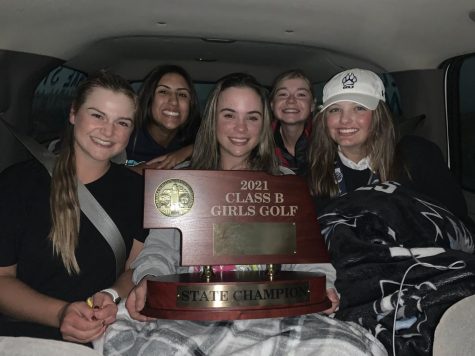 Coming into the season with a very promising team, Elkhorn North girls golf certainly did not disappoint. At the first invite of the season, the varsity team placed runner up. This was followed by several impressive accomplishments including a new Blair Invite team record of 316, conference championship, district runner up, and capping it all off with a State Championship. This state win was the second ever in Elkhorn North history. 
Though the entire varsity was strong this season, a few impressive individuals from the team stood out at state. Ellie Houston, Julia Karmazin, and Emily Karmazin all placed in the top ten. 
As only a sophomore, Julia Karmazin brought home the individual win followed by her sister not far behind in second. Ellie Houston placed 10th. Clearly, the lady Wolves came to play this year, and they aren't done yet. Though losing some strong assets to the team next year, hopes are high for Elkhorn North girls golf in the future. 
Cross Country: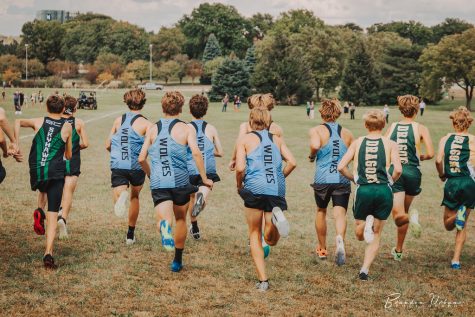 Hundreds of miles and many early summer mornings paid off for the Elkhorn North cross country team. The season started off strong with the boys winning their first ever meet championship at the Norris invite on August 28. A few weeks later, the girls were champions at the Blair invite. 
In the postseason, the girls had an incredible performance at districts, bringing home the championship with every team member placing in the top 20. Also at districts, Michael Grigsby and Jack Sinnot punched their ticket to the state meet by placing in the top 15 runners. Overall, the girls placed 4th at state. Freshman Ella Ford secured a medal by finishing 14th individually with an impressive time of 20:32. 
Other notable performances from the season include Michael Grigsby's time of 16:31 at the DC West invite. Also at DC West, Britt Prince and Ella Ford went sub-20, running times of 19:33 and 19:37 respectively. The cross country season was a success, and the Wolves hope to come back even stronger next season. 
Boys Tennis: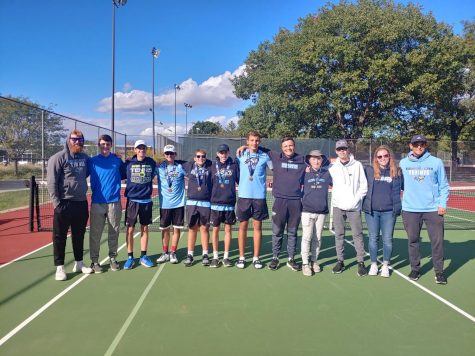 Another memorable fall sports season was boys tennis. On September 3rd, the varsity team won their first ever tournament championship at the Crete Invite. At the home invite on September 25th, Eli Shada placed 3rd in #1 singles, and Ryan Mensch placed 2nd at #2 singles. The boys placed runner up at the ENHS invite. 
The season consisted of two regular season tournament wins, a winning dual record, and impressive results at State. #1 doubles Jon Doscher and Ian Armbrust medalled 5th as state, and #2 doubles Sheamus Sinnott and Luke Butler medalled 3rd. With a majority of players returning next year, it will be exciting to see how the Wolves perform after the season of success they had in 2021. 
Volleyball: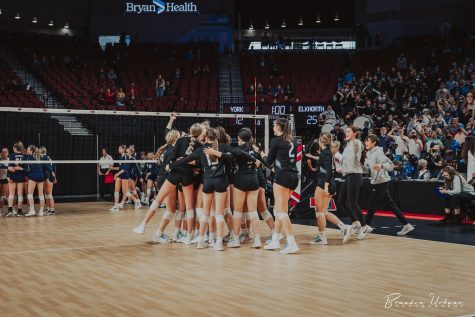 The Elkhorn North Volleyball team didn't let a lack of seniors get in the way of a remarkable season on the court. The Lady Wolves finished with a record of 22-12, and in that was a district championship and a first-round win at state. 
They proved their ability several times as a young team with several wins against Elkhorn High, class A schools, and a victory to Norris, a very highly ranked team. At State, they swept York and experienced a devastating loss to Norris in the semifinals. There is no doubt that the girls have unfinished business on the court and will return their entire roster hungry for more next season. 
Football: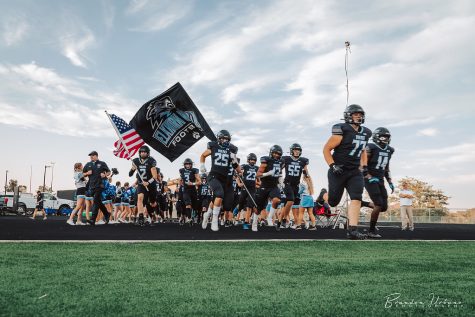 On October 1, Elkhorn North beat Ralston 35-21. Surrounding this game were several close-fought battles and some impressive performances by the boys. Though the record may not show it completely, a summer of long practices and days in the weight room did pay off. 
Easton Maines was a top performer in the 2021 season. Making the top 10 list for rushing yards in class B, Maines was an extremely good rusher this season and a strong asset to the team. A heartbreaking loss against Beatrice showed how hard the boys fought this season. In double overtime, the Wolves only lost by 1. 
The team was struck by several injuries mid-season, which unfortunately lowered their chance of success. Through this, underclassmen stepped up and got some varsity experience, which will help the Wolves in the future. Elkhorn North football saw much improvement from year one and with a strong foundation built, will continue to work for the future. 
Softball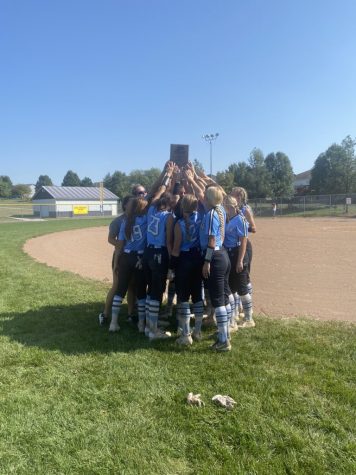 The Lady Wolves softball team finished the season with 14 wins. On September 18, they won the first tournament championship in Elkhorn North softball history with a victory over Falls City. 
An impressive number of home runs were hit all across the varsity board. Halle Pribnow was a standout player who had an incredible mid-season. In one game, she threw a no-hitter and hit two homeruns. 
A few other notable awards went to Addy Maxell (EMC All Conference, All State 2nd Team, All State Honorable Mention), Mattea Martin (EMC All Conference, All State Honorable Mention), and Bailee Rinn (EMC Academic All Conference, All State Honorable Mention). As another team losing several seniors, the foundation they set will help the underclassmen continue the program's success into the future.
The Wolves continued on their roll of success as just a second year school, which can be proven through the 2021 fall sports season. It will be exciting to see what's in store for Elkhorn North athletics as we approach the winter and spring seasons.