Doscher: A Man of Contrast
Elkhorn North's head boys soccer coach, Fred Doscher, is excited for the new season and honored to be awarded High School PE Teacher of the Year.
November 22, 2021
At Elkhorn North, weight lifting is a class that everybody loves but it's not just because of the physical activity, it's because of the teacher behind it, Fred Doscher.
Doscher came to Elkhorn North last year excited for the new opportunities it had to offer and to establish a great program for the physical education department and boys soccer team. From being a new school, it offered a variety of brand new equipment that allowed Doscher to be creative and make a program that all will love. 
Doscher's love for working out and being able to bond with kids is what motivated him the most to become a PE teacher. He knew when he started his teaching career that he would want to be able to move around and not be bored in a classroom to improve his interaction with his students. 
His class is set up where the students have five minutes to change once the bell rings, then they get to stretch and take a quick 2 laps around the gym and finally get to go up to the weight room to start their lifts. Doscher has created a well rounded lifting routine that fits every body's needs with 2 lower body days, 2 upper body days and cardio every other wednesday. Some weeks the class gets a fun, competitive game day on Fridays in replace of cardio. 
Senior Vitor Labegaline said, "He lets the students have a lot of freedom during the class while still getting us to be productive with the daily tasks."
Doscher motivates the kids to want to work out and focuses on creating a relationship with his students. He explains the importance of physical activity to them and encourages them to do the best they can. It helps that the class is high energy and has positive vibes in the weight room.
Junior Billy Hendryx said, "He has for sure impacted my outlook on lifting. When he explains a lift, he talks about how it can help you in your sport and it can give me a different perspective on it. Something I take away from his class is the fact that you can change yourself for the better just by lifting weights and working out."
This year Doscher was awarded with High School PE Teacher of the Year and was in total shock when he received it. He was nominated by the head of the department and this is the second time he received the award, the first time being in 2008. 
"I didn't know I would be nominated. I didn't know I would win it. It kind of made it more special because the head of the department nominated me cause it's like someone who is the head of our area. It felt great, it's a good honor," said Doscher.
"Absolutely, he can be serious at times, but his class is so fun and he brings an awesome vibe to the class. He is an amazing person and is definitely deserving of the award," said Hendryx.
Doscher isn't only the weights teacher at Elkhorn North but also the boys varsity soccer coach. He has been playing soccer since he was 4 years old but never knew he was going to end up a soccer coach in the future. 
He first started coaching soccer at Stillwater High School because they needed a new coach. Doscher's college professor noticed him one day messing around with a soccer ball and pitched the job to him. Fast forward to now; he's still loving the job.
Doscher is optimistic about the upcoming season and is hopeful that the players stay healthy this time around. During the offseason they have been playing indoor leagues and plan on getting into the weight room soon. Once the winter season is over and the weather starts to warm up, they'll also have open fields. 
Some goals he's looking forward to being accomplished is watching the players grow and improve their skills. Doscher is anticipating that they'll make it to state this year, as every coach is hopeful for. Yet, he doesn't have any predictions for the season.
His coaching style is inclusive and focuses on the team being able to play together instead of as individuals. They improve as a team to better their communication and being able to communicate to one another on the field together. 
"Growing up you play under so many different coaches you learn their style, but that goes for every sport not just for soccer," said Doscher.
This is seen in many of the players as they have taken his advice to better themselves. Doscher is focused during practice and likes to communicate with the players the things he sees that they may not.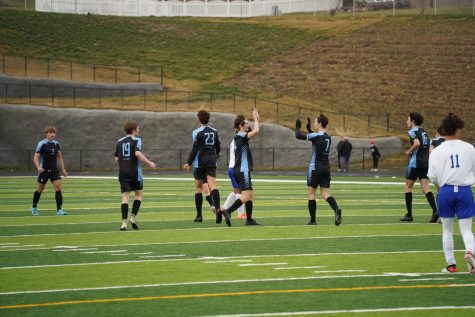 "He focuses on getting our bodies and minds ready rather than working solely on skill moves. He gets us to play as a team," said Labegaline.
On the field, Doscher is seen as more serious than his laid back attitude in the classroom but it doesn't stop them from having fun. 
"He jokes around with us when it is the right time, we get our work done. We play games at the end of practice sometimes," said Hendryx.
Overall, Doscher is a joy to have in the classroom and on the field. The Wolfpack and family are excited to see what he has in store for the upcoming season and are cheering them on as hard as Doscher cheers on his students and players.