Wolves Will Strike You Out
The first-ever athletic win for Elkhorn North High School.
It's time to make history at Elkhorn North High School. While other fall sports have started their seasons, the 2020 softball season at Elkhorn North is one for the history books.  On Thursday, August 21, 2020, the Elkhorn North Wolves softball team had their first game of the season.  They traveled to Yutan, Nebraska to play against the Yutan-Mead Patriots. The Wolves had an outstanding game, they won 12-0. This game will go down in Elkhorn North history because it is the school's first-ever athletic win. 
"I am honored. Our girls had a goal to be the first win in Elkhorn North and I couldn't be more proud and happy for their moment in Elkhorn North History," Coach Kelsey Maxell said. "We were motivated to be the first win for Elkhorn North!" Maxell said, "I am very proud of the way our girls played for each other and their school."
Maxell is very pleased with how the season is going. Her goals moving forward into the season are having her players play for each other, not themselves, and working hard to improve their skills each and every day. 
"I think the game was a great start to our season. We hit the ball well, our pitching was phenomenal, and we were super hyped up in the dugout," Junior, Michaela Palmer said. "I was satisfied with how the game went. It feels good to start your season off with a win." 
This is Palmer's tenth year of playing softball. She wants to set a good foundation for the softball program at ENHS. 
When asked the question, How do you think the game went? Freshman, Kylee Faust said, "The game went pretty good. There was plenty of effort from everyone and we all cooperated well."
This is Faust's first year playing a high school sport. Faust loves the atmosphere that the team has created and loves playing with her teammates. She wants to be successful and improve her game this season and continue to grow.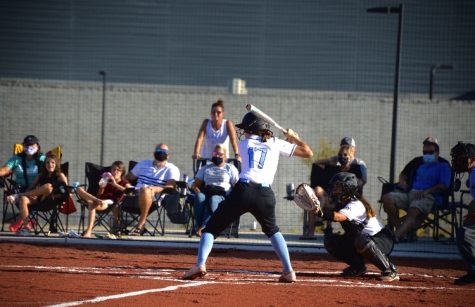 The Elkhorn North softball team shows spirit and amazing teamwork and they are only going to improve as the season goes on.  This group of athletes show a great deal of passion and support to each other and want to continue to not only be successful on the field but off the field as well. The Wolves softball team has played in other games and tournaments which have been successful. Through their continued hard work and efforts they will continue to succeed as a team as well as individuals.