The Power of Podcasts
Podcasts are trending among Elkhorn North Students.
Podcasts are becoming increasingly popular among people of all ages and of all backgrounds. Podcasts are voice recordings released in episodes that recall a story or news. 
Many students at Elkhorn North have joined the trend. There is a podcast for almost every topic, and they can easily be accessed through the internet and music streaming services.
The ability to listen to something entertaining, while simultaneously being able to do something else is appealing to people. Unlike music, podcasts allow people to gain information by just listening.
"I think podcasts are becoming more popular because of their convenience," Senior Luke Tillman said. "Podcasts make it easy for someone to absorb information that they enjoy while they are doing something else like driving or running for example."
Podcasts are not only good for learning new information, they can be a source of motivation and advice. 
"I absolutely find a lot of podcasts motivational. You can get great advice listening to podcasts," Junior Luke Hunsberger said.
One reason podcasts have been taking off within the past few years is because they are convenient. Not only are they readily available, but they also make a great background noise for multi-tasking and processing one's own thoughts.
"I like the convenience of being able to multitask while listening and enjoy just playing an episode in the background," Tillman said.
Another theory is that podcasts have become popular because of the pandemic. The increase in listeners can be attributed to the isolation of people in their homes.
"I think that the pandemic has caused podcasts to become more popular because people are staying home and they want to feel like they're part of an active conversation about something they are interested in," Junior Eddie Riley said.
As generations change, the radio is becoming less of a prevalent source of content. People are starting to listen to media more from their phones. Podcasts are replacing what used to be talk radio. The similarities between the two can also serve as an explanation for why podcasts are gaining popularity.
Many celebrities have turned to creating podcasts as another source of content. By sharing personal stories, podcasts help celebrities build their fan base. Making the listener feel like they know the celebrity and can relate to them, leads to more followers.
"A lot of times people do not have time to sit down and watch a celebrity interview, but if they can listen to it they have the same experience and can get the same information," Junior Haley Rohrig said. "Also, a ton of celebrities started podcasts so if someone is a fan of them they can listen and support them."
Although podcasts are on the rise, it doesn't seem as if they have surpassed the amount of time Elkhorn North students listen to music. 
"I definitely don't listen to podcasts more than music but I would say I listen to podcasts about once or twice a week," Tillman said.
Some students do feel as if they listen to podcasts and music equally, however. Hunsberger and Riley both listen to podcasts about 4-5 times a week.
It is no easy task starting a podcast. Sophomore Brandon Urbano has recently created Elkhorn North's first podcast, called The Elkhorn North Sports Show. Each episode keeps up to date with the Elkhorn North sports teams and other important events happening within the school. Episodes are posted on Elkhorn North's striv.
The idea was created between Urbano and other North Howler staff members because they wanted a way for their sport's audience to hear the highlights of games instead of just seeing scores.
Sometimes Urbano invites special guests onto his show to hear their takes on Elkhorn North sports and to make the podcast seem less repetitive.
Podcasters face the challenge of deciding when and how often to post episodes. Urbano tries to release an episode every week, but that does not always happen.
"We aim for an episode a week but sometimes we get busy and don't do one and sometimes there is a lot going on that week in the sports world so we post two," Urbano said.
Another challenge faced when starting a podcast is knowing what equipment to use. One thing that is necessary for a podcast is some form of a microphone. It maximizes the sound quality and drowns out background noise. 
Some podcasters film themselves recording a podcast and post it on youtube in order to give their viewers something to watch while they listen. Urbano dual uses the striv equipment to broadcast games and to record his podcast.
One of the hardest challenges, though, is coming up with new episode ideas. Podcasters want to be original in their ideas while also sticking to the same topic that their show is about.
"I would encourage anyone who wants to start a podcast but also be weary because it can get repetitive and you could run out of content for one week and have way too much for another," Urbano said.
Podcasts are a fairly new form of entertainment that is becoming very popular among all types of people due to their convenience and range of topics.
Leave a Comment
About the Contributor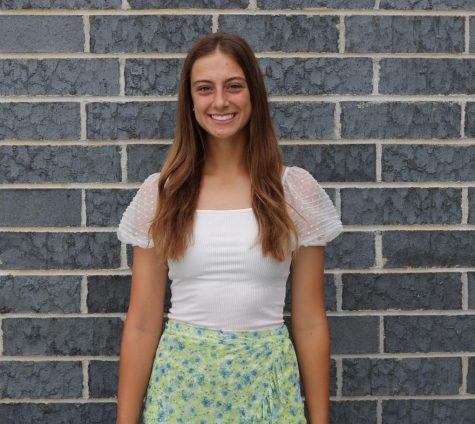 Michaela Palmer, Reporter
Michaela is a senior who likes to play softball and basketball, be outside, and hang out with her friends and family. This is her first year on staff.