Student Spotlight: J Lusk
Elkhorn North's senior basketball star, Jack Lusk.
January 11, 2022
Basketball is one of the most beautiful sports in the world. There are so many different aspects of the game. The art of shooting has been changing the game of basketball. Each year, we see players shooting further and further away from the basket. For sharpshooting senior Jack Lusk, shooting is second nature. 
Jack Lusk got his inspiration to play basketball from his father, Paul Lusk. Paul was a point guard who played at Iowa from 1991 to 1993 and then transferred to Southern Illinois to finish off his college basketball career. 
Eventually, Paul played basketball overseas for a couple of years. Later, his coaching career started. Coaching at Purduefrom 2004-2011, then Missouri State 2011-2018, Creighton 2018-2021, and now is back at Purdue serving as an assistant coach. 
Growing up, Jack Lusk watched all of the players his dad coached which struck his interest in playing basketball. 
"I started playing basketball because my friends asked me to play on their team. I was scared at first and didn't want to play but my parents encouraged me to try it out and I also wanted to be like the players I saw my dad coaching in college." Lusk said. 
Lusk grew up in Missouri until 2018 when his dad got the assistant coaching job at Creighton. That's when Lusk moved here to Elkhorn. 
Since then, Lusk's work ethic has been impeccable. Both during the off-season and in the regular season, Lusk works hard to perfect his craft. 
"In the off-season, my day consists of different workouts: lifting weights, shooting alone or with teammates, playing pickup, and cardio. Usually 2-3 workouts a day." Lusk said. 
During the summer, Lusk went through rigorous training with his team. Having early morning skill workouts and going to First Pick Performance later in the day. His teammates admire his hard work and dedication. 
"I don't remember Jack ever missing a morning shoot around or a First Pick workout. I also know for a fact he lives in the gym at common ground." senior teammate, Luke Tillman said. 
During the season, Lusk always goes the extra mile to make sure he is in top condition for both practices and games. Whether it be stretching, rolling out, or even shooting extra before or after practice and games. Lusk truly loves the game of basketball and proves it day in and day out.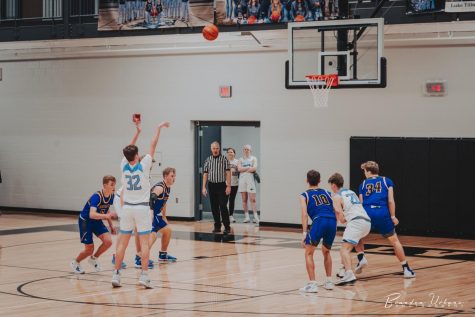 "J Lusk can always be seen getting shots up or lifting at common ground." junior teammate, Carson Ripley said. 
Lusk doesn't only excel on the court but also in the classroom. Teachers love having him in class and praise how hard he tries. 
On the court, Lusk is also a great leader. Pushing his teammates to get better each day. He also loves his teammates and loves being on a team.
"Celebrating with my coaches and teammates is probably one of the most enjoyable things that happens." Lusk said.
Whether it's on the court or in the classroom. Jack Lusk will excel with giving it his all. The dump truck will always give it his all.