Athlete of the Week: Jadon Webster
This Elkhorn North Wrestler has had a spectacular season despite a mid-season shoulder injury
When someone talks about a good wrestling season at Elkhorn North, Jadon Webster's name always comes up. This season, he holds a spectacular 12-2 record in his heavyweight class. Along with being a great wrestler, Webster is great in the classroom. Webster holds a high GPA and likes to improve what he can when it comes to school and wrestling. "He is always wanting to learn and perfect his moves," Sophomore wrestler Murphy Maloney said. 
Webster is known as the person who respects everyone and treats his teammates as if they were his brothers. He always supports his teammates no matter what. "He keeps his head up no matter what," Maloney said.
His energy is contagious and positive. On the sidelines,  he is encouraging his teammates on the sidelines with him. He helps his teammates improve their moves and gives them constructive criticism. He is one of the leaders of the Wrestling team.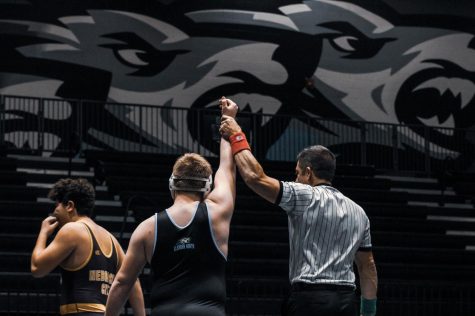 A few weeks back, Webster was sidelined due to a shoulder injury. He recovered quickly and was right back at it. He won multiple matches after being cleared to wrestle again. "Jadon came back after his injury hungrier than ever. He won his first match easily and kept dominating from there," Junior wrestler Trey McDougald said. 
Webster is a multi-sport athlete. He is also a defensive and offensive lineman for the Elkhorn North football team and he does a great job protecting quarterback Easton Mains on offense and stopping running backs at the line on defense. "He is one of our best linemen because he plays on offense and defense and is amazing at both," sophomore football player Chris Thiessen said.
Athletes like Webster deserve recognition for their efforts. Webster respects his teammates and treats them with the most respect he can and for that, his teammates respect him. Congratulations Jadon on being Elkhorn North's Athlete of the Week!
Leave a Comment
About the Writer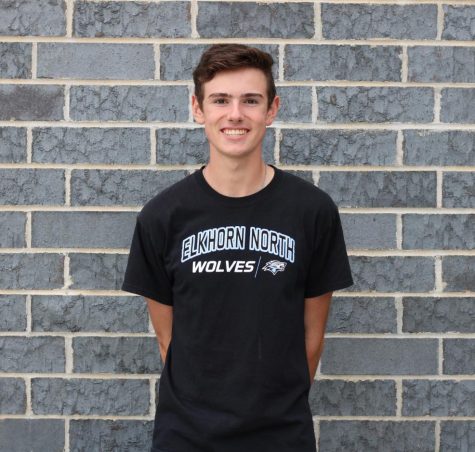 Aidan Ettleman, Reporter
Aidan Ettleman is a sophomore baseball player and first-year journalist on the North Howler staff. He loves all things sports and will never deny writing a good sports story.