Student Spotlight: Hannah Nadgwick
Although it isn't always recognized, Hannah Nadgwick's work on the Elkhorn North girls basketball team is an important factor to their accomplishments.
The girls basketball team has been successful in their season so far, with the help of Hannah Nadgwick.
"Hannah is a super hard-working kid," assistant coach Lindsey Schlosser said. "She doesn't always get the glory of scoring for us, but she always does all of the dirty work for us, especially defensively." 
Nadgwick, offensively, creates good shots not only for herself but also for her teammates on the court.
"Offensively, I have to play on the inside and try and get open, when I get the ball on the inside it really opens up the offense and allows more offensive opportunities," Nadgwick said.
Her defense brings success to the team. She is a key player that limits other teams' post player, who is the generally taller player on the team who works to score near the basket.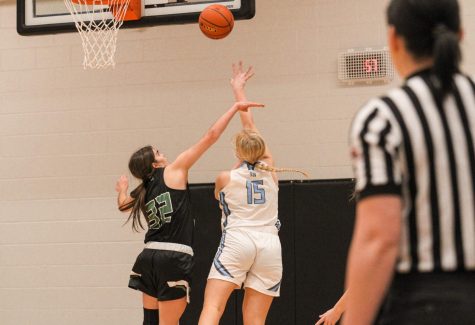 "I have to guard other posts and for most teams, they are one of the best players on the team, so I have to shut them down and stop them from scoring and getting rebounds," Nadgwick said.
Being a post isn't always easy, especially when other teams have a size advantage, so Nadgwick has to work even harder.
"Hannah gets assigned tough tasks game after game and takes them with grace and confidence," Schlosser said. "She stays cool under pressure, and her teammates know they can count on her every possession. Hannah is a huge asset to our team."
Nadgwick is put in the center of attention when she is playing, she takes action and performs under tough circumstances.
"She is our team's starting post which means she has come into a very large leadership role," teammate Sydney Stodden said. "All of the other posts often look up to her and she is the perfect role model for them to do so."
This year Nadgwick has had to fight through adversity, and this has only made her a tougher player.
"Hannah is one of the hardest-working people on the team. Guarding a post player is not a task to take lightly, it's a tough battle," Stodden said. "Hannah perseveres no matter how tired she is or if she doesn't feel the best."
One ability that really stands out as a post in her offensive and defense is her rebounding. Rebounding is a prime aspect of getting passes moved ahead and limiting opponents second-chance shots.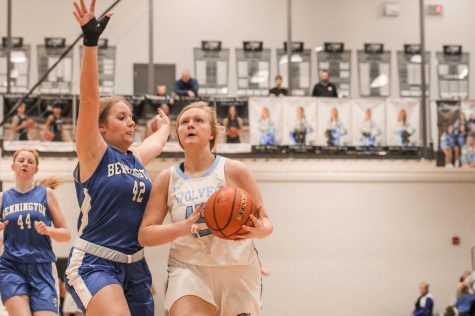 Nadgwick's role as a part of the girls basketball team has been a significant component of their successes.
"Hannah leads by example and is consistently one of our hardest workers," Schlosser said.
Leave a Comment
About the Writer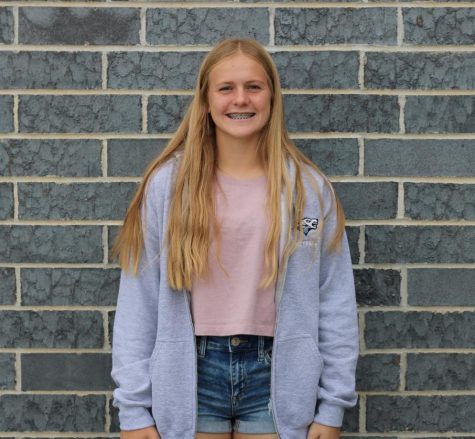 Halle Pribnow, Reporter
Halle Pribnow is a sophomore, and this is her first year on staff. She spends most of her time in sports. She plays softball, basketball, and track.