Ukraine/Russia War: LIVE UPDATES
Up to date events as the war unfolds.
As the school year is coming to an end, unfortunatley the Russia's war in Ukraine is not. On this day, May 17, the war pushes on as Russian forces make advances in eastern Ukraine in the Donbas region. The Russian army continues to be met with stiff Ukrainian resistance with both sides taking losses. Hopefully this devestating war will come to and end soon and end the pain and suffering. My prayers go out to all of those who have suffered the tragic cost of war and have been directly or indirectly impacted by the war. Thank you all for tuning in.          -Joe Norman
May 15:
---
-81st day of war
-Russia's offensive in Eastern Ukraine has lost momentum according to the UK
-Where Ukrainians are fleeing to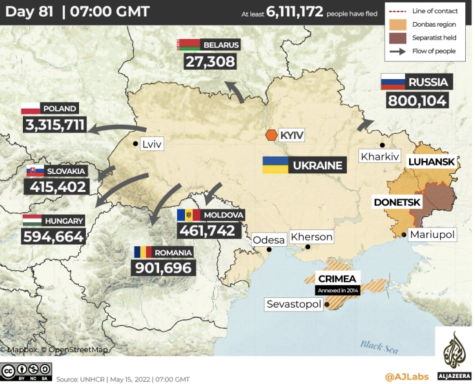 -Russia accused of dropping phosphorus bombs on Azovstal
-Ukraine has deployed new US howitzers at front lines
May 14:
---
-80th day of war
-India bans all wheat exports with immediate effect
-Hungary holds up EU plan to ban Russian oil
-Russia suspends electricity to Finland
-Global grain crisis looms as wheat from India
-Russian troops withdraw from around Kharkiv according to Ukraine
-Russia denies responsibility, blames West for soaring food prices
-Mitch McConnell meets Zelenskyy in surprise visit to Kyiv
May 13:
---
-79th day of war
-The president of the European Council, Charles Michel, says global security under nuclear threat because of war
-Vadim Shishimarin, Russian soldier, begins his war crimes trial in Ukraine after allegedly killing an unarmed civilian
-27,000 Russian troops have been killed since the beginning of the war
-Russia expels 10 Romanian diplomats
-Turkey opposed to Finland and Sweden joining NATO
-Ukraine accuses Russia of deporting more than 210,000 children
-Italy backs Finland and Sweden joining NATO
May 12:
---
-78th day of war
-Russians block all evacuation routes out of Mariupol
-Nearly 800 missiles launched at Ukraine since February 24
-More than 300 killed in Irpin mayor says
-War map as of today
-Over six million refugees have fled Ukraine according to the UN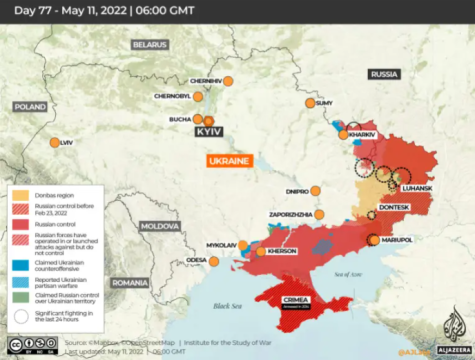 May 11:
---
-77th day of war
-Ukraine pushes back Russian troops near Kharkiv according to the Defence ministry
-Russian attacks on Kharkiv intensifying
-Congress passes $40 billion Ukraine aid package
-US senators introduce resolution to list Russia as terror sponsor
-Russia has downed satellite internet in Ukraine
-Nearly 5 million jobs lost in Ukraine because of war
-First Russian soldier to face trial in Ukraine for alleged war crime
-Allies set to approve Finland and Sweden NATO
May 10:
---
-76th day of war
-Fighters in Azovstal still battling for Mariupol
-Russia underestimated Ukraine's resistance according to the UK
-Russia has lost 26,000 servicemen
-44 bodies discovered in collapsed building in Izyum
-Finnish Parliament's defence committee recommends NATO membership
-More than eight million people have been displaced in Ukraine according to the UN
-German foreign minister backs full EU membership for Ukraine
-Czech Republic elected to replace Russia on UN rights council
-Kyiv mayor says nearly two-thirds of residents have returned
-Belarus plans to deploy special forces to southern border near Ukraine
May 9:
---
-75th day of war
-226 Ukrainian children killed in Russian invasion: prosecutors
-Putin holds military parade on Victory Day and delivers speech calling out the West and NATO
-Putin mirroring fascism of Nazi Germany, UK minister says
-Mariupol officials document new mass grave containg hundreds of bodies
-UN's top rights body to hold special session on Ukraine
-US to suspend tariffs on Ukrainian steel for one year
May 8:
---
-74th day of war
-The UK plans to provide Ukraine with $1.6 billion in aid
-Chechen leader says his soldiers control Ukraine's Popasna in the Luhansk region
-Russia bombs school in Luhansk, kills at least 60
-All civilians have evacuated Mariupol's Azovstal steel plant
-President of Germany's parliament arrives in Kyiv
-EU negotiations ongoing over Russia oil embargo
-Jill Biden makes surprise visit to Ukraine
-Russian deputy PM Marat Khusnullin visits Mariupol
-U2's Bono performs in Kyiv
-Us ambassador Kristina Kvien arrives at Kyiv embassy
-G7 leaders pledge further economic isolation of Russia
-Lockheed Martin to nearly double Javelin missile production for Ukraine
May 7:
---
-73rd day of war
-Biden renews call for US Congress to approve more funds for Ukraine as $150 million in military aid is authorized
-Biden renews call for US Congress to approve more funds for Ukraine
-Status of Ukrainians fleeing invasion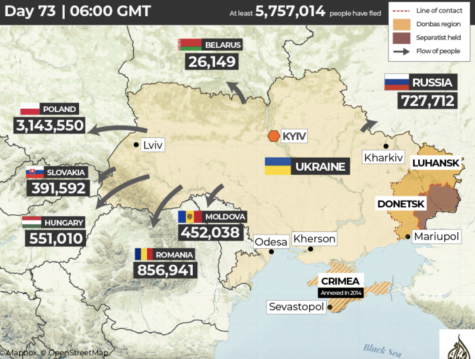 -Ukraine says it has sank a Russian landing craft at Snake Island with a drone strike
-WHO has documented 200 attacks on health facilities in Ukraine
-Zelenskyy says more than 300 people were saved from Azovstal plant
May 6:
---
-72nd day of war
-Biden agrees to not recognize Russian territorial gains
-UN says there are 6,731 civilian casualties in Ukraine
-UN chief says 500 Mariupol civilians rescued
-Ukraine says 223 children have died since start of invasion
-Taiwan adds Belarus to export control list
-UN Security Council adopts first statement supporting peaceful solution in Ukraine
May 5:
---
-71st day of war
-UK sending Ukraine $56 million for humanitarian aid
-Russia may use Belarus military exercises as decoy according to the UK
-Russia trying to destroy last Ukrainian units in Azovstal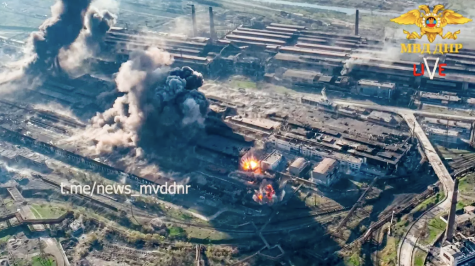 -Russia expels seven Danish diplomats
-Fiji seizes $300 million yacht of Russian oligarch Suleiman Kerimov
-Donors' conference in Warsaw raises $6.5 billion for Ukraine
-Ukraine received over $12 billion in weapons and financial aid since start of war
-Bulgaria and Greece plan joint gas purchases from southeastern Europe
-Belarus president Lukashenko says he didn't think Ukraine war would drag on this way
-Sweden says it has received US security assurances if it submits NATO application
May 4:
---
-70th day of war
-Azovstal steel plant evacuees never arrived in Zaporizhzhia according to Mariupol mayor
-Russian Ministry of Defense says, "11,000 people, 131 pieces of weapons and military equipment and 77 aircraft will take part in the parade on Red Square, dedicated to the 77th anniversary of the Victory" in WWII
-Australia sanctions 110 Russian politicians and officials
-Belarus army starts drill exercises
-EU weighing bolstering military support for Moldova
-Moscow warns it will target NATO weapons shipments
-Slovakia, Hungary, and Bulkgaria seek exemptions from the EU's oil embargo
May 3:
---
-69th day of war
-Push to arm Ukraine putting strain on US weapons stockpile
-Russia plans to annex Eastern Ukraine according to US intel
-Russian military is now storming Mariupol steel factory, Ukrainian forces say
-Pope Francis asked Putin for a meeting at the early stages of the war
-Slovakia to seek exemption from any EU embargo on Russian oil
-Russia says it hit logistics center near Odesa
May 2:
---
-68th day of war
-Jill Biden planning to visit Ukrainian refugees in Romania and Slovakia
-One-fourth of Russian forces in Ukraine are combat ineffective according to the UK
-Ukraine says 219 children have died in war
-Russians tortured POWs with frostbite, Ukraine claims
-State of Ukraine as of today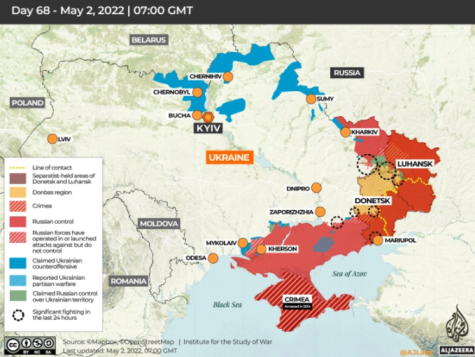 -New Zealand adds 170 Russian politicians and 6 defence companies to Russian sanctions
-5.5 million have fled Ukraine according to the UN
-Russian rocket strike hits strategic bridge in Odesa region
-US embassy in Ukraine says it hopes to return to Kyiv by the end of May
-More than 3,100 civilians killed in Ukraine so far according to the UN
-Hungary moves embassy back to Kyiv
-Ukraine releases video of 2 Russian ships being destroyed in Black Sea
May 1:
---
-67th day of war
-Pelosi along with other members of Congress meet with Zelenskyy in Kyiv
-Russia accuses Ukraine of shelling its own civilians
-Evacuation underway from Mariupol steel plant
-Finland to announce application for NATO membership on May 12
-Germany will support Russian oil embargo after significantly reducing dependence
-Internet cut in Russian-occupied Kherson
April 30:
---
-66th day of war
-Russia says war will not end until U.S. and NATO stop sending weapons to Ukraine
-Military losses as of today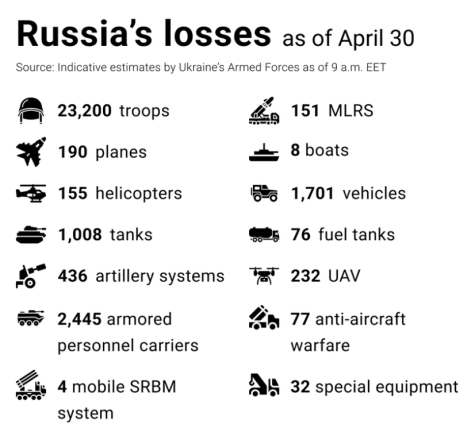 -Ukraine accuses Russia of nearly 9,000 crimes of aggression or war crimes
-Ukraine defense ministry warns of 'signs' Russia is increasing troop size in Donbas
-Ukrainian soldiers counter attack Russian forces in the Donetsk region
April 29:
---
-65th day of war
-Zelenskyy says he is grateful to Biden, American people for aid
-23,000 Russian troops have been killed in the war so far
-Russia continues to push into the Donbas region
-Putin will attend G20 summit, Indonesia says. Zelenskyy also invited
-NATO preparing for massive military exercises as Russia continues invasion of Ukraine
-NATO preparing for massive military exercises as Russia continues invasion of Ukraine
-EU likely to approve Russian oil embargo next week
-New mass grave found in Kyiv region with 900 bodies in it
April 28:
---
-64th day of war
-22,800 Russian troops have been killed in the war so far
-Russia picking up pace in eastern Ukraine according to Ukraine's General Staff
-Donetsk governor says 2 educational institutions attacked
-Russia intensifying attacks on Mariupol steel plant
-Russia claims it thwarted a supposed terrorist attack by ex-Ukrainian service member in Crimea
-Putin's war on verge of expanding outside Ukraine as it sets sights on Moldova
-Biden sending Congress proposals to further crack down on Russian oligarchs
-Biden requests $33 billion from Congress for Ukraine emergency supplemental funding
-Biden states that 'No one should be making idle comments about the use of nuclear weapons' referring to Putin's latest statements
-Ukraine receives full partnership with the use of NATO weapons
-Kyiv mayor confirms missile strikes have hit the city
-German energy company agrees to Russia's ruble conversion plan
April 27:
---
-63rd day of war
-Zelenskyy says Ukraine is prepared for Russian escalation in Transnistria, the breakaway state of Moldova that Russia threatened yesterday
-Zelenskyy meets with IAEA chief at Chernobyl
-Ukraine has control of a majority of its airspace according to UK
-Bulgarian energy minister says they have enough gas supplies for a month after Russia cuts it off
-Donetsk city struck with phosphorous shells, causing fires according to regional governor
-EU accuses Russia of blackmail after it cuts gas to Poland and Bulgaria
-Moscow threatens to strike Kyiv with long-range missiles if it attacks Russian soil
-Russia frees jailed US Marine Trevor Reed in exchange for convicted Russian drug trafficker
-UN chief Antonio Guterres and Putin agree on evacuations from Mariupol
-Canadian lawmakers unanimously vote to label Russia's actions in Ukraine as genocide
April 26:
---
-62nd day of war
-Ukrainian forces have recaptured 931 settlements, Zelenskyy says
-Ukrainian officials have begun seeking out suspected collaborators
-Russia's Foreign Minister Sergei Lavrov says not to underestimate risk of nuclear weapons saying, "War means war"
-Russian losses as of today
-Belarus to hold joint air defense exercises with Russia later this week
-Russia launches missile attack near Zaporizhzhia nuclear plant
-Explosions hit Moldova after Russia suggests it could be targeting it next
-Germany to authorize tank shipment to Ukraine, bending to international pressure
-Russia looks to block governor elections over fears of low support amid economic turmoil
-Ukraine prepares war crimes charges against Russia military members
-Russia's Gazprom cutting off gas supplies to Poland and Bulgaria for refusing to pay in rubles
-Kremlin escalates tensions and claims Ukraine is developing nuclear weapons
April 25:
---
-61st day of war
-Air alerts sound across Ukraine, including in Kyiv
-Russia's military continues assault on Azovstal plant in Mariupol
-Russia has lost nearly 22,000 troops
-France's Macron wins reelection, solidifying the country's approach to Ukraine
-Biden nominates Bridget Brink as US Ambassador to Ukraine
-Ukraine hits oil depot in the town city of Bryansk, Russia just 60 miles from the border
-NATO warships to train with Finland's navy
-Russia has used 1100 missiles in Ukraine according to president Zelenskyy
-Russia's Lavrov warns of danger of World War III
April 24:
---
-60th day of war
-Poland's defense aid to Ukraine tops $1.6bn
-Russia says it struck arms depots in Kharkiv region
-UK urges France and Germany to do more for Ukraine
-5.1 million people have fled Ukraine
-Russia's losses as of today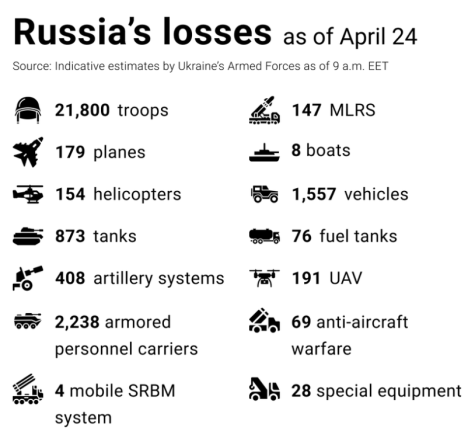 -Austria announces opposition to EU membership for Ukraine weeks after Putin meeting
-Russia reportedly orders textbooks to remove mentions of Ukraine and Kyiv
-Zelenskyy meets with US Secretary of State Anthony Blinken and US Defense Secretary Lloyd Austin in Kyiv
April 23:
---
-59th day of war
-Russia under investigation for using chemical weapons in Mariupol
-Russia's military losses as of April 23
-Bezruky, Slatine and Prudianka villages in Kharkiv have been liberated by Ukrainian forces
-Zelenskyy warns Russia will likely invade other countries
-Missile strikes hit Odesa, killing 5, as Russia looks to obtain Black Sea domination
-Blinken, Austin to visit Ukraine on Sunday, Zelenskyy says
-Child among 8 dead following Russia's missile attack on Odesa
-Zelenskyy reveals Ukraine could pull out of talks with Russia
-Russia places Iskander missile systems 60 kilometers from Ukraine's border
April 22:
---
-58th day of war
-Ukraine prime minister goes to Congress, asks for more help against Russia
-Fire at Russian military research facility kills six, injures dozens of others
-Ukraine accuses Russia of leaving up to 9,000 killed in Mariupol in mass graves
-Ukraine says Russia won't allow evacuations from Mariupol steel plant, try to force surrender
-Map of Ukraine/Russian war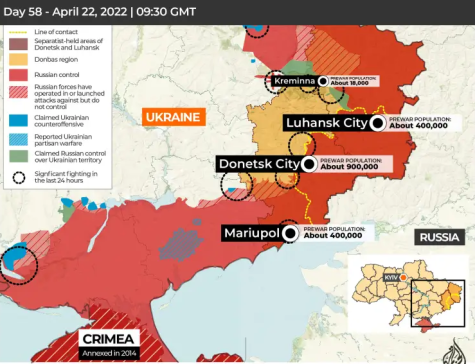 -Russian general says goal of war in Ukraine is 'full control' of Donbas and south
-Ukraine police find more than 1,000 civilian bodies in Kyiv region
-US helping collect evidence of possible war crimes in Ukraine
-UN confirms 2,345 civilian deaths in Ukraine
-Germany promises Ukraine 37 million euros
-Russian forces advancing towards Rubizhne
-US bans Russian ships from its ports
-Russian troops loss surpass 21,000
-1,000 civilians stuck in Azovstal steel plant
-UN chief Antonio Guterres to meet with Putin in Moscow
-German chancellor against sending Ukraine weapons because of risk of nuclear war
-USAID to send $131 million to Ukraine
April 21:
---
-57th day of war
-Boris Johnson compares negotiating with Putin to crocodile
-Ukraine has liberated nearly 1,000 settlements from Russian control President Zelenskyy says
-Zelenskyy proposes trading Russian prisoners for safety of civilians in Mariupol
-Putin orders troops not to storm steel plant which is the last holdout of Ukraine forces in Mariupol, instead, Putin orders blockade of the area
-Kharkiv, Ukraine's second largest city, is under intense attack from Russian bombing
-Biden announces new $800 million Ukraine security package
-G7 promises Ukraine $24bn in aid
-Danish and Spanish Prime Ministers visit Zelenskyy in Kyiv
-Russia has ordered the closure of the Latvian, Lithuanian and Estonian consulates
-Russia sanctions 61 Canadian officials, journalists, and military experts
-Governor of Luhansk says Russia controls 80% of the region
April 20:
---
-56th day of war
-Russia rejects cease-fire for civilian evacuation amid Eastern Orthodox Holy Week
-Norway sends Mistral air defense missiles to Ukraine
-Russia continues to build up forces in the Donbas region as the battle for East Ukraine intensifies
-Major Serhiy Volyna, commander of the 36th Separate Marine Brigade, says that Ukraine forces in Mariupol are facing their last days, if not hours
-Japan revokes Russia's 'most favored nation' status
-Russia issues new Mariupol surrender deadline
-UN says that more than 5 million refugees have now fled Ukraine
-Germany halts arms shipments to Ukraine and will instead help with training and maintenance
-Russia conducts ICBM test with new Sarmat missile system
-Germany commits to ending oil imports from Russia by the end of 2022
April 19:
---
-55th day of war
-Japan to send gas masks and hazmat suits to Ukraine
-Russia attacked 1,260 targets overnight according to Russia's Defense Ministry
-Russia continues to close in on specific parts of Mariupol as Ukraine forces refuse to surrender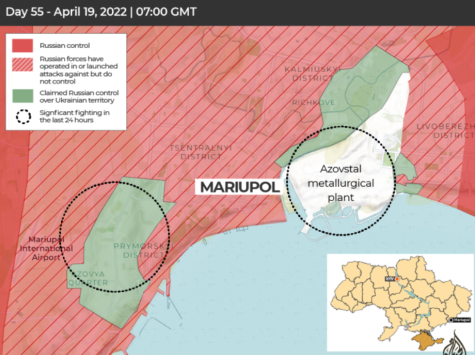 -Russia calls on Ukrainian forces in Mariupol to surrender
-Russia restricts access to Human Right Watch's website in their country
-205 children have been killed and 367 wounded since the start of war
-Russia accuses West of trying to prolong Ukraine conflict
-Russian forces seize Kreminna, in eastern Ukraine
-Russia expels Dutch and Belgian diplomats
-Ukraine says it receives 76 prisoners of war in swap with Russia
-Four dead and more wounded in Russian shelling of Kharkiv
-Russia has increased shelling in the Donbas region
-Ukraine says a third of country demolished
April 18:
---
-54th day of war
-Ukraine's military has pushed back and liberated the towns of Bazaliivka, Lebiazhe, and Kutuzivka from Russian forces
-Lviv, in western Ukraine, continues to be hit by missile strikes
-Ukraine Navy chief promoted by Zelenskyy after sinking of Russian warship
-UN says 4.8 million people have fled Ukraine
-Belgium, Estonia and Bulgaria ban Russian ships
-Ukraine completes questionnaire for EU membership
-Russia accused of forcibly removing 150 children from Mariupol
-Spain decides to reopen its embassy in Ukraine
-Russian troops still not in full control of Mariupol, Ukraine says
April 17:
---
-53rd day of war
-Kyiv Mayor cautions residents who fled city not to return just yet
-Finland to continue joining NATO despite Russia's threats
-Russia's military losses as of today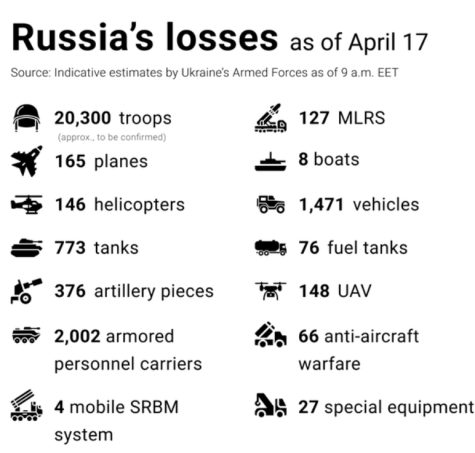 -Russia's security agency requests more money for soldiers funerals
-EU to allocate $54m in humanitarian aid
-Ukraine asks G7 for $50bn to cover budget deficit
-Ukrainian PM says forces in Mariupol have not surrendered
-Deadline for Ukrainian surrender in Mariupol has passed with Ukraine forces not backing down
April 16:
---
-52nd day of war
-More than 900 civilian bodies found in Kyiv region, police say
-Zelenskyy says between 2,500 to 3,000 Ukrainian troops have died in the war with Russia
-Airstrikes reported in Lviv according to its Governor
-Russia bans Boris Johnson and other UK officials over Ukraine war sanctions
-11 Mi-17 helicopters, 18 155 mm Howitzer cannons, and 300 additional Switchblade drones arrive in Ukraine from US
-Mariupol warns Russia is preparing to shut down city to 'filter' all men for forced service, labor
April 15:
---
-51st day of war
-The flagship of Russia's Black Sea navy sank, according to Russia's Ministry of Defense
-Sen. Steve Daines and Rep. Victoria Spartz become the first U.S. elected officials to set foot in Ukraine since the invasion, visit Kyiv and Bucha
-Russia warns the U.S. and NATO this week that there could be unpredictable consequences if they continue to supply Ukraine weapons
-China said that its military staged exercises in response to U.S. lawmakers' official visit to Taiwan on Thursday
-White House not sending Biden to Kyiv in the midst of Russian Invasion as there had been talks that he might travel there
-US believes that Ukraine attacks led to sinking of Russia's Moskva warship
-Zelenskyy says the world should be ready for possibility Putin uses nuclear weapons
-Moscow warns US to stop arming Ukraine after sinking of Russian warship
April 14:
---
-50th day of war
-Russian flagship of Black Sea fleet seriously damaged
-Dmitry Medvedev of Russia's security council makes nuclear threat to Sweden and Finland over NATO consideration saying, "There can be no more talk of any nuclear-free status for the Baltic – the balance must be restored"
-Ukrainian prosecutor general announce 6,500 instances of war crimes
-Refugee numbers as of today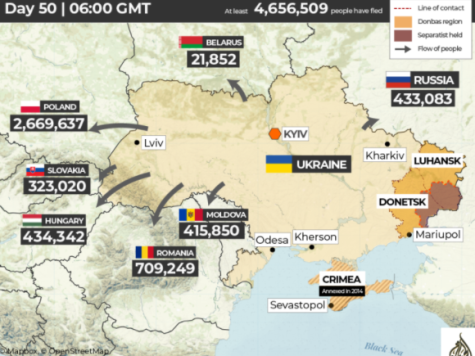 -European Space Agency stops cooperation with Russian lunar missions
-The threat of Weapons of Mass Destruction being used in Ukraine becoming a real concern
April 13:
---
-49th day of war
-Putin says Russia will stay in Ukraine until invasion goals are met
-Ukraine successfully countered 6 Russian attacks in Eastern Ukraine over the past day according to Ukraine's Ministry of Defense
-Pro-Putin Ukrainian oligarch,Viktor Medvedchuk, captured by Ukraine forces
-Presidents of Poland, Lithuania, Latvia, Estonia head to Kyiv to meet with Zelenskyy
-Russia claims 1,000 Ukrainian troops surrendered in Mariupol
-Mayor of Ukraine's Mariupol says more than 100,000 people awaiting evacuation
-ICC chief prosecutor says Ukraine is a 'crime scene' while investigating war crimes
-Russia says US and NATO weapon transports into Ukraine are legal military targets
-Czech Republic reopens embassy in Kyiv
-Russia says Biden trying to distort the situation in Ukraine after commenting that that the Russians were committing genocide in Ukraine
-Moscow threatens to hit decision making centers in Kyiv if Ukraine strikes inside Russia
-Pentagon says 11 Mi-17 helicopters will be sent to Ukraine
-Russian forces likely to capture Mariupol in the coming week
-Russia sanction over 300 members of the US Congress
April 12:
---
-48th day of war
-4,300 people evacuated from Mariupol yesterday
-Ukraine's National guard accused Russian forces of using chemical agents in Mariupol
-19,600 Russian soldiers have been killed as of today
-Deputy Defense Minister Anna Malyar of Ukraine says that Russia has used phosphorus munition in Mariupol
-Zelenskyy says that Ukraine is not getting what it needs as the country is running out of time and lives
-Russia receives military equipment from Iraq to help the fight in Ukraine
-UK Defense Ministry says that Russian troops continue to redeploy from Belarus
-Mariupol mayor days that Russia has continued to incinerate thousands of bodies to hide war crimes in the city
-Ukraine's military says that Mariupol is likely to fall to Russia in the coming days
-Germany says 330,000 Ukrainians have taken refugee in the country since the start of the war
-World Bank says it is preparing to send 1.5 billion dollars to Ukraine
-Ukraine foils Russian cyberattack on power grid
-Vladimir Putin makes rare visit out of Moscow to give a speech at a rocket assembly factory outside the city of Tsiolkovsky saying invasion was the 'right decision'
-Biden to announce additional $750 million in military assistance to Ukraine
-Russia may bring back the death penalty
-Biden calls invasion of Ukraine a genocide for the first time
April 11:
---
-47th day of war
-Nearly 6.5 million Ukrainians internally displaced by Russia's war, UN says
-Finland and Sweden reportedly set to join NATO
-UN says 1,793 Ukrainian civilians have died since the start of the invasion
-Ukraine has destroyed 725 Russian tanks so far
-Ukraine claims to have destroyed a Russian ammo depot in Luhansk
-Zelenskyy claims that tens of thousands have been killed by Russia in Mariupol
-Mariupol mayor says that more than 10,000 have died in the city
-Russia welcomes first EU head of state to Moscow since Ukraine invasion began
-The UN says that almost two thirds of all Ukrainian children have fled their homes
-Russia says it will negotiate with Ukraine, but won't halt military operations during meetings
-Russia accuses NATO members of running psychological operations in Ukraine
April 10:
---
-46th day of war
-Boris Johnson pledges to send 120 armored vehicles after visit to Kyiv to meet with Zelenskyy
-Ukraine's Defense Ministry claims to have destroyed 3 aircraft,1 helicopter, 5 UAV, and 4 cruise missiles over the past day
-Russian military losses as of today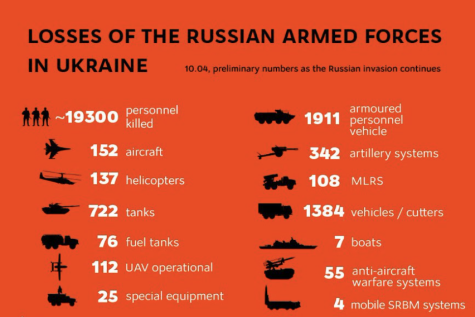 -Finland poised to request NATO membership as early as May
-China makes semi-secret delivery of HQ-22 surface-to-air missile systems to Serbia
-EU chief fast-tracks Ukraine membership
-UN says 4.5 million refugees fled Ukraine
April 9:
---
-45th day of war
-Gen. Alexander Dvornikov, who led Russia's invasion in Syria, is now in charge of Russia's invasion
-Ukrainians prepare in anticipation of a renewed offensive in the east by Russia
-Russia's military losses as of today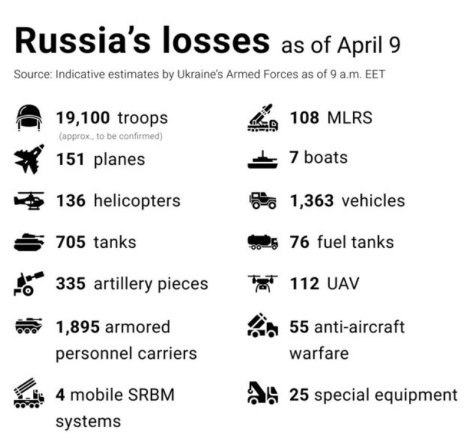 -132 tortured civilian corpses found in Makariv
-EU diplomats to resume presence in Kyiv
-Mariupol mayor says 31,000 residents deported at gunpoint to Russian filtration camps
-UK's Boris Johnson makes surprise visit to Kyiv to meet with president Zelenskyy
April 8:
---
-44th day of war
-Russian forces have fully withdrawn from northern Ukraine, UK Defense Ministry says
-Russia now focusing attacks in eastern Ukraine
-Boris Johnson says German chancellor is determined to end dependence on Russian energy
-Japan expels 8 Russian diplomats
-Russians bomb train station in Kramatorsk killing 50 and injuring hundreds, as thousands were waiting to evacuate the city
-Zelenskyy calls on UN to cut diplomatic ties and isolate Russia
-Slovakia donates its air defense system, S-300, to Ukraine following train station bombing
-The EU adopts its fifth package of sanctions against Russia, banning the import of coal, wood, chemicals and other products
-Ukraine Ministry of Defense says that nearly 19,000 Russian troops have been killed since the start of war
-The US and UK sanction Putin's daughter
-Chernihiv's mayor says 700 civilians have been killed in the city
-Odessa imposes curfew from April 9 to 11 over threat of missile strikes
-UK sending another $130 million in military equipment to Ukraine
-Russian troops destroyed decades of Chernobyl data
-Russia to mobilize 60,000 reservists as it sets its sights on eastern Ukraine
April 7:
---
-43rd day of war
-Pentagon training Ukrainians to use Switchblades, a type of armed drone
-US Senate votes to bing back the World War II-era policy to help Ukraine
-Australia to impose sanctions on 67 Russians over Ukraine
-Shell says Russia exit has already cost up to 5 billion dollars for the company
-Russia's Defense Ministry says it has destroyed four fuel storage facilities in the Ukrainian cities of Mykolayiv, Kharkiv, Zaporizhzhia, and Chuhuiv overnight
-The Governor of Luhansk in the Donbas region warns citizens that time is running out for Ukrainians to flee as Russia works to seize full control of the area
-NATO urging members to send heavier weapons to Ukraine in fight against Russia
-Mariupol mayor says 100,000 people still need to be evacuated
-Moscow says Ukraine presented an unacceptable draft peace deal after another week of talks
-G7 says it is time to suspend Russia from UN Human Rights Council
-US and Poland are planning to hold joint military exercises near Ukraine border
-The UN general assembly votes to suspend Russia from the UN Human Rights Council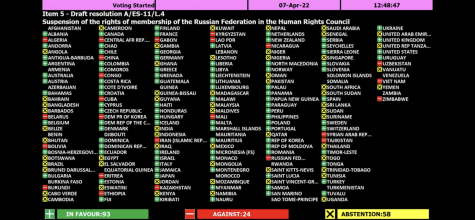 -There can be no negotiations between Ukraine and Russia without the participation of Belarus, Belarusian President Alexander Lukashenko said
-UN aid chief not optimistic about a Ukraine ceasefire
-Congress votes to revoke trade status with Russia and Belarus and bans Russian oil imports
-WHO confirms more than 100 attacks on health services in Ukraine
April 6:
---
-42nd day of war
-Zelenskyy tells UN that Russia should be tried for war crimes
-US and allies to ban new investments in Russia
-Residents that remain in Mariupol have no electricity, communication, medicine, heat, and water
-18,600 Russian troops killed in war so far
-Ukraine foreign minister says new sanctions don't go far enough, urges oil embargo
-Czech Republic sends tanks, infantry fighting vehicles to Ukraine
-China calls civilian killings in Bucha 'deeply disturbing,' urges investigation
-Russian lawmakers push bill to fine anyone equating USSR with Nazi Germany
-UN to vote tomorrow on suspending Russia from Human Rights Council
-Mariupol's City Council accuses Russia of using mobile crematoriums to cover up war crimes committed in the city
-President Biden to sign new sanctions targeting Russian banks
April 5:
---
-41st day of war
-Germany pledges to expel Russian diplomats after Bucha massacre
-Sumy Oblast Governor Dmytro Zhyvytskyy says that bodies have been found in the city with signs of torture
-165 children have been killed in the war according to Ukraine Foreign Ministry
-Seven humanitarian corridors opened in Mariupol today, allowing some of 130,000 residents to evacuate
-Ukraine has taken back key areas in the north of the country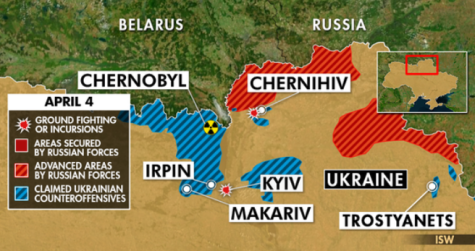 -Italy, Sweden, and Denmark expel Russian diplomats and intelligence officers after Bucha Massacre
-Kyiv's mayor says that any country trading with Russia is profiting from 'blood money'
-Blinken says that it was Russia's plan to deliberately kill, torture, and rape civilians
-Ukrainian President Zelenskyy addresses the UN Security Council
-Zelenskyy says the UN Security Council must act on Russia or dissolve itself
-Vasily Nebenzya, the Permanent Representative of Russia to the United Nations, said that Russia is not targeting civilians and that the Bucha Massacre was staged
-Russia preparing offensive in southeastern Ukraine according to NATO officials
-The US increased sanctions on financial institutions and state owned enterprises in Russia, along with Russian government officials and their families today
April 4:
---
-40th day of war
-Poland PM calls on the EU to sever all ties to Russia following Bucha massacre
-Motyzhyn mayor killed by Russian troops
-Russian forces attack Odesa and Mykolaiv overnight
-France calls for additional sanctions against Russia following massacre
-Zelensky pledges to continue peace talks with Russia despite atrocities committed in Ukraine
-18,300 Russian troops killed so far in war
-Mercenaries belonging to the Wagner Group move into Eastern Ukraine
-Russia announces visa restrictions for residents of 'unfriendly' countries
-The US wants Russia suspended from UN Human Rights Council, as they see Russia's membership as a farce
-UN human rights chief calls for and independent investigations into Bucha massacre
-MI6 chief says executions seen in Bucha were part of Putin's invasion plan
-1,430 Ukrainian civilians have been killed since the start of the war according to the UN
-Biden calls Putin a war criminal after Bucha massacre
-France expelling 35 Russian diplomats following Bucha massacre
-Ukrainian deputy prime minister says that 11 Ukrainian mayors remain in Russian captivity
-Satellite imagery shows corpses laid in Bucha streets for weeks, contradicting Russian claims that the bodies appeared after they withdrew
April 3:
---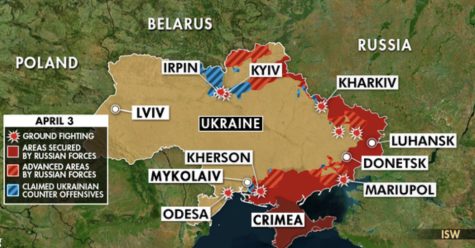 -39th day of war
-Ukraine presidential advisor Oleksiy Arestovych says the next "week or two" could determine the outcome of the Russia-Ukraine War
-18,000 Russian troops have been killed according to the Armed Forces of Ukraine
-Ukraine forces reclaim the city of Bucha in the wake of Russia's retreat leaving civilian bodies scattered throughout the streets and in mass graves
-Smoke billows over Odesa as explosions are heard around the city, oil refinery destroyed
-Ukrainian corpses found around the town of Bucha rise to 410
-Ukraine says that the intensity of Russian strikes has decreased
-Poland says it would welcome more troops from the US
-The mayor of Kyiv accuses Russia of genocide
-Germany says Russia must pay for war crimes in Bucha
-Ukraine claims to control the whole Kyiv region
-Russia denies any massacre in Bucha
-US to release 1 million barrels of oil a day for 6 months
April 2:
---
-38th day of war
-Russian forces lost more than 50 armored vehicles after fighting in Chernihiv, Ukraine in recent days
-Russia losses as of today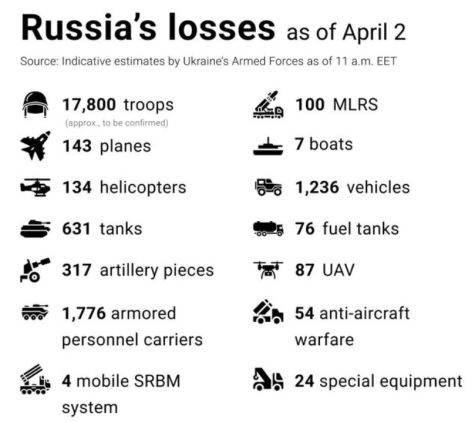 -Ukraine continues to push back Russians that surround Kyiv
-Russia pauses International Space Station cooperation until sanctions are removed
-Pope Francis considering visit Kyiv
-53 historical sites have been damaged in Ukraine according to UNESCO
-President Zelenskyy warns about land mines placed in path of Russia retreat
-Former CIA station chief Dan Hoffman says Russia's war has utterly failed
-U.S. plans to work with allies to transfer Soviet-made tanks to Ukraine
-China launched numerous cyberattacks on Ukrainian government websites before Russia attacked according to UK intelligence
April 1:
---
-37th day of war
-Georgia joins Western sanctions effort against Russia
-Chernobyl energy company Energoatom claims Russian forces have left Chernobyl and handed over control
-Andriy Olehovych and Serhiy Oleksandrovych were demoted from general status by president Zelenskyy as he calls them traitors
-Ukraine retakes 2 villages near Chernihiv the UK says
-Ukraine-Russia talks to resume by video today
-42 buses carrying 2,000 Mariupol residents escorted by the Red Cross out of the city today
-Russia accuses Ukraine helicopters of setting fire to an oil depot in Belgorod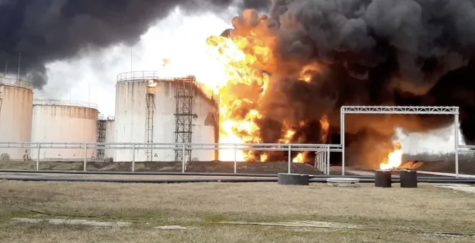 -Kyiv mayor says that town surrounding his city are getting hit by Russia nonstop despite Russia's claims of drawing back attacks
-Zelenskyy says Ukraine will not accept any outcomes except victory
-U.S. to send $300 million more in military equipment to Ukraine
March 31:
---
-36th day of war
-United Nations names panel of experts to examine war crimes in Russia
-Orlove, Zagradivka, and Kochubeyevka were all taken back from Russian forces over night
-Ukraine says 380 kids killed or injured in war
-Ukraine claims Russia has lost about 17,500 people, more than 6,000 tanks
-Ukraine and Russia set to resume talks Friday
-Russia orders 134,500 new conscripts into army, claims it is unrelated with Ukraine war
-Russia continues to hammer Kyiv and Chernihiv
-The International Committee of the Red Cross prepare to evacuate civilians out of Mariupol for Friday
-The UK sanctions 14 individuals involved in Russia state media
-US will release 1 million barrels of oil a day to combat soaring gas prices
-State Department warns that Russia may be singling out US citizens in Ukraine and Russia
-Russia claims to shoot down Ukrainian aircraft with American Stinger missile
-Although Russia claims to be scaling back attack, troop activity says otherwise
-Putin's inner circle reportedly fracturing
March 30:
---
-35th day of war
-Zelenskyy says the war is not over despite ongoing negotiations
-Humanitarian mission to Mariupol not yet possible
-Almost a quarter of Ukraine's population has been displaced according to the UN
-Poland moves to end Russian oil imports
-Russia has lost an estimated 7,000 to 15,000 troops according to NATO
-Russian troops keep attacking Kyiv despite a new focus on Donbas
-UN estimates 4 million have now fled Ukraine
-Ukraine official says Russian troops still near Kyiv, haven't left Chernihiv
-Kremlin says no breakthroughs in latest round of talks
-Russian troops returning to Belarus and Russia to regroup, UK says
-Ukraine's army says Russian troops building up around Chernobyl
-Ukraine calls on UN to push Russia away from Chernobyl to prevent a nuclear catastrophe
-2 million children have left Ukraine according to UNICEF
-Russian forces shell Red Cross warehouse in Mariupol
-China says it is seeking closer ties with Russia
-Ukraine insists Russia must withdraw completely before signing peace agreement
-Biden promises Zelenskyy another $500M in funding in hour long call
-Biden sanctions 'must stay' until Ukraine, Crimea territory restored
March 29:
---
-34 day of war
-Zelenskyy warns of Russian regroup and renewed assault on Kyiv
-Ukrainian intelligence releases list of more than 600 alleged Russian spies
-Russian forces shelled a State Administration building in Mykolayiv, Ukraine killing 7
-Ukrainian and Russian delegations meet in Istanbul, Turkey
-Ukraine's military says Russia has destroyed 60 religious buildings
-Russia accuses US and allies of cyberattacks
-President Biden to speak with leaders of France, Germany, Italy, UK
-Russia announces reduction of some military activity following 'constructive' talks with Ukraine
-Russia backs off threat of using nuclear force amid Ukraine war
-NATO invites Ukraine to its next summit in early April
-43 Russian diplomats across four European countries are expelled
-US official says Russian troops are redeploying, not withdrawing from Kyiv
-Pentagon says Russia focusing heavily on Donbas region
-Russian soldiers reportedly disturbed radioactive dust at Chernobyl as they didn't wear protective gear, workers say
-Ukraine wants a deal guaranteeing nations with nuclear capabilities will intervene if it is attacked
-Russians admit border villages had to be evacuated because of shelling from Ukraine
-Ukraine restores power to 150,000 residents
March 28:
---
-33rd day of war
-Russia plans to split up Ukraine into west and east, reflecting something that would look like North and South Korea, Kyiv says
-Russia censors Zelenskyy interview with Russia news outlet after he lays out plan for peace between the two countries
-Russian casualties up to 17,000 according to The Kyiv Independent
-Zelenskyy says only a face to face meeting with Putin could end the war
-China says sanctions against Russia are causing unnecessary damage to trade
-Russia says Biden's comment, 'for God's sake, this man cannot remain in power,' is alarming
-Slovenia reopens embassy in Ukraine
-Mariupol's mayor says 160,000 residents remain in the city
-Ukraine has retaken the town of Irpin
-Zelenskyy says he has spoken with Italy's leader about security guarantees
-Russia praises Serbia for making this smart choice by not imposing sanctions
-US sending six Navy jets, 240 personnel to Germany to bolster NATO's defense
-Biden's $5.8T budget proposes one of the largest investments in US national security
-Russian oligarch, Ukraine peacekeepers suffer suspected poisoning after Kyiv meeting
-Russian forces continue effort to topple Kyiv
March 27:
---
-32nd day of war
-Ukrainian forces have liberated Poltavka and Malynivka in the Zaporizhzhia Oblast
-Blinken says U.S. is not seeking regime change in Russia
-Moscow confirms Ukrainian city Lviv hit with cruise missiles
-Finland suspends train services to Russia
-Ukraine says Russian forces used banned cluster munitions against civilians
-French president Macron warns against escalation after Biden says Putin cannot remain in power
-Ukraine says Russia suffering substantial losses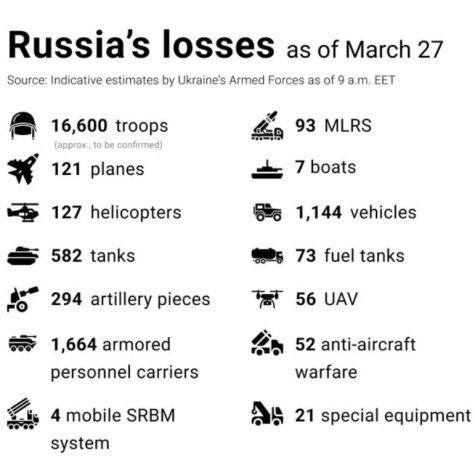 -Russia and Ukraine to start next round of live negotiations in Turkey in the coming days
-Russia's siege of Mariupol has caused catastrophic damage according to the Ukrainian Foreign Ministry
-Russian airstrikes on Lviv on Saturday was Putin's welcome message to Biden miles away in Poland
-Russia taking defensive positions around Kyiv
-Talks between Ukraine and Russia in Turkey in the next couple days are going to focus on the Donbas region in eastern Ukraine
March 26:
---
-31st day of war
-Zelenskyy announces a temporary housing construction plan for displaced persons
-Germany has sent Ukraine 1,500 anti-aircraft missiles
-Ukraine shoots down 3 Russian aircraft
-Biden going to meet Ukrainian foreign, defense ministers in Warsaw on Saturday
-Kyiv 35-hour curfew announced
-Lt. Gen. Yakov Rezantsev is the seventh general killed in Ukraine and the second-lieutenant general according to Ukraine
-Russia conducts drills on contested Japanese islands
-Biden calls Putin a butcher
-Multiple explosions heard in Lviv as Biden meets with leaders in Poland
-Biden warns Putin saying, 'Don't even think about moving onto one single inch of NATO territory'
-Biden says Putin cannot remain in power as White House walks back the comment
-World Food Programme warns Ukraine war could lead to mass hunger
March 25:
---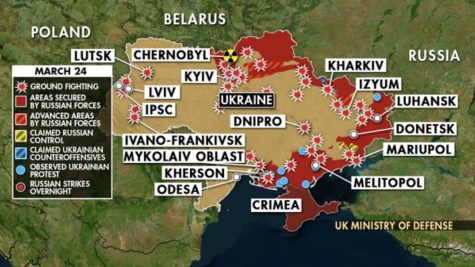 -30th day of war
-Biden expected to announce increased liquified natural gas shipments to Europe
-Ukraine able to reoccupy some areas east of Kyiv through counterattacks on Russians
-Half of Kharkiv population has fled
-Ukraine and Russia nearing a consensus on 4 of 6 key issues to ending the war according to Turkey's president
-Mariupol officials say 300 killed in theater bombing, says there is no forgiving Russia's
-Russia's top political party opens office in Mariupol
-Russia says 1,351 troops killed in Ukraine as reports emerge of the killing of Lieutenant General Yakov Rezantsev by the Ukrainian forces
-Putin accuses west of trying to cancel Russia
-Russia for first time bringing in troop reinforcements from Georgia
-Russia reportedly prioritizing eastern Ukraine as ground forces remain stalled
-Russia creates partial land corridor between Crimea and Donetsk
-Russia issues fake report claiming it has achieved main tasks of invasion's first stage according to ISW
March 24:
---
-29th day of war
-Biden arrives in Belgium ahead of emergency NATO summit
-Russia to expel US diplomats from Moscow embassy
-Russian diplomat says Moscow has right to use nuclear weapons if threatened by NATO
-The UK urges EU countries to ignore Putin's demands they pay for oil in rubles
-NATO chief says that if Russia uses chemical weapons there will be widespread and severe consequences
-Biden arrives in Brussels and plans to attend NATO, G7 and EU meetings, urging more sanctions
-Ukraine destroyed a Russian naval vessel in the Sea if Azov according Kyiv Navy
-The U.K. announces 65 new sanctions on Russia, targeting banks, business elites, and industries that are helping finance President Putin's war
-4.3 million children have been displaced in Ukraine because if the war
-Russian stocks gain as Moscow Exchange resumes trading
-Boris Johnson says Vladimir Putin has already crossed the red line into barbarism
-Zelenskyy asks NATO for military assistance without restrictions
-US to take in up to 100,000 Ukrainian refugees
-Mariupol claims 15,000 residents illegally deported to Russia
-UN approves resolution blaming Russia for humanitarian disaster in Ukraine
-Biden says US is sending $1 billion in humanitarian aid to Ukraine
-Biden says Russia should be removed from the G20
-Ukraine claims that the Russians have taken 402,000 people, which includes 84,000 children, to Russia against their will
-Biden insists Russia sanctions never meant to deter Putin from invading Ukraine
March 23:
---
-28th day if war
-Russians destroy laboratory at Chernobyl nuclear power plant
-Russian Armed Forces losses surpass Soviet invasion of Afghanistan with 15,300 casualties
-Russia shelled Kyiv overnight
-Ukraine minister of Foreign Affairs claims Russian soldier raped woman and threatened her child
-Putin plans to attend G20 summit later this year
-Poland expels 45 Russian spies pretending to be diplomats
-Ukraine claims Russia has taken captive 15 workers from Mariupol humanitarian relief convoy
-NATO's leader says he expects major increases in eastern flank deployments
-President Biden travels to Brussels
-Zelenskyy says that France could lead new European order following the war
-NATO going to help Ukraine protect itself from chemical, biological, radiological and nuclear threats
-Russian special envoy resigns over Ukraine invasion, reportedly flees country
-Russia's Ministry of Defense Head Sergei Shoigu reportedly missing
-Blinken says Russia is committing war crimes in Ukraine
-Nestle suspends majority products in Russia, including KitKat
-Finland makes shifts towards NATO, majority now support joining
-UK going to send millions more in military assistance to Ukraine
-Russian military leaders refusing to communicate with US military leadership
-China was the only country to vote with Russia on humanitarian situation in Ukraine resolution
March 22:
---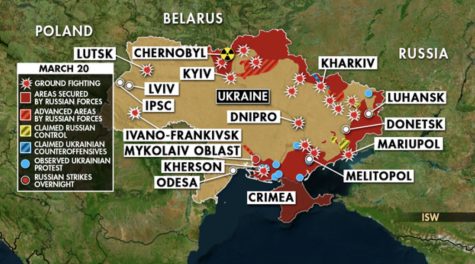 -27th day of war
-1000 civilians killed in Ukraine war so far according to the UN
-Zelenskyy to address Japanese parliament
-U.S. sending Soviet air defense systems called the S-300 to Ukraine
-117 children have died in Ukraine since the beginning of the war
-Ukraine claims to have eliminated 15,300 personnel, 509 tanks/armored combat vehicles, 252 APV-1556 artillery systems, and 80 MLRS units.
-Zelenskyy talks to Pope Francis about war in Ukraine
-US embassy accuses Russian troops of kidnapping nearly 2,400 Ukrainian children from Luhansk and Donetsk
-Zelenskyy speaks to Italy's parliament
-Zelenskyy claims Maruipol is completely destroyed
-John Kirby not exactly sure what Russia's endgame is
-Two of Russian oligarch's luxury yachts find refuge in Turkey
-Poland's president says Russian forces are acting like Hitler's SS troops
-Ukraine claims it has recaptured key Kyiv suburb
-Alexi Navalny, Putin critic, sentenced to 9 years in prison on fraud and contempt charges
-Russia's combat power drops below 90%
-Senate to have classified briefing on Ukraine next week
-Ukrainian protesters block Russian yacht in Turkey
-Mariupol residents reportedly starving as Russian occupation continues
-Putin spokesman declines to rule out use of nuclear weapons if Russia perceives an existential threat
-President Zelenskyy's office launches humanitarian aid website
-White House warns about potential Russian cyberattacks in the US
March 21:
---
-26th day of war
-President Zelenskyy accuses Russia of war crimes
-Biden will visit Poland, home of 2 million Ukrainian refugees, during Europe trip
-Russia steals five Ukrainian grain carriers from the Berdyansk port
-Chernihiv region of Northern Ukraine issues curfew
-Eight people killed during shelling in Kyiv's Podilskyi district
-Heavy fighting reported north of Kyiv
-Ukraine claims Russia has attacked a chemical plant in Sumy
-Slovenia plans to send diplomats back to Ukraine after removing them
-Russia claims 80 killed after strike on Ukrainian military training center
-Russian troops open fire on Ukrainian protesters in Kherson
-Russia brands Meta, Facebook and Instagram's parent company, an extremist organization
-Deputy mayor Ivan Samoidyuk of Enerhodar abducted by Russians in city with largest nuclear power plant in Europe
-Radiation monitors around Chernobyl are no longer working
-Israel prime minister accepts invite to travel to Kyiv
-Zelenskyy combines state Ukraine TV stations into one in effort to combat Russian misinformation
-Pentagon says Russia trying to recruit foreign fighters, especially from Middle East
-Residential buildings hit by Russian missiles in Kyiv
-Putin puts Russian spies who scouted Ukraine under house arrest, says there is growing distrust of KGB
March 20:
---
-25th day of war
-Russian forces continue to try to take Kyiv, Kharkiv, and Mariupol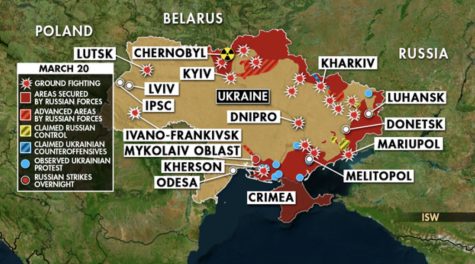 -Zelenskyy says war crimes in Mariupol will be remembered for centuries
-Zelenskyy suspends 11 political parties with Russian ties
-Belarus leader Lukashenko lavishes Putin with praise: 'Better shape than ever'
-Mariupol art school where 400 sheltered bombed
-According to the US Russia has fired more than one hypersonic missile in combat
-Russia orders deployment of cadets according to the Ukrainian Defense Ministry
-Russia deployed more Wagner personnel to Ukraine defense officials
-Ukraine warns Belarus planning 'direct invasion' to assist Russian forces
-Biden to revisit Europe this week, but has no plans for Ukraine stop
-The UN says 902 civilians have been killed since the invasion started
-Zelenskyy tells Israel it must make stance clearer about the war, Moscow seeking 'final solution' in Ukraine
-Russian Deputy Commander of the Black Sea Fleet, Andrey Paliy, killed by Ukraine forces
-Russian Defense Ministry calls on Ukraine to surrender Mariupol by 5am on March 21
-Half of staff at Chernobyl rotated after being held hostage for nearly 4 weeks according to IAEA
-Ukrainian Deputy Prime Minister won't entertain talk of surrender
-10 million people displaced in or have left Ukraine
March 19:
---
-24th day of war
-Zelenskyy says 9,000 have been able to leave Mariupol
-Dozens killed after Russians shell a Ukrainian army barracks in Mykolaiv
-Russian cosmonauts wear Ukrainian colors at International Space Station
-Zelenskyy tells cabinet to create comprehensive program to help displaced Ukrainians
-Defense Secretary Austin travels to Bulgaria seeking support for Ukraine
-Ukraine loses access to Azov Sea to Russian forces
-Lieutenant General Andrei Mordvichev was killed by Ukrainian forces
-Zelenskyy wants to talk to Putin
-Russia to invest 39B RUB to avoid unemployment after sanctions
-7 dead, 5 wounded in mortar strike east of Kyiv, Ukraine police say
-Luxembourg's prime minister pressures Putin to stop strikes on Mariupol
-Russia claims it used hypersonic missile to strike Ukraine munitions warehouse
-UNICEF says 1.5 million children displaced from Ukraine
-Chinese official, Le Yucheng, calls sanctions on Russia increasingly 'outrageous'
-3.3 million refugees have left Ukraine so far in the war
-Ukraine claims it has captured or killed 10% of Russian forces
-10 senators visit the Polish border
March 18:
---
-23nd day of war
-India still buying oil as the rest of the world sanctions it
-Building near Lviv airport destroyed by Russia
-WHO says that Russia has hit 43 healthcare buildings in Ukraine
-Russia claims it is tightening the noose around Mariupol
-The UK says that Russia has made minimal progress this week
-According to the UN, Ukraine's supply chain is falling apart
-Putin speaks at massive rally with 200,000 people marking the 8th anniversary of the annexation of Crimmea
-1,300 people still trapped in bombed Mariupol theater while 130 have been rescued
-Biden had call with the president if China for 2 hours
-President Zelenskyy says that Ukraine's EU application will be ready in a few months
-Russian Commander of 331st airborne regiment, colonel Sergei Sukharev, killed by Ukraine forces
-Russia strikes city of Lviv with missles, destroying buildings as forces head farther west
-It is evident that China will continue supporting Russia after call between Biden and Xi
-6.4M people displaced within Ukraine, 12M stranded or unable to flee
-Ukraine carries out successful counterattack around the city of Mykolayiv in south Ukraine
-Putin's speech at stadium sparks fears of 'Red Terror,' resembling the Stalin era
March 17:
---
-22nd day of war
-Uzbekistan says they do not recognize the DNR and LNR in the Donbas region of Ukraine
-400 bulletproof vests stolen in New York City heading for Ukraine
-UK says that Russia forces are stalled everywhere
-7,000 Russian troops have died since the beginning of the war
-NATO country, Lithuania, calls for no-fly zone over Ukraine
-Biden is going to talk to the China's Xi Jinping Friday
-Putin says that traitors must be eliminated from Russia
-Top Russian general, Roman Gavrilov, arrested as Putin targets traitors
-American citizen killed in Chernihiv, Ukraine
-100K US troops are in Europe according to NATO
-House votes to suspend normal trade relations with Russia and Belarus
-Blinken says Putin is a war criminal
-UK says Russian military suffering from supply line problems
-US fears Putin may use nuclear weapons
-CIA secretly trained Ukrainian forces after the 2014 Crimea Incursion
March 16:
---
-21st day of war
-Negotiations are 'very difficult' but will continue, a Ukrainian official said
-Humanitarian cargo weighing 15 tons has arrived in Ukraine
-President Zelenskyy awarded 139 state awards to Ukrainian soldiers
-Ukraine claims it has killed a fourth Russian general, Maj. Gen. Oleg Mityaev
-Zelenskyy says Ukraine won't put down its arms until victory
-Civilian objects have been bombed for the first time in Zaporizhzhia
-Ukrainian President Zelenskyy addresses Congress
-Zelenskyy urges Congress to remember Pearl Harbor, 9/11
-Zelenskyy says "Is a no-fly zone too much to ask for?"
-Zelenskyy appeals to Biden to be 'the leader of peace'
-Mayor of Skadovsk Oleksandr Yakovlyev and his deputy Yurii Palyukh abducted today, the third mayor to be kidnapped
-More than 3 million refugees have now fled Ukraine according to the UN
-Russian forces shot and killed 10 people standing in line for bread in Chernihiv, Ukraine
-Russia attacks civilian shelter in Mariupol
-US sends $800 million in supplies to Ukraine including Stinger missiles, Javelin missiles, etc.
-International Court of Justice orders Russia to cease military action in Ukraine
-Ukraine Parliament member calls Putin the 'Hitler of the 21st Century'
-White House won't allow MIG fighter jets and a no-fly zone that Zelenskyy asked for
-Biden calls Putin a 'war criminal'
-Ukraine has become a member of Energy Union
March 15:
---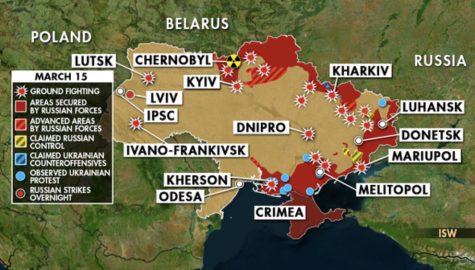 -20th day of war
-Chinese stocks plunge on concerns over Beijing and Moscow's relationship
-Zelenskyy predicts victory in Ukraine, offers Russian soldiers 'a chance to survive'
-NATO-member Estonia formally calls for a no-fly zone
-Russia hammers residential zones in Kyiv
-Israel will continue to stand up to Russia, Ukrainian Foreign Affairs minister says
-European Union leaders plan visit to Ukraine's capital
-Ukraine official claims Mariupol casualties are approaching 20,000
-Kyiv mayor announces 35-hour curfew
-Zelenskyy says Ukraine-Russia talks to continue Tuesday after progress was made
-Russia seeking to extend Navalny sentence by 13 years
-3 million people have fled Ukraine according to the UN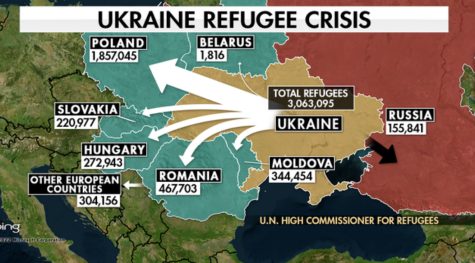 -Russia state-run TV program advocates for public hangings in occupied Ukrainian cities
-Zelenskyy calls for more weapons to Ukraine, Russia trade embargo
-The prime ministers of Poland, Slovenia and the Czech Republic (NATO countries) are to meet with Ukrainian President Zelenskyy
-Zelenskyy says Ukraine knows it doesn't have an open door to NATO membership
-Russia sanctions Biden, Blinken and other US officials
-Russia withdraws from Council of Europe
-Biden signs $1.5 trillion measure which provides $13.6 billion in Ukraine aid
-White House insists no-fly zone over Ukraine 'could prompt a war with Russia'
-Biden to travel to Europe next week for NATO summit on war in Ukraine
-Ukraine's Zelenskyy addresses Canada's parliament asking to close the sky
-State Dept says Iran nuclear deal will not be an 'escape hatch' for Russian sanctions
-UK hits Russia, Belarus with more than 300 sanctions over Ukraine invasion
March 14:
---
-19th day of war
-Crisis in Mariupol worsens as the Red Cross says a ceasefire is needed to bring in food and water
-Firefighters respond to apartment fire in Kyiv after Russian shelling sparks flame, kills 1 injures 3
-China denies Russia requested military aid
-Russia may sell its oil to India at a discount
-Russian military is letting Ukrainians evacuate Mariupol
-4th round of Ukraine-Russia peace talks on hold until tomorrow
-636 civilians have been killed in Ukraine, including 46 children according to the UN
-UN Security Council holds briefing on Ukraine
-Zelenskyy to address Congress on Wednesday
-Russia's military activity in Ukraine is 'state terrorism,' UN Security Council is told
-Congress eyes MiG-29 fighter jet transfer as next White House pressure point
-Estonia calls for no-fly zone in Ukraine as UN leader urges caution
-Almost all of Russian military's advances remain stalled, US defense official says
-UN Secretary General says nuclear war ''within the realm of possibility'
-Russia announces ban on exports of wheat to Europe
-NASA confirms U.S. astronaut will return with cosmonauts on Russian spacecraft later this month
-Ukrainian military says Russian forces attempting to take Mariupol have been forced to retreat
-Putin signs law to seize foreign aircraft as sanctions impact Russian aviation
March 13:
---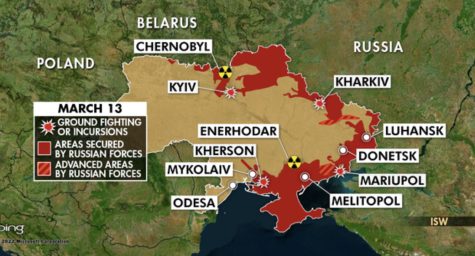 -18th day of war
-NATO chief warns Russian might use chemical weapons in Ukraine
-Airstrike in Donetsk damages centuries-old Orthodox Christian monastery where 200 were sheltering
-Chernobyl nuclear plant having power restored, Russia claims, denying takeover of site
-Russian airstrike on Ukrainian airbase just 13 miles from Poland, a NATO country kills 35 and wounds 134
-Philippines pres. open to hosting American forces if Ukraine war escalates
-Second Ukrainian mayor captured in Dniprorudne as Russia invaders target elected politicians
-Former NYT contributor Brent Renaud killed, other journalists wounded by Russian fire, Kyiv police say
-White House axed plan to train Ukrainians in guerrilla warfare fearing it may provoke Russia
-Bipartisan House Problem Solvers Caucus calls for U.S. to send more military assistance to Ukraine
-Satellite images show destroyed railroad bridge near Voznesensk, Ukraine
-Train evacuating refugees, including 100 children, hit by Russian shelling, Ukrainian railroad says
-Russia requests military assistance from China in invasion of Ukraine
-Instagram leaving Russia at midnight on Sunday
-Zelenskyy advisor says 4th 'negotiating session' will take place Monday between Russia and Ukraine
-Power restored at Chernobyl, according to UN nuclear watchdog
-More than 850 Russians arrested across three dozen cities for protesting on Sunday
-Zelenskyy pushes for meeting with Putin as Ukrainian and Russian officials negotiate
-Biden and Macron discuss Russia's invasion of Ukraine
March 12:
---
-17th day of war
-Mariupol residents remain without water, food
-Ukraine accuses Russian troops of kidnapping mayor of Melitopol
-Nearly 1.6 million refugees have fled Ukraine to Poland
-Russians shelled Mariupol mosque where dozens were hiding according to Ukraine Foreign Ministry
-Concerns about rape, human trafficking grow as millions of women and children refugees flee
-Ukraine says humanitarian corridors are open Saturday, urges Russia to honor ceasefire
-Fighting rages outside Kyiv as death toll in Mariupol reaches 1,500
-Protest happen in Melitopol over allegedly kidnapped mayor
-Russian official warns US arms shipments could be 'targets'
-Around 1,300 Ukrainian troops killed since war with Russia started according to Zelenskyy
-Russia plans referendum for new 'People's Republic' in Kherson
-Biden authorizes $200M more for Ukraine military aid
-Russian agents threaten Google, Apple representatives with prison time
-Russian spy chief allegedly under house arrest as Putin seeks scapegoat
-Zelenskyy pleads with Europe to help free captured mayor saying, 'I'll talk to whoever I need to to'
-Ukraine says it destroyed Russian rocket launcher system
-Zelenskyy says he and Israeli Prime Minister discussed potential for peace talks
-Zelenskyy issues defiant message to Russia saying 'Let them come'
-Russian forces close in on Kyiv as Ukraine prepares for all-out assault
March 11:
---
-16th day of war
-Russian troops have struck the Western Ukrainian cities of Ivano-Frankiivsk and Lutsk, away from where they have been attacking
-WHO says it advised Ukraine to safely destroy dangerous pathogens in research labs
-VP Harris heads to Romania as Ukraine refugee crisis grows
-Boris Johnson says refusing Zelenskyy's request for no-fly zone has been 'absolutely agonizing'
-Russian military has caused $119 billion in damage in Ukraine, officials says
-Russia likely will 'reset and resposture its forces for renewed offensive activity', UK intel says
-Russian military continues push toward Kyiv as suburbs evacuate
-UN says it has received reports of Russia using 'cluster munitions in populated areas'
-Biden to call for end to normal trade relations with Russia
-President Biden announces actions to hold Russia 'accountable' for its war on Ukraine
-Zelenskyyn says Biden has agreed to 'increase sanctions against Russia'
-Ukraine has 56 working fighter jets, senior US defense official says
-26 Ukrainian health centers attacked by Russia, WHO says
-Russia threatens to strand US astronaut on the International Space Station
-Russia gaining momentum in advance on Kyiv according to the Pentagon
-Putin welcomes foreign volunteer fighters, says 16,000 applications have come primarily from the Middle East
-Social media videos show coastal city of Mykolaiv under attack
-Satellite imagery shows long lines of cars attempting to flee Kyiv as Russian troops close in
-Russian forces within 10 miles of Kyiv: Yingst
-China watching warily as Russian invasion of Ukraine unfolds
-Biden says direct confrontation between Russia and NATO would mean World War III
-Russian troops shelled cancer hospital south of Kyiv, Ukrainian officials say
March 10:
---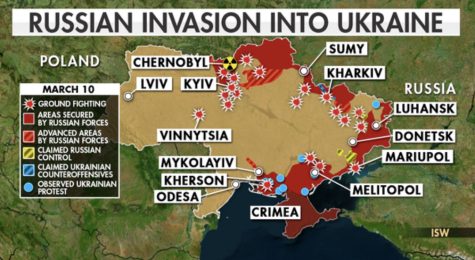 -15th day of war
-Kamala Harris arrives in Poland for meetings on Ukraine
-Head of IAEA headed to Turkey to discuss nuclear safety
-Russian and Ukrainian foreign ministers meeting in Turkey for negotiations
-Russian maternity hospital attack in Mariupol kills 3, including a child
-Zelenskyy, Blinken, other leaders denounce Russian airstrike on hospital that left 3 dead
-Kamala Harris to hold bilateral press conference with Polish president after meeting in Warsaw
-Britain calls Mariupol hospital strike a 'war crime'
-Ukraine mounting campaign to knock off NY stock exchange businesses that pay taxes to Russia
-US giving another $50 million through UN world food program to help Ukraine
-One of world's deadliest snipers leaves home in Canada to fight in Ukraine
-Ukraine approves law allowing seizure of property owned by Russia, its residents
-Russia rejects Ukraine neutrality proposal, high-level talks see no progress
-Harris, Poland president insist they are 'unified' after public disagreement on fighter jets
-Ukraine estimates Russian invasion has caused at least $100 billion in damage
-Goldman Sachs becomes first Wall St. firm to exit Russia
-New images show mass graves in Mariupol after Russian bombing
-Half of Kyiv has fled the city
-Ukraine says it has lost communication with the Chernobyl site and can't provide new info to IAEA
-Russia requests the UN Security Council hold a special meeting on biological activities in Ukraine
-Zelenskyy vows 'severe' response if Russia uses weapons of mass destruction during invasion
-Group of 42 GOP Senators pen letter urging Biden to allow transfer of MIG fighters to Ukraine
-Military convoy near Kyiv appears to have dispersed
-WHO documents Russian attacks against 21 Ukraine health care facilities
-UN says 2.5 million people have left Ukraine
-Putin signals support for nationalizing businesses that exit Russia in response to invasion
March 9:
---
-14th day of war
-Zelenskyy thanks Biden for ban on Russian oil
-Ukraine air defense likely preventing Russia from achieving control of the air says UK Defense Ministry
-US lawmakers reach deal for $13.6 billion in Ukraine funding
-Foreign volunteers are getting Ukrainian citizenship in fight against Russia, Ukraine says
-Zelenskyy says he spoke to Canada's Trudeau about defense cooperation
-Ukraine opens up 6 evacuation corridors to try to get civilians out if ceasefire holds
-New Zealand imposes sanctions that would keep country from being Russian oligarch safe haven
-Russia warns US, allies that reaction to sanctions will be 'swift, thoughtful and sensitive'
-Ukraine bans export of essentials
-Half of 2 million Ukrainian refugees are children
-Mariupol residents, desperate for water, turn to melting snow
-Ukrainian official claims Russia is holding 400,000 people in Mariupol 'hostage'
-Chernobyl cut off the grid by Russians, sparking fears of radioactive contamination
-China sending nearly $1 million in Ukraine aid despite still opposing Russia sanctions
-21 American companies involved with liquefied natural gas production, including Chevron Corporation and Cheniere Energy, were targeted and attacked by hackers two weeks prior to the start of the Ukraine invasion
-Russian Defense Ministry admits use of conscripts in invasion, despite Putin's denials
-US positions missile defense systems in Poland
-Russian forces bomb a maternity and children's hospital in Mariupol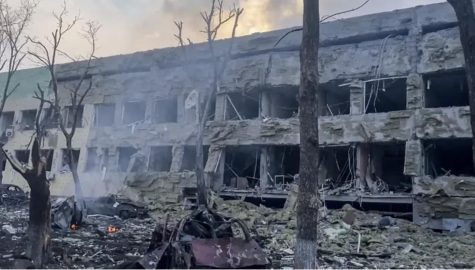 -EU to send communications equipment as Ukraine networks under attack
-WHO has documented 18 attacks on Ukraine health care facilities
-Ukraine running low on medical supplies amid Russia invasion
-Russian MoD confirms use of 'vacuum bomb' in Ukraine
-Pentagon opposes transfer of MIG-29 planes from Poland to Ukraine, calls move 'high-risk'
-Pelosi holds call with Zelenskyy
-White House warns Russia could use chemical or biological weapons in Ukraine
-China accuses US of 'biological military activities' in Ukraine
-200 employees held hostage by Russians at Chernobyl
-Russia's invasion of Ukraine puts Taiwan on high alert over mainland China threat
March 8:
---
-13th day of war
-Civilians fleeing Irpin, Ukraine as Russian shelling continues
-Ukrainian and Russian foreign ministers set to meet in Turkey
-More than 291,000 Ukrainian refugees have fled to Romania
-World Bank approves $700m for Ukraine
-UN says that 2 million refugees have left Ukraine
-Viktor Yanukovich, potential Putin puppet leader, urges Zelenskyy to stop the war
-Ukraine accuses Russia of shelling 'humanitarian corridor,' violating ceasefire
-Zelenskyy says some responsibility for death in Ukraine lies with the West not instituting a no-fly zone
-WHO says that attacks in Ukraine have damaged health care system
-Russia threatens to cut major gas pipeline to Germany if US, European allies ban Russia oil imports
-UN nuclear watchdog says Chernobyl workers being held captive at their jobs
-UK to phase out Russian oil imports
-Biden says decision to ban Russian oil imports will cause further increase in price at the pump
-McDonald's temporarily shuts down restaurants and pauses operations in Russia
-Zelenskyy tells UK Parliament 'we will fight to the end'
-Mayor of Lviv says city at capacity amid constant flow of refugees
-Poland to donate Soviet-era MIG-29 fighter jets to Ukraine
-Putin has 95% of combat power available on the ground in Ukraine
-Ukraine's first lady calls for NATO no fly-zone
-Fears about use of nuclear weapons grows as Putin's war drags on
-Saudi and UAE leaders decline to speak to Biden while they communicate with Putin
-US to send two Patriot Batteries to Poland
-Russian airstrikes kill 21 people in Northeast Ukraine
-New York Times pulls reporters out of Russia as Putin threatens imprisonment
-Dual Russian-US citizen charged with acting as Kremlin spy according to the DOJ
-Russia suspends foreign currency sales as ruble crashes
March 7:
---
-12th day of war
-The UK gives $100 million to help economy during war
-Russia declares ceasefire in the cities of Kyiv, Mariupol, Kharkiv, and Sumy to allow for civilian evacuation
-Russian military losses continue to rise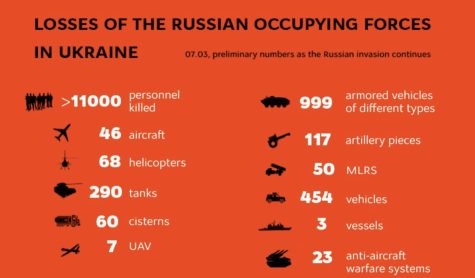 -US approves NATO sending fighter jets to support Ukraine
-1.7 million civilians have evacuated Ukraine
-Russia skips UN court hearing on Ukraine war
-Zelenskyy urges global boycott of Russian products if war continues
-"No matter how perilous the international landscape, we will maintain our strategic focus and promote the development of a comprehensive China-Russia partnership in the new era," said Chinese Foreign Minister, Wang Yi
-Ukraine's military rejects Russia proposal to evacuate citizens to Russia and Belarus
-UN says 406 civilians killed so far in Ukraine
-Zelenskyy wins Ronal Reagan Freedom Award
-Russia has deployed nearly 100% of its pre-staged forces into Ukraine, US official Jennifer Griffen says
-Russian military POW Lt. Col. Astakhov Dmitry Mikhailovich claims forces were told 'Nazis' had overtaken Ukraine
-Third round of Ukraine and Russia talks about invasion end with no major developments
-Biden administration says that no possible ban of Russian oil
March 6:
---
-11th day of war
-Kyiv and Kharkiv have yet to fall to the Russian army, under siege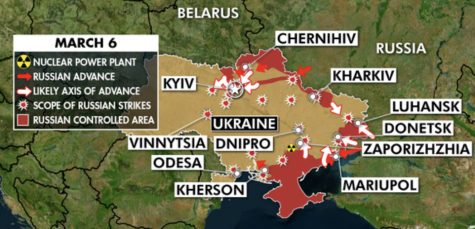 -Naftali Bennett speaks with Putin, Zelenskyy separately in effort to mediate Ukrainian crisis
-US and Poland in talks to help Ukraine acquire warplanes
-Kherson protest against Russian occupiers brings hundreds to the streets
-1.5 million refugees have fled Ukraine according to the UN
-Humanitarian corridor out of Mariupol fails again
-Poland nearing 1 million refugees
-Town of Vinnytsya bombed
-Biden admin courts Venezuela for oil as Russia economy takes hits from sanctions
-Russia's credit rating cut again, close to default
-Russia attacks Vinnytsia airport with 8 cruise missiles
-Russia accuses Ukraine of developing biological weapons
-Polish ambassador, Marek Magierowski, says Putin has sights set beyond Ukraine, calls for decades-long Russian sanctions
-Gas prices top $4 per gallon in US, the first time since 2008
-Russia says any country offering airfields to Ukraine will enter conflict
-Ukraine urges IMF to cut Russia and Belarus membership
-American Express suspends all operations in Russia
-Zelenskyy pleads for more air defense systems and supplies as Russia ramps up attacks
-Former Ukrainian President Poroshenko says Putin is a war criminal
-600 missiles have been fired into Ukraine since the war began
-KPMG International to pull out of Russia and Ukraine
-Netflix suspends service in Russia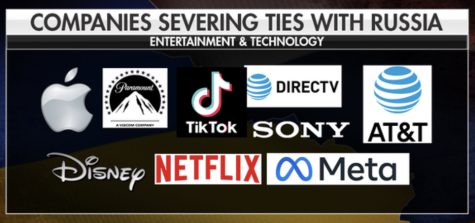 -Russia looks to Syrians for help with urban combat in Ukraine
-NATO countries have 'green light' to send fighter jets to Ukraine, Blinken says
-Oil hits 13-year high as Blinken signals openness to a ban on Russian oil imports
-13,000 Russians have been arrested in Russia so far
-South Korea to suspend Russia central bank
March 5:
---
-10th day of war
-Italian authorities seize Russian-owned yachts
-Zelenskyy appeals via video at pro-Ukraine rallies across Europe. asking them not to be silent
-Russian troops near another nuclear plant, in Yyzhnoukrainsk
-Areas of Mariupol in southeast Ukraine and Volnovakha in the eastern part of the country are areas Russia is allowing civilians to flee the country from
-Ukraine may receive $700M in loans from the World Bank
-Blinken says US not seeking regime change in Russia
-Zelenskyy speaks to Albanian prime minister
-Mariupol mayor and city council say ceasefire to allow civilians to evacuate no holding
-1.45 million people have fled Ukraine according to the UN
-Putin sats no-fly zone is 'participation' in conflict
-Zelenskyy asked US senators for lethal aid, cut off credit card services in Russia
-US asks all Americans to leave Russia immediately
-Israeli prime minister, Naftali Bennet, meets with Putin in Moscow, then leaves for Germany
-Samsung halts product shipments to Russia
-Vladimir Putin announces Ukrainians can enter Russia without visas
-Visa and Mastercard suspend all operations in Russia
-Canadian government tells citizens to leave Russia
March 4:
---
-9th day of war
-According to the Times of London, president Zelenskyy had dodged 3 assassination attempts
-Zaporizhzhia Nuclear Power Plant fires extinguished
-Anti-tank hedgehogs installed in Kyiv as Russian forces close in
-Zaporizhzhia Power Plant reactors being 'safely shut down,' according to US energy secretary
-Zaporizhzhia captured by Russian army
-Biden to meet Finnish president as Finland considers closer ties with NATO
-US secretary of state arrives in Brussels for meetings with allies
-Russia turns to 'openly terrorist' combat, will intensify disinformation campaign according to to Ukrainian Defense Ministry
-Russian troops aiming to 'mine' nuclear power plant to 'blackmail the whole of Europe,' according to Zaporizhzhia staff
-Zelenskyy spoke to Japan's prime minister about Russia's attack on Zaporizhzhia power plant
-Russia bans BBC and other websites for reporting on Putin's military losses
-US embassy calls attack on Ukrainian nuclear power plant a war crime
-UNICEF says 500,000 children have left Ukraine
-Head of IAEA says no radiation released and reactors were not compromised
 -NATO rules out no-fly zone over Ukraine
-UN Security Council meets this morning following UK request
-NATO chief accuses Russia of using banned weapons in combat
 -Microsoft halts new sales of products, services in Russia
-Vice President Harris to visit Poland and Romania
-The US has provided $350 million in military aid in the forms of weapons from US stockpiles over the past week, bringing the total aid to Ukraine to roughly $i billion over the past year
-EU wants Ukraine to join 'as soon as possible' said EU Commissioner Maros Sefcovic
-Facebook is now blocked in Russia, state media claims
-Blinken says 'no strategic interest' in Russia energy sanctions and resists calls for oil import ban
-Russian government blocks Twitter access
-Air Raid sirens going off in Kyiv, government says
-Ukraine Armed Forces launch counteroffensive in Kharkiv region
-US Senate invited to virtually meet with Ukraine President Volodymyr Zelenskyy on Saturday
-Airbnb and Booking.com suspend Russian operations
-Melitopol, Berdyansk, and Kherson are the cities that have fallen to the Russian invasion so far
March 3:
---
-8th day of war
-752 civilian casualties, UN says
-International Criminal Court opens war crimes investigation related to Ukraine
-International Paralympic Committee bans Russian, Belarusian athletes
-Russia shuts down to independent news outlets over coverage of Ukraine invasion
-Russian victory would be 'complete religious freedom catastrophe,' Tina Ramirez of Hardwired Global warns
-Zelenskyy speaks with South Korean president
-Russians enter Kherson and kill an estimated 300 Ukrainians
-Russia continues its bombardment of Kyiv and Kharkiv
-Biden administration asking Congress for $10 billion to assist Ukraine
-Russia is ready for peace talks, but still wants to destroy Ukraine's military
-France takes control of Russian oligarch Igor Sechin's yacht
-Anti-tank, anti-aircraft missiles sent into Ukraine from Norway and Germany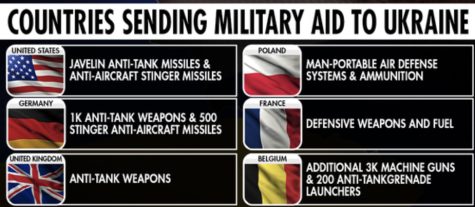 -Russian reporters reportedly fleeing Russia as they fear for their saftey
-Ukraine and Russia officials meet in hopes of brokering a ceasefire
-Putin tells France that Russian invasion is going according to plan
-Russia is planning to conduct public executions in Ukrainian cities
-Huge Russian convoy north of Kyiv is still at a standstill
-EU to welcome Ukraine refugees fleeing the war
-Ukraine-Russia talks end without ceasefire deal
-Nancy Pelosi wants ban on all Russian oil imports to the US
-Russian citizens reportedly flee country over fears of Putin's supposed martial law announcement
-Russia bombs Ukrainian ammo depot in Kyiv
-Nearly 480 missiles have been launched by Russia at Ukraine
-Ukrainians will be allowed to stay in US under temporary protected status
-Zaporizhzhia Nuclear Power Station, largest in all of Europe, is almost in Russian hands
-Zaporizhzhia catches fire from shelling
-Ukrainian defense forces killed Russian Maj. Gen. Andrei Sukhovetsky in combat earlier this week
March 2:
---
-7th day of war
-Russian Airstrikes in Kharkiv continue while the 40 mile convoy north of Kyiv continues towards the city
-Ukraine receives 34 million in cryptocurrency donations
-Ukraine raises 270 million in war bonds
-Oil prices rise to $110 per barrel
-Moldova offering Ukrainians fleeing country refuge and jobs
-Russia to resume peace talks tonight
-Ukraine reports nearly 6,000 dead Russian soldiers
-Zaporizhzhia, the largest of Ukraine's nuclear sites, with six out of the country's 15 reactors, is reportedly captured by the Russians
-China won't sanction Russia, vows to keep 'normal economic, trade, and financial exchanges'
-2,000 Ukrainian civilians have been killed
-Mariupol mayor says his city has suffered mass casualties
-Russia claims to capture city of Kherson, but Ukraine denies
-7,000 arrested in Russia for protesting war since Thursday
-President Alexander Lukashenko, Belarusian president and ally of Putin, revealed a map that shows plans to invade Transnistria, a breakaway state in Moldova
-Russia warns third World War would involve nuclear weapons
-Turkey says Russia had dropped request to send 4 warships to the Black Sea
-UN votes in approval of draft resolution, 'Aggression Against Ukraine,' reprimanding the Russian Federation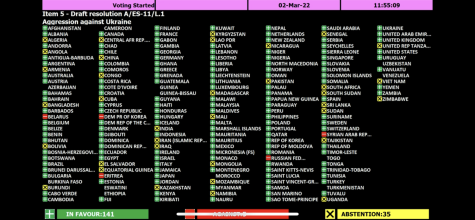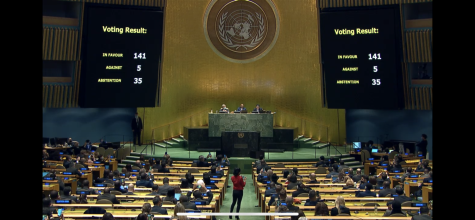 -Russian state media admits that 498 troops have been killed
-Justice Department launches task force to target Russian oligarchs and seize assets
-870,000 Ukrainians have fled the country
-Russian oligarch Roman Abramovich sells Chelsea FC
-Russian fighter jets violate Swedish airspace
-China urged Russia to hold off invasion of Ukraine until after the Olympics
-Russian missile lands close to central train station where people are trying to flee in Kyiv
-Pentagon chooses to postpone intercontinental ballistic missile test amid rising tensions with Russia
-House passes resolution to stand by the people of Ukraine
-Kherson becomes the first major Ukrainian city to fall to the  Russians
-UN High Commissioner says one million refugees have fled Ukraine
-Explosions and air raid sirens blare in Kyiv as another round of strikes continue
-Ukraine wants potential ceasefire to allow for evacuation of international students
-Odesa, country's 3rd-largest city, braces as Russian warships depart from Crimea
March 1:
---
-6th day of war
-Humanitarian catastrophe happening in Ukraine
-Belarus denies Kyiv's claim that Belarusian troops joined Russia's invasion of Ukraine
-Zelenskyy urges European parliament: "We are fighting to be equal partners in Europe"
-Dozens of UN diplomats walkout during Russian Foreign minister's speech
-The European Union accepts Ukraine's application and will start special admission and integration into power grid
-Zelenskyy accuses Russia of state terrorism
-UK highlights option to kick Russia from Security Council at the UN
-US and its allies are set to release 60 million barrels of oil from stockpiles
-Russian troops stalled north of Kyiv, running out of gas and food
-President Biden has ruled out setting up a no-fly zone over Ukraine
-Biden calls Zelenskyy about sanctions and assistance
-Sen. Marshall introduces bill banning US imports of Russia oil
-Biden to authorize release of 30 million barrels from the US Strategic Petroleum Reserve
-Apple halts products sales and exports into Russia
-Russia holds drills with nuclear subs in the Barents Sea
-Chechen hit squad ordered to kill Zelenskyy reportedly eliminated
-Russia bombs Holocaust memorial site where 30,000 Jews were murdered
-US ban aircraft from airspace
-Over 20,000 have reentered Ukraine to fight
-Biden addresses foreign and national problems in the State of the Union Address
February 28:
---
-5th day of war
-Russian citizens grow frustrated with Putin as 1,500 are arrested late Sunday night into Monday morning
-"The situation in Kyiv is under Russian control. All Russian efforts to occupy it have failed," says Stratcom Centre UA
-Russia acknowledges casualties, Ukrainian defense is holding up as bulk of Russian forces remain 3o km north of Kyiv
-Ukrainian peace delegation arrives at the Belarusian borer
-Russia shells Kharkiv, Ukraine's second-largest city
-State Department suspends operations in the US embassy in Minsk
-US freezes Russian Central Bank holdings of Americans
-Putin calls the West an 'empire of lies' in economic summit
-State-run news agencies in Russia reportedly hacked by Anonymous
-Snake Island sailor 'alive and well' Ukrainian Navy says
-Swiss officials conclude that Putin is not likely to use nuclear weapons
-Almost 75% of Russian combat power is deployed in Ukraine, according to US Defense
-The UN holds a rare special session as Russia invades Ukraine
-Zelenskyy signs application to join the European Union
-Zelenskyy sends letters to Congress requesting weapons and other materials
-First round of peace talks between Ukraine and Russia conclude, second round to happen soon
-Reports from the Times of London say that the Kremlin hired 400 mercenaries from the Wagner Group to assassinate President Zelenskyy about five weeks ago
-Explosions continue to rock Kyiv
-NYSE, Nasdaq halt trading of Russian-based companies
-FIFA and UEFA bans Russian national team and clubs
-Ukraine to allow criminals out of jail to help fight Russians
-Biden downplays fears of nuclear war in regards to Putin's recent actions
-Facebook to restrict access to Russian state television
-Ukraine ambassador  says Russia used 'vacuum bomb' that is prohibited by the Geneva convention
-500,000 people have fled Ukraine
-ICC chief to open war crimes investigation 'as rapidly as possible
-Russian convoy 40 miles long closing in on Kyiv, aiming to encircle the city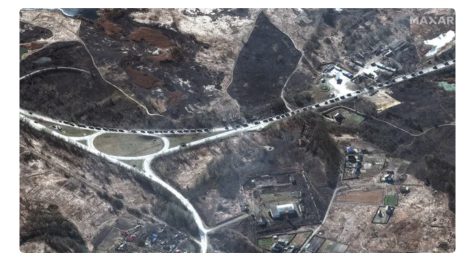 February 27:
---
-4th day of war
-Kyiv mayor extends curfew as Russian forces continue attacks
-Russian airliners still welcome in Canadian airspace
-Russians enter Kharkiv, Ukraine's Number 2 biggest city
-Zelenskyy calls for Russia to lose UN Security Council power, says it looks like a genocide
-Zelenskyy seeking volunteers, looking for international fighters
-Putin suspended as honorary presidency of International Judo Federation
-Russian citizens arrested for protesting reaches 3,000
-Ukraine applies to UN highest court against Russian
-Putin orders nuclear deterrent forces status raised to special combat readiness
-150,000 people have fled Ukraine
-Turkey says Russia is waging war in Ukraine, may control warship passage into Black Sea
-Japan to join US, European allies in blocking key Russian banks from SWIFT
-Russian state-aligned media claim Ukraine use of chemical weapons
-Kyiv's mayor says city encircled and at the edge of a humanitarian catastrophe
-Belarus president says Russia is bringing the world to WWIII
-Ukraine to meet with Russian officials for talks on Belarus border
-BP exits partnership with Russian energy company Rosneft
-US nationals in Russia told to leave immediately
-EU bans Russian state media, aircrafts
-European Union vows to send weapons to Ukraine's armed forces
-The German government will send 1,000 anti-tank weapons and 500 Stinger anti-aircraft defense systems to Ukraine
-Russian-led forces take control of Nikolayevka
-Belarus ends country's non-nuclear status in a change to constitution
-President Zelenskyy tells UK's Boris Johnson that next 24 hours will be crucial for Ukraine
-Belarus could join Russian invasion as soon as Monday
-Ukraine drone shoots down Russian missile system
-Russian losses so far: 4,300 soldiers killed or wounded, 200 prisoners of war, 46 aircraft, 26 helicopters, 146 tanks, and 706 armored vehicles
February 26:
---
-3rd day of war
-Russia announced Saturday that Vladimir Putin's army have been "given orders today to develop the offensive along all axes in line with the operation plan"
-Refugees fleeing Ukraine number nearly 120,000, could reach 4 million
-Turkey will shut off Russian Black Sea access to Ukraine
-Turkey denies it is closing Russian access to Black Sea
-The websites of the Kremlin and Russian Ministry of Defense are currently down following reports of cyberattacks
-International Criminal Court is monitoring Russia's invasion of Ukraine
-Massive traffic jam forms as Ukrainians try to flee to Poland
-Netherlands to supply anti-tank weapons to Ukraine
-Germany to supply Ukraine with anti-tank weapons, missiles
-Ukraine crisis: Kremlin blocking Russians' access to Twitter amid protests, criticism: researcher
-The US and European allies block select Russian Banks from the SWIFT banking system
-Missile hits oil depot near Kyiv
-Ukraine president declines to have the US get him out
-French President Macron asks Belarus president to demand Russian troops leave
-Ukraine claims gas pipeline was blown up in Kharkiv
February 25:
---
-2rd day of war
-"This morning we are defending our state alone. Like yesterday, the world's most powerful forces are watching from afar," Zelenskyy said. The president calls out NATO and other world powers for not doing anything
-Zelenskyy calls for an anti-war coalition
-Russian troops reaching Vorzel, on the outskirts of Kyiv
-Ukraine Defense Ministry says Russians attacking from Obolon in northern Kyiv
-Ukraine no longer in control of Chernobyl site
-Kyiv under siege
-Russia and the UK shut off airspace of each other's planes
-There is an estimated 60 battalions in Ukraine
-Xi Jinping and Vladimir Putin hold call
-Russia claims it has cut off Kyiv, mayor says city now in 'defensive phase'
-Putin says he is ready to negotiate with Ukrainian officials
-Putin demands Ukrainian army lay down arms, remove 'neo-Nazi' leadership
-Ukraine defense official claims Russia has lost 2,800 service members
-Russian marines land in southeast Ukraine for beach assault
-Russia has fired over 200 missiles into Ukraine
-UN announces over 50,000 refugees have fled country
-Hundreds gather outside White House to demand tougher sanctions on Russia
-Ukrainian marine sacrifices himself to blow up bridge
-NATO Response Force activated for first time and will provide defense for Europe
-Russian forces have mobile crematorium that can 'evaporate' soldiers killed in attacks
-Protesting in Moscow and St. Petersburg continues with 150 arrested
-US says it will finally sanction Putin directly
-Russia says Finland, Sweden could face consequences if countries move to join NATO
-Ukraine Defense ministry warns of Russians disguising themselves as members of Ukraine armed forces
-Heavy fighting and loud explosions reported in Ukraine capital of Kyiv
-President Biden authorizes $350M in order to provide military assistance to Ukraine
February 24:
---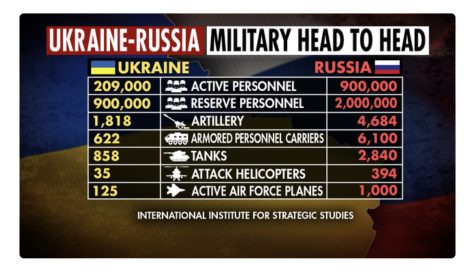 -1st day of war
-Ukraine President Zelenskyy reported 137 Ukrainians killed, over 300 wounded on Day 1 of Russian invasion
-Russia continues all-out invasion becoming the largest European attack since WWII
-European Union plans to hit Russia with its 'harshest' sanctions
-China refuses to condemn Russia for attacks, approves import of Russian wheat
-Ukraine's Zelenskyy declares martial law, severs diplomatic ties with Russia after the invasion
-Nato activates defense forces
-Airlines warned not to fly over Ukraine, use 'extreme caution
-Ukraine requests to join military surges, adding to military personnel
-Russia seizes Cherynbyl nuclear site, Ukrainian official claims
-Troops entering from Belarus have taken control of the decommissioned nuclear power plant 80 miles north of Kyiv
-Biden: Putin wants to re-establish Soviet Union
-US to deploy 7,000 troops to Germany in coming days
-Biden announces new sanctions targeting banks and ability to do business
-Kyiv mayor announce curfew from 10:00 pm to 7:00 am
-U.S. Commerce Dept. activates sweeping sanctions on exports to Russia
-Russia will lose access to semiconductors, computers, telecommunications, information security equipment, lasers and sensors.
-Russia cracks down on anti-war protests, more than 1,700 demonstrators arrested in Moscow and St. Petersburg
-Men ages 18-60 are not allowed to leave the country due to military state
-White House plays clean-up after Biden says 'no one expected' sanctions 'to prevent anything'
-Zelenskyy says Russian sabotage groups have entered Kyiv and are after him and his family
-European Union President Ursula von der Leyen announced a new sanctions package on Russia Thursday, including a ban on exports meant to target the country's oil refineries.
-Russian forces close in on capital of Kyiv as explosions are heard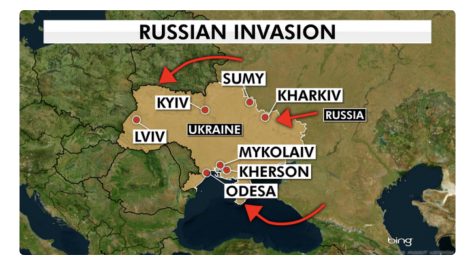 February 23:
---
-Canada announces economic sanctions against Ukraine along with 460 troops to Latvia
-Australia announces economic sanctions against Russia
-Zelensky calls on military reservists to active
-Russian, Ukraine deepfake video audio emerges sparking concern for misinformation
-Putin says Russia's core interests are nonnegotiable
-Ukraine sanctions lawmakers who voted to dismember Ukraine
-Ukraine tells citizens in Russia to leave immediately
-Lithuania and Poland declare support for Ukraine
-Ukraine Parliament, Ministry of Foreign Affairs, and its Cabinet of Ministers all appear inaccessible due to Russian cyberattacks
-New deployment of troops appeared in Belgorod, Russia less than 12 miles to the northwest of the border of Ukraine
-Turkey rejects Russia's recognition of the DNR and LNR
-Biden sanctions Nord Stream 2 pipeline owner
-Ukraine sets nationwide state of emergency
-Heads of DNR and LNR request assistance from Putin to 'repel aggression' from Ukraine
-Canada warns citizens to evacuate Ukraine
-France warns citizens to evacuate Ukraine
-Ukraine closes airspace as Russia military leaders head to command center
-Putin green lights 'special military operation'
-"I've made the decision to conduct a special military operation," Putin said. "Our analysis has concluded that our confrontation with these [Ukrainian] forces in inevitable." "A couple of words for those who would be tempted to intervene. Russia will respond immediately and you will have consequences that you never have had before in your history," he added.
-Essentially declares war
-Putin likens Ukraine to Nazi Germany
-Biden announces new sanctions
-Advisor to Ukrainian Interior Minister says invasion of Ukraine has begun
-According to the advisor, there have been missile strikes on Kiev, airfields have been hit by shelling, and there have been reports of explosions in Kiev, Kharkiv, Berdyanks, Odessa, and Zhytomyr
-There have also been reports of an amphibious landing in Odessa, while the Ukrainian representative to the United Nations said that Russia confirmed they have begun an invasion of Ukraine
February 22:
---
-Vladimir Putin orders Russian "peacekeepers" into Donetsk and Luhansk to "protect" them from Ukraine's "aggression." Tanks and trucks enter the region early in the morning
-Germany halts the certification of the Nord Stream 2 gas pipeline to Russia

-Power, heating plant hit by shelling in eastern Ukraine
-The UK sanctions five Russian banks and three wealthy individuals
-The US recognizes Russia's military activity as an invasion
-Ukraine confirms two soldiers were killed in the shellings previously and 12 injured
-Russian Lawmakers grant approval unanimously for Putin to use military force outside Russian borders
-Putin calls on Ukraine to demilitarize
-Protesters in Paris and Berlin protest outside Russian embassies for Ukraine
-27 members of the EU agreed on a set of sanctions targeting its parliament
-Biden announces sanctions against Russia itself
-Russia evacuates its embassy in Ukraine
-The military is moving F-35 Joint Strike Fighters and a battalion of 20 AH-64 Apache attack helicopters from Germany, as well as 800 soldiers from Italy, to Baltic states and Poland in an attempt to reinforce NATO's eastern flank
February 21:
---
-Russia declares Donetsk and Luhansk of the Donbas region of Eastern Ukraine historically part of Russia. Recognizes LNR and DNR as independent from Ukraine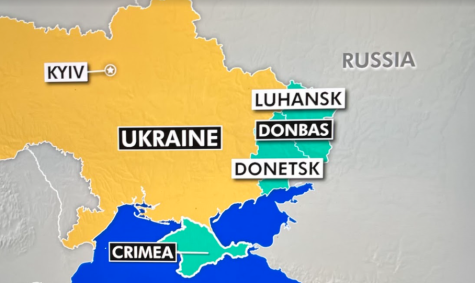 -US places sanction on these two separatist regions, not on Russia itself
February 20:
---
-Biden and Putin agree to meet in principle only if Putin does not invade Ukraine
February 18:
---
-Russian troops along the border reach 150,000
February 17:
---
-Luhansk and Donetsk separatist regions of Ukraine begin shelling Ukraine soil after a car bomb goes off in Donetsk and a pipeline fire in Luhansk; blame it on Ukraine
February 16:
---
-Kremlin severs Minsk Agreement
-Russia carries out a cyberattack on the Ministry of Defense and popular banks; the largest in Ukraine's history
February 12:
---
-The US fully evacuates embassy
February 11:
---
-3,000 more troops land in Poland
February 5:
---
-1,700 US troops land in Poland
February 3:
---
-Intel from Pentagon says that Russia is planning a false flag operation as a pretext for invasion
February 2:
---
-White House says invasion is imminent
February 1:
---
-Putin denies planning an invasion
January 28:
---
-Putin says security demands have not been met
-Russia moves blood supplies to border
January 23:
---
-US issues do not travel warning
January 22:
---
-Families of US Embassy personnel are ordered to start evacuating
-Lethal aid is shipped to Ukraine including 200,000 pounds of ammo
January 20:
---
-Ukraine president says to Biden "There are no minor incursions."
January 19:
---
-Biden predicts that Putin will invade Ukraine saying, "He has to do something. It's one thing if it's a minor incursion and we end up having to fight about what to do and not to do."
January 18:
---
-Russia sends troops to Belarus for major joint military practice
January 10:
---
-US and Russian officials meet in Geneva, both sides don't budge
January 3:
---
-Biden calls President Zelenskyy and tells him the US will respond decisively
December 17:
---
-Putin releases detailed security demands demanding that NATO stop all military action in Eastern Europe and not accept any former Soviet states into NATO
December 7:
---
-Biden calls Putin and discusses the situation. Putin demanded that NATO not expand eastward while Biden threatened to impose economic sanctions
-Biden says, "We have a moral obligation and a legal obligation to our NATO allies if they were to attack under Article 5, that's a sacred obligation. That obligation does not extend to Ukraine." Saying the U.S. would not deploy troops. Promised massive consequences
November 2021:
---
-Satellite photos show that Russia is building up troops along the Ukraine border. Ukraine president Zelenskyy says that there are 100,000 troops mobilized along the border.
-Zicron hypersonic missile test completed with success as it hits target 215 nautical miles away
*Information supplied by Fox News, New York Times, New York Post, and Al Jazeera
Leave a Comment
About the Contributor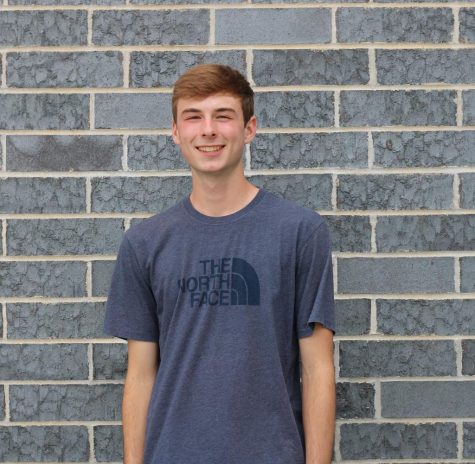 Joe Norman, Reporter
Joe Norman is a Junior and it is his first year on the Howler staff. He spends his time running cross country and track while also participating in Student Council.