Going for the Goal
Soccer athletes and coaches set their goals for the 2022 soccer season.
March 29, 2022
As a new soccer season rolls around at the Elkhorn North, soccer athletes are determined to play at the 2022 NSAA State Soccer Championship. In order to play at state, these athletes are creating goals that will improve their game.
Boys Soccer
On March 17, Elkhorn North's Boys Soccer team played their first home game against Roncalli Catholic High School winning by a score of 3-0. Junior Varsity also won their game with a score of 5-1. As of now, the Boys Soccer team has a 2-0 record.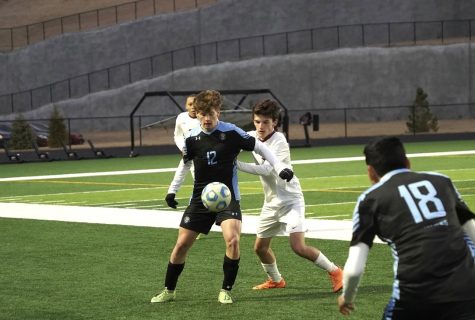 Sophomore Ben Sullivan plays on the Boys Varsity Soccer team as a midfielder and has been playing soccer for ten years. He enjoys playing soccer with his friends and teammates because they are very supportive and they make Sullivan feel welcomed.
When it comes to a new sports season, athletes will find ways to improve their game by creating goals they plan to achieve before their season ends. 
"My goal for the season is to make it to the state playoffs. I believe that this team is capable of making it to state," Sullivan said. "I plan on achieving these goals by working hard and putting in more effort than anyone else."
Sullivan is pleased with how the soccer season is going since the team has already won their first two games. Sullivan recognizes that the team has a lot of talent and potential which helps contribute to playing at state.
"A goal that I want the team to achieve is to make everything be positive because all of the negative comments tear the team apart and we don't play as well as we are capable of doing," Sullivan said. "I am looking forward to seeing the team come together more, have a stronger bond, and win as many games as possible."
Girls Soccer
On March 19, Elkhorn North's Girls Soccer team had their first away game against Roncalli Catholic High School winning by a score of 7-3. Junior Varsity also won their game with a score of 4-0. As of now, the Girls Soccer team has a 1-0 record.
Senior Shaylyn Heida plays on the Girls Varsity Soccer team as a forward and has been playing soccer for thirteen years. She enjoys playing soccer because she just thinks about playing her sport, not worrying about everything that is on her mind.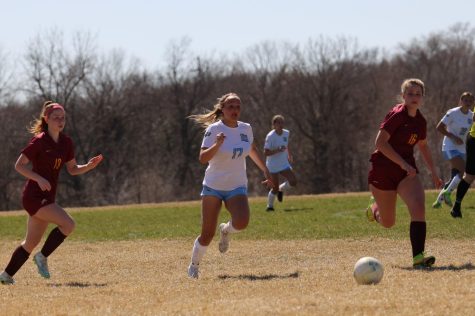 "My goals for this season is to beat my record and to make it to state," Heida said. "I plan to achieve these goals by focusing on staying healthy and not getting hurt. Communication will also help achieve these goals as well."
Heida is very proud of how this season has started for the fact that it started off with a win, which is better compared to last year. She is also proud of her teammates for being encouraging and uplifting during every practice and game.  
"I think as a team we need to try to focus more on communicating and making better passes with the ball to each other's feet," Heida said. "Another goal is having no drama. Drama was what hurt us last year because there was a lot of tension between some of the players, which threw us all off of our game."
Heidia is looking forward to playing with the team because they have fun playing together. She is also really excited to see where this year will take the team, in other words, she is hoping they make it to state. 
"I think we have a chance to make it to state this year because we almost made it last year with having no seniors, so I definitely think we can. We all just need to have the mindset to make it there,"
Heida said. "At practices, we all need to play game-like and not just go through the motions because that's how we will get better. I think we are all good enough to make it; we deserve it."
Coaching
Troy Stoller is the Head Coach of the Girls Soccer team. Stoller has been coaching in Elkhorn for fifteen years and enjoys coaching soccer because he likes seeing the girls be successful in achieving their goals for the season.
As the season continues, Stoller is looking forward to the challenges the girls will face and how they will react and overcome them. Stoller is very pleased with the girls' first game that started off the season with a win for both Varsity and Junior Varsity. Learning from last year's up and down season will help the girls understand how good they can really be.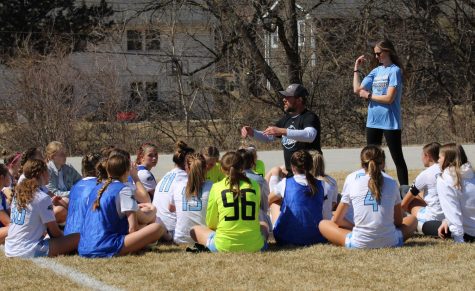 Stoller's main goal for this soccer season is to make it to state since the girls were close to making it last year. 
"Our goal as a team is to end our season at Morrison Stadium. Once we get to Morrison, anything can happen with the dynamic attack we have. With the experience and the type of leadership on this team, we're capable of going to state," Stoller said. "All 48 of us, coaches, players, and managers are in it together, so we need to be able to listen to each other and continue to learn from one another."
If there is one word to describe Elkhorn North's Girls Soccer team, Stoller believes that word is entertaining. 
¨Seriously, this group of girls makes me laugh every day. Doesn't matter what level they're at, if it's at practice, or in the film room, it's always entertaining!" Stoller said.