The Big Man on Campus: Ben Madrigal
Ben Madrigal is a phenomenal multi-sport athlete who can lift some big weight
Freshman Ben Madrigal is known for his big personality and his good relationship with his teachers and classmates. But Madrigal has another side though; his athletic side. Recently, Madrigal has put up some big numbers in the weight room. On max day, he squatted 495 pounds which is just 5 pounds less than the school record set by Zach Protraskey. The next day, he deadlifted 455 pounds. Madrigal not only put up amazing numbers on his leg lifts, but his arm lifts are just as impressive. Madrigal can bench press 245 pounds and hang clean 205 pounds. In total, Madrigal's numbers total a whopping 1,400 pounds. This puts him in the 1000 pound club which makes him one of the strongest boys at Elkhorn North. Many predict that he'll be the strongest person at Elkhorn North when the senior class graduates.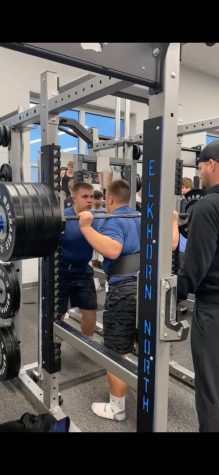 Madrigal's main motivation is his father. He was an avid lifter in high school at Millard South and into his college years When Madrigal first started lifting, his father pushed him to get better every day. Even now, Madrigal's father is his main motivation to improve himself. Another thing that motivates Madrigal is that he believes that all his hard work will pay off. 
"He motivates me a lot because he is always watching me on the field and after games, we watch film where he critiques what I did during the game." 
Madrigal's athletic ability goes far beyond the weight room. Madrigal is a lineman on the football team. Despite standing at 5 feet 10 inches and weighing 295 pounds, Madrigal can move like a fullback. He is one of the fastest linemen on the team. 

Strength coach Justin Carraher has been working with Madrigal for just over a year now and he says that he's seen massive growth in Madrigal. Carraher's strength program is very intense and it changes a lot depending on the week. "He's one of my favorite guys to see in the weight room. He comes in every day and works hard." Carraher said.
Another amazing aspect of Madrigal's story is that he only started lifting weights when he was 13 years old. His father was an avid weightlifter as a teen into his college years and he was the one to teach Madrigal everything he knows today. Madrigal is now 14 years old and still has a lot more growing to do before he is fully grown. Madrigal will be a sight to see in the near future.
Leave a Comment
About the Contributor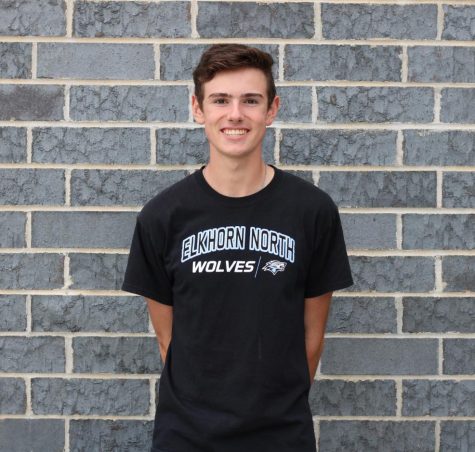 Aidan Ettleman, Reporter
Aidan Ettleman is a sophomore baseball player and first-year journalist on the North Howler staff. He loves all things sports and will never deny writing a good sports story.