New School, New Traditions, New Leaders
A whole new school means students and teachers have had a blank slate to start new traditions.
Elkhorn North High School opened for the first time last month, with this, came new responsibilities for a lot of students, and some teachers. Groups such as student council, cross country, football, and many more have had to create a new foundation. The absence of seniors may have affected these groups also, by giving a greater leadership role to juniors. 
Seniors have a big role on the football team, and many people may think they are necessary; but the Elkhorn North Wolves football team is succeeding without them. "It's more of an advantage than anything else because everybody has a fresh start with each other and with the coaches" said Coach Stanley. The only effect the absence of a senior class has is the size of the team, and the leadership role of juniors. Since the team is composed of only sophomores and juniors, they've had to change the way they practice with a smaller team. In addition to this, athletes are missing from injuries or from having to quarantine. Juniors at Elkhorn North were forced to take on this position as a leader a year earlier than usual, but stepped up and made it work. As sophomores, they relied on upperclassmen to guide them, so this role snuck up on them fast. "Our kids just didn't really have a choice, they needed to fill that role or that role would not have been met, and we would've been in trouble," Stanley said.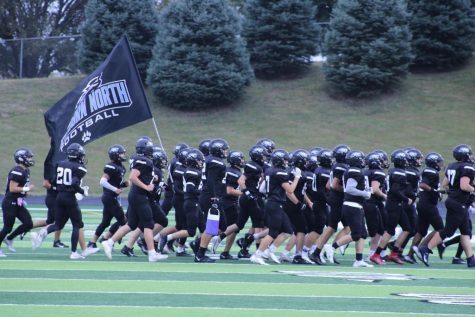 The main tradition the coach wants to set in place for football is the culture of the team. Such as, the expectations of coaches, the way they practice, and the way they play. The team has an intention to get better as the season progresses because they are extremely focused on setting the standards for years to come. 
Cross country has many traditions that make the team so much closer. The team plans to start a new tradition of being more inclusive, which means having a smaller separation between varsity and junior varsity. They also want to continue some traditions from Elkhorn High, such as team prayers, team ribbons, Floyd the team mascot, secret sisters, and more.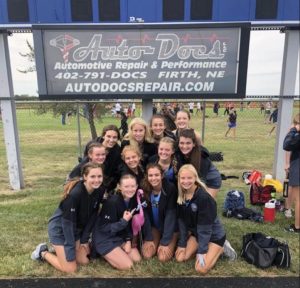 Secret sisters is when the girls on the team bring snacks and items to trade with each other the day of a meet to bring the girls closer together. They also make the day of the meet more fun by wearing ribbons, brought by Coach Annie Catania, in their hair for the race. Floyd is the team mascot, a flamingo, he stayed at Elkhorn High for around 6 years before moving to Elkhorn North. It all began when a student, who is now graduated and in college, wanted a mascot for cross country and chose a yard decoration flamingo. When she graduated, she gave it to a senior, who gave it to another senior when she graduated, and that is how it became a tradition.
The last person who had him at Elkhorn High decided to gift him to Corinne Mead, a junior at ENHS, instead of another senior at Elkhorn High. Floyd is seen as a connection between past cross country runners and current cross country runners, and means a lot to the team because it brings fun and friendship. 
Although, the lack of seniors has affected the implementation of these traditions because it is harder to create a friendly environment with the team. Corinne Mead said, "Me and a lot of the juniors feel that we're trying to make a really good effort to create a lot of structure, important rules, boundaries, friendship among the team members, traditions, and new ideas." Sophomores have also stepped up because they are such a big class, it is helpful for them to help set these new traditions in place. 
Student Council at Elkhorn North has a big role in setting traditions for the whole school. "I want to start new traditions since it's a brand new high school and I like the leadership aspect of it that you can help people around the school." Michaela Palmer said. Within the council, there are committees that organize certain things for the school, such as the homecoming committee or speaker committee. This year, the student council has already established more of these, so everyone has a role. The absence of seniors doesn't really affect them because they have a great team of 14 juniors. 
All sports, clubs, and organizations at Elkhorn North have had the opportunity to set new traditions in place because it is a new school. Juniors have had to step up and set these traditions in place, but they have done an amazing job. "I am extremely happy that I was able to go to Elkhorn North because I see opportunity to collaborate and create a better foundation for the new school," Corinne Mead said.