Malorie Rohe Puts the Pedal to the Metal
A look into Malorie Rohe's life competing in the competitive sport of Motocross.
May 11, 2022
Freshman, Malorie Rohe is not your typical female athlete, she competes in the most physically demanding motorcycle sport, Motocross. Motocross is a type of off-road motorcycle racing sport where participants ride motorcycles over rough terrain. 
Rohe started riding dirt bikes when she was three years old.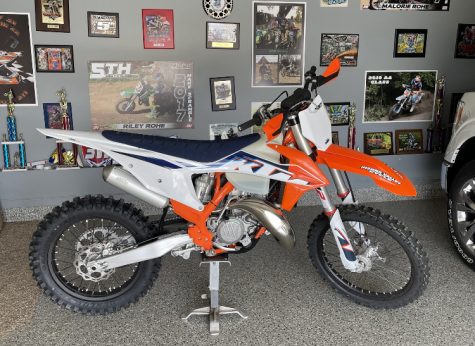 "Santa Claus surprised both me and my brother with a little Honda CRF 50 for Christmas. That was the start of my love and passion for this unique sport," Rohe said. 
Rohe's dad was the person who got her interested in riding dirt bikes. Her dad grew up around dirt bikes and was also a big racer when it came to Motocross. 
"He passed down his love for them to both me and my brother, and he was a huge inspiration and a great racer to look up to," Rohe said.
Rohe has been riding dirt bikes for twelve years now. She also has been racing for nine years.
In order to be successful on the day of the race, Rohe starts preparing for the race days prior. It starts off with bike preparation, making sure everything is clean and in working order. The day before the race Rohe makes sure she is staying hydrated. She even doubles checks or sometimes triple-checks her gear bag to make sure she has all of her gear. 
After preparing her bike and gear, she begins the long haul across different states to her race. All of her races are not located in Nebraska. The district that she races are in Iowa, Illinois, Minnesota, Kansas, and  Missouri.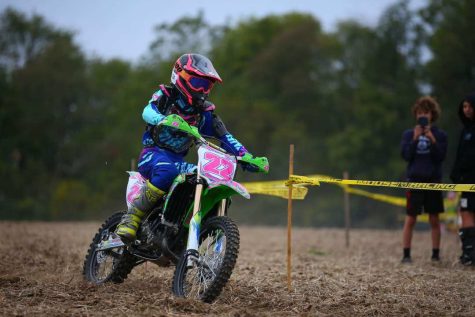 Rohe's favorite thing about racing is the adrenaline rush. For Rohe, it all starts the morning of her race. She wakes up with butterflies in her stomach that stick around all morning. When driving out to the race venue her mind rushes with the thoughts being number one. All her emotions suddenly hit her when she begins to gear up before the race. When Rohe rolls up to the starting line, her nerves kick in and her mind begins racing. Once the flag drops, Rohe zooms off the starting line. Now it's just Rohe and her bike; the only thing she's thinking of is being smart with her next move, finding the fastest way across the course,  and taking home the first-place trophy.
"The feeling when you race is like no other feeling. You feel free from the world, you feel unstoppable," Rohe said.
One of Rohe's favorite memories of racing was in Logan, Iowa. At this race, all of Rohe's competitors were boys. This race also mainly focused on the racer's capability and speed going up a super steep hill, this is called a hill climb. 
"I was the first girl to make it up the hill and the feeling of pure joy at the top is something I will never forget," Rohe said.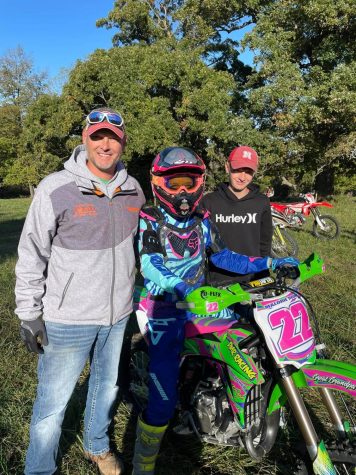 With Rohe's competitive nature, she is proud to say that she wins the majority of the races she competes in. For Rohe, winning a race is not all about receiving the trophy and standing up on the podium with a bunch of people taking pictures of her, it is about accomplishment. Winning shows her that all of her hard work has paid off. 
"I have been the annual overall class champion for the last 5 years. The feeling is like no other. This sport is solely relying on the rider and their techniques. Being able to actually see that all of the training that you have put blood sweat and tears into coming to life is something you will never find in any other sport," Rohe said.
Rohe's biggest supporters are her mom, dad, and brother. 
"They are the ones who have been with me every step of the way. Rain or shine they are always on the side of the course cheering me on. My brother gives me the best pep talks at the starting line and my dad is always there to give me good tips on how to overcome the course," Rohe said. 
There are many dangers when it comes to Motocross. Racers are fully responsible to operate a machine that weighs twice as much as them. The course itself is a huge danger too. If the racer makes one wrong move they could be sent off the face of a huge jump or be sent flying off into a tree. The mistakes of other racers around can also make or break a racer's performance. 
Many countless times Rohe has gotten injured, but nothing serious. In the middle of one of her races last season, Rohe was in the lead and her throat got caught on a tree branch.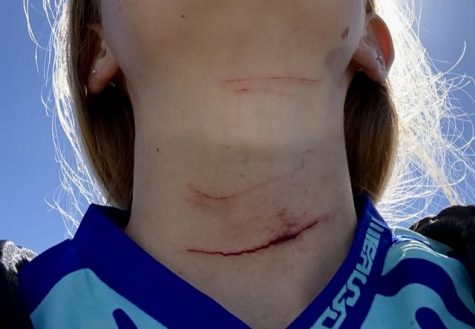 "I had no time to stop and risk losing my spot so I pulled the throttle back and the branch ripped across my neck. Let's just say I now have a pretty swaggy scar," Rohe said.
Rohe strongly views the unique sport of Motocross as a form of therapy.
"When you are on your bike all of your problems disappear. Nothing in the world matters. From the adrenaline rush at the starting line to the feeling of freedom while flying down a straightaway is something you will never experience anywhere else. Feeling the wind fly by you and seeing your surroundings race past is an unforgettable experience," Rohe said.