Now playing: ENHS' Biggest Hits
A look inside what ENHS students are listening to.
With the school year just starting up, ENHS students prepare their playlists for the year. For many students, school is a big stressor and music may help them escape for a bit. Now, not everyone has the same taste in music. This happens to be the case for ENHS. There's an endless list of genres that students are listening to. The main ones being rap, country and pop.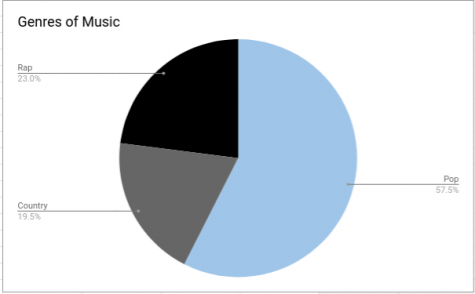 Students are listening to some of the biggest artists in the industry right now. From Harry Styles to Luke Combs to Juice WRLD. Paige Willcoxon, a junior, said, "Luke Combs has a pure country voice and his songs can be played when you are feeling any kind of emotion."
You most likely can catch a student listening to music while in school. Many of them will be jamming out while walking down the halls or whenever they have free time. Oftentimes, teachers will play music in the beginning of class or during work time. One teacher in particular is Mrs. Schlosser, a chemistry and physical science teacher. She plays a variety of fun, upbeat songs that the students seem to enjoy. 
Many of the students have said that music affects their mood. Dalia Khalafalla, a junior attending ENHS, said, "Yes! It can distract me from reality and put me in a better mood. I listen to it everyday." Other students would agree that music positively affects their mood and makes their day significantly better. Some student athletes will listen to music pregame to hype them up and better prepare their mindset.
Feel good music is the perfect recipe for a great time. Paige Willcoxon shared that her favorite song is "Love Me Like You Mean It" by Kelsee Ballerini. She said, "It slaps when you want to shout sing in the car with the windows down. The lyrics are catchy and it is in between pop and country so all of my friends like it too." 
Teens shockingly spend a lot of time in the car, driving to and from school or other activities they are involved in outside of school. This happens to be one of their favorite places to listen to their music. If it's not in the car, the next favorite place is their room.
Kyree Bennett, a junior, enjoys listening to music while in the gym working out. Kyree's favorite genre of music is rap and he frequently listens to NBA Youngboy. He said, "The beats are great in the songs and also a lot of the black community are rappers and I'll always support them."
Kyree's not the only one who enjoys supporting black artists. Dalia Khalafalla supports and is fond of R&B artist H.E.R. She said, "H.E.R. is my favorite because she is so talented and has an amazing voice. She knows how to play the guitar, bass, and piano and she also uses her platform to talk about political issues and other good news and she has great style." H.E.R. just won a VMA for her song "I Can't Breathe" which is about her support for the BLM movement. 
Music helps educate students about important issues going on in the world. H.E.R. is just one of the many that students are listening and can relate to. It gives students a connection to the world that is comfortable and familiar to them. Kids are finding it easier to get involved when they have an outlet like music.
Check out the Howler's Spotify playlist made up of songs that ENHS students are listening to!
https://open.spotify.com/playlist/1eMPJ3psHgYWIe3lcf029e?si=D6ag3K4fRxicO0hqowvYcQ