Middle School Prospects
The athletes of 2026 are bringing many talents and ambitions to Elkhorn North High School
This year Elkhorn North will graduate its first Senior class, leaving several empty spots on the athletic teams that will need to be filled. Many coaches and existing players are excited about the incoming freshmen class and what they will bring to the table. 
Elkhorn Grandview, the middle school that feeds into Elkhorn North High School, has had a lot of success with their athletics this past year. This gives many current athletes and coaches hope for some victorious years out of this class. 
Specifically, the eighth grade football team went undefeated and showed great growth from their seventh grade year. Several of the players from this football team are well-rounded athletes and plan to participate in many sports during the duration of their high school career. 
"We are very excited about the group of freshmen that we will welcome into our program this summer and fall.  We have heard nothing but great things about them as a whole," said Head Football Coach, Sam Stanley. "I was able to watch the football team win their championship last season, and what stood out to me beyond their ability on the field was how much fun they all had playing with each other."
The quarterback, Jase Reynolds, is planning on partaking in football, basketball, and baseball, and he is most looking forward to hopefully playing in state tournaments. With such a busy schedule, including offseason lifting and training, Reynolds is unsure if he will be able to continue his participation in club/select sports. As of now, he will focus on Elkhorn North High School athletics and developing with his new team. 
"My biggest goal is to build relationships with all the coaches and players on the teams," Reynolds said.  This includes "Coach Dunn and players, Myles Trausch and Colin Nowaczyk." 
Next, the wide receiver, Alex Uchtman, has proved himself to be quite an athlete during his time at Grandview. He was on the winning football and basketball teams, and he frequently scores high points at track meets through his own races and relays. While he still has to decide between playing baseball or running track in the Spring, he will certainly add a lot of speed and character to the sports he chooses. 
Many freshmen struggle with the sudden increase of school work and more time consuming athletics. Some student-athletes choose to put a study hall in their schedule but some have to make greater adjustments in their schedule.
"I am a multi-sport athlete so I am already busy but I am just going to need to focus more on not procrastinating on homework and getting it done as soon as possible so I can have as much time as possible to practice," Uchtman said. "I play sports because I love them and they bring people so much closer together and create bonds that are almost impossible to create otherwise."
Now, football is not the only sport these boys will soon lead. The boys basketball team only has one starter returning as three were seniors and Paxon Piatkowski is transferring to Millard North. This provides a rare opportunity for freshmen to take on more of a leadership role on the varsity team. 
Basketball player Nike Orgilbold has already put in the extra work as he transitions to a higher level of play. 
"I've been going to first pick, basketball practice, and other basketball workouts," said Orgibold. "I am excited to work with Coach King the most." 
Orgilbold has an older brother, Brandon, who is one of the current graduating starters for the basketball team. 
Moving on to the Spring season athletes, there will be participants in track and baseball. Many male athletes struggle to decide which spring sport to partake in because there are so many options: track, baseball, soccer, or golf. Some are considering running track in the spring and going out for legion baseball in the summer.
Barry Fries is one of the many athletes with this decision to face as he enters high school. He is undecided right now, but he has a goal for himself. 
"[I want] to be respected by upperclassmen and coaches and see progress throughout the year," Fries said. "I am going to bring a positive mindset and a good work ethic to help any team I am part of." 
Finishing off the boys' athletics with baseball, Chris Lozier has goals not only on the field but also in the weight room. Lozier is hoping to reach a 225 bench and 285 squat in the next few years. This will be attainable with his dedication to eating right, consistent lifting, and his involvement in sports. He is mostly looking forward to playing with current ENHS players such as Sam Huff and Ryan Harrahill.
"So far they've done very well and will be good people to compete and grow with as an athlete within the years to come," Lozier said. 
The girls' athletic programs at Elkhorn North have been very successful this year. The volleyball team made it to the state semi finals, the girls golf team won state, the basketball team won state for the second year in a row, the soccer team won districts, the tennis team won conference, and as of right now the girls track team has won conference, won districts, and is ranked first in Class B. The freshmen girls are going to have to work very hard to continue this legacy.
Several of these programs will be graduating many valuable players, with the exception of volleyball. Volleyball will return all starters, but freshmen will still add so much to the program and will learn under the first volleyball senior class.
Hayden Booth is a member of the 2026 class and will join her sister, current sophomore Reese, on the court next year. Not only will they be practicing together during the fall, but H. Booth is going out for basketball as well. She is not very nervous about the transition. 
"Just a little scared to play in front of more people than normal." Booth said. 
H. Booth is looking forward to working with Volleyball Coach Gragert and playing basketball with current ENHS sophomore Britt Prince. 
Moving on to softball, Kelsey Daubert is a freshman looking forward to the new opportunities that high school will provide. Not only is she looking forward to getting to know new people, she has the goal of making JV in her first year. Daubert is hoping that she will obtain even more wins and have more fun in high school than she did in middle school. 
Finally, Chloe Mead is an incoming X-C runner and soccer player. Mead has two older sisters at Elkhorn North already, graduating senior Corinne and current junior Cameron. She thanks Corinne for inspiring her to run in high school. Her goals extend beyond just the high-school level as she hopes to one day play in college. 
The bigger meets and games sometimes frighten younger teenagers because of the new environment, but Mead is ready for the change. 
"I am nervous to compete at high school level because I know that it is very competitive, but I am willing to put in the hard work to reach that level," Mead said. "My biggest goal going into freshman year is to have a fun time with my friends and be on a competitive team."
Overall, everyone at Elkhorn North has high hopes for the class of 2026 and the coaches are anxious to see their progress and development over the next four years. 
"As a staff, we are excited about getting to work with the class of '26," baseball and football coach Anthony Dunn said. "We are excited to see how they impact our culture and hope to continue their winning ways up here!"
Leave a Comment
About the Contributor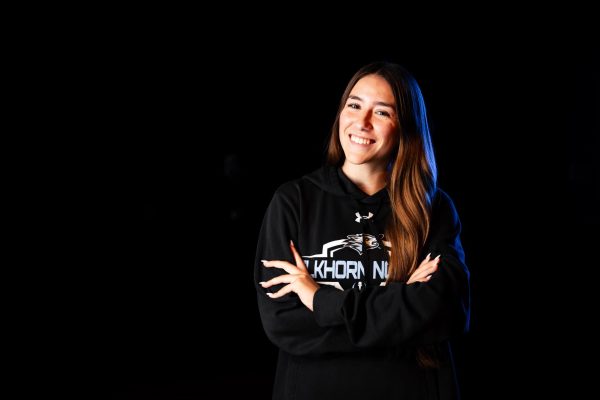 Mallory Ringenberg, Editor In Chief
Mallory Ringenberg is the Editor in Chief of the North Howler and it is her third year on staff. She participates in many school activities such as Bowling, Student Council, and NHS. When not in school she enjoys reading, walks, and hanging out with friends.