Trial 2 of Elkhorn North Athletics: A Success
The culmination of the spring sports season, which included three state championships, reflects the overall advancement of the Elkhorn North athletics program in its second year
Three state championships earned within a time frame of roughly twenty-eight hours. Baseball, girls' tennis, and girls' track and field all at the top of the Class B mountain. That is how the spring sports season concluded at Elkhorn North. A school in its second year taking that number one spot in three different sports in such a small amount of time is something unheard of. Adding on girls' basketball and girls' golf winning state earlier in the year, that makes five total championships for the Wolves in the 2021-22 school year. It's a remarkable accomplishment.
Head baseball coach Anthony Dunn's squad had maybe the most storied state championship run of any Elkhorn North team this year. The Wolves embraced a batman mentality from the beginning of the season and never let go of it. It became their identity and propelled them to securing the number three seed in the state tournament after dominating district opponents Concordia and Malcolm 8-1 and 10-0, respectively.
The Wolves were playing their best baseball of the year as they began the state tournament, downing Omaha Gross 11-0 and hanging onto a comeback push from Elkhorn High which went into extra innings, ultimately defeating the Antlers 12-8.
It was the Wolves' 9-3 loss to eight seed Waverly which was their toughest test all season. The Vikings, playing with house money as the Cinderella team of the tourney, decisively beat Elkhorn North and rolled to an automatic bid into the state championship game.
However, the Wolves were able to bounce back and defeated Central City, Skutt, and Waverly all in commanding fashion, which included twenty consecutive scoreless innings pitched by Elkhorn North pitchers. That's pretty good. Colin Nowaczyk's performance against Waverly was fantastic and he never wavered through seven innings, pitching a complete game and striking out ten. To cap it all off, Ryan Harrahill's spectacular catch over the dugout fence to win the game and snag the number one spot on ESPN SportsCenter Top 10 that night was awesome. 
"It was unbelievable and a moment that didn't seem real," Nowaczyk said. "From the start, showing the people watching what I was made of through pitching and hitting. It was something I'll never forget for the rest of my life."
That is a game, and a season, that will be remembered forever. 
The Elkhorn North girls' tennis team winning it all could be given the award for the most improved state championship team at Elkhorn North this year. In 2021, the Wolves finished 12th in state and had just two medalists in Paige Wilcoxon and Grace Jesske at No. 2 doubles.
Last year's finish to this year's state championship is an unbelievable achievement. Head Coach Lance Kush deserves a lot of credit for the progress this team has made.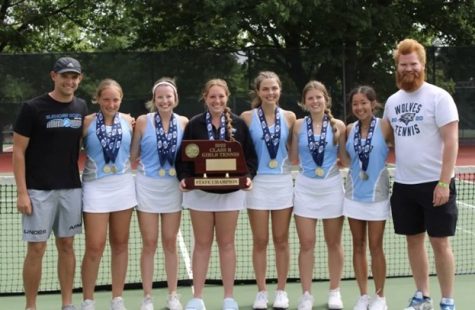 The Wolves were able to seal the deal when Cameron Jacobsmeier and Haylee Wolf took down Lincoln Christian at No. 1 doubles. Elkhorn North was already leading headed into the day, and this win gave the Wolves the championship.
Wolf and Jacobsmeier won at No. 1 doubles, Allie Tabaka and Jesske took the championship at No. 2 doubles, and Sophia Jones was runner-up at No. 2 singles. 
"We weren't even expected to place at state but the hard work paid off and we almost all placed individually and we won the whole thing as a team," Tabaka said. "We were all really excited and it was an experience I will remember forever."
The girls' track and field state championship was easily the most dominant victory, as the Wolves took the first place trophy with a total of 79.5 points with Bennington being the next closest at 55.5.
They were runner-ups last season and made the necessary progress this season to take that to the next level and win a state championship. 
The long sprints/middle distance runners for Elkhorn North led the charge both days at the state track meet. Both 4×400 (Grace Heaney, Britt Prince, Morgan Sachs, and Sydney Stodden in that order) and 4×800 (Prince, Sachs, Ella Ford, and Stodden in that order), took first place with times of 3:59.95 and 9:31.08, respectively. Stodden won the 400 meter dash and placed third in the 800 meter run, Prince took first in the 800 and fifth in the 400, and Heaney placed third in the 400. Not to mention, all four runners on that 4×400 team were on this year's basketball state championship team. Pure domination from them.
"It feels amazing for the whole team to come together because it really shows the hard work we have all put in together throughout the season," Stodden said. "I could not be more proud of my teammates and I am so glad I can be apart of this team."
Other noteworthy performances included Allyson Dutoit placing fourth in the 100 hurdles and third in pole vault, Savannah Bishop placing sixth in pole vault, Julia Karmazin placing second in the 3200 meter run and sixth in the 1600 meter run, and Lauren Lajara placing ninth in shot put. 
Let's not forget that these three state championships were just part of the success Elkhorn North spring sports showed this year. Both boys' and girls' soccer teams made state appearances while the boys' golf team will be competing this week in Scottsbluff with a chance to have some big performances, especially from junior Harrison Weddell. 
The boys' track and field team had success as well, making massive improvements from last year's team which included winning the Fairbury meet back in March. At the state meet, Jacob Horner took eighth in the 110 hurdles and ninth in the 300 hurdles, Conner Ross placed fifth in the 3200, Sam Thomas placed eighth in shot put, and the 4×400 relay team placed tenth.
This ending to the spring sports season was the perfect way to round off an incredible year of athletics at Elkhorn North. Five state championships, numerous state appearances, several district and conference championships, and fantastic individual performances all around.
But above all, a culture is being built at Elkhorn North. It was elevated substantially to new heights after the foundation was created last year. The rest of the state watches as Elkhorn North athletics progress rapidly with culture and passion unrivaled by most.
Year two was, without a doubt, a success. Here's to year three and the boundless potential within the athletics program at Elkhorn North.
Leave a Comment
About the Contributor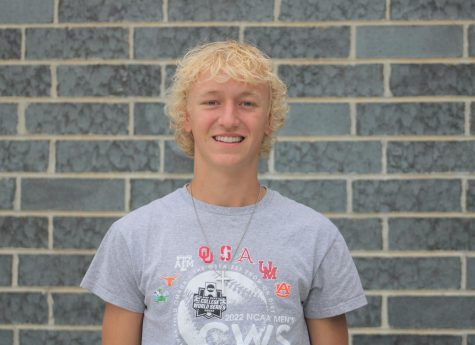 Caleb Polking, Sports Editor
Caleb Polking is a senior in his third year on staff. He's a STRIV guy and helps run the Howler's sports scene. He also loves to jump on desks and put peanut butter in the ceiling.