Elkhorn North Fall Sports Preview: 2022 Edition
A look at each Elkhorn North fall sports team as seasons are commencing
A new school year is upon us, meaning fall sports at Elkhorn North are underway for year three. Year one saw trial and error; it saw several foundations being built. Year two saw unbelievable progress and success. Year three will be about maintaining for some, while for others, it will mean attempting to elevate the bar even more. It truly is one of the most exciting times of the year.
Here is a quick preview of every fall sports team at Elkhorn North, along with a few comments from an athlete on each team.
Girls Golf
Why not start off by talking about the defending Class B girls golf state champions? Powered by Ellie Houston and the Karmazin sisters, Emily and Julia, the Wolves brought home the second state championship in Elkhorn North history last year, only to be followed by girls basketball, girls track, girls tennis, and baseball later in the year. 
On top of that, Julia Karmazin took home the individual state championship trophy as well. Emily Karmazin finished second and Houston took eighth. A successful season would be a massive understatement. Although Emily Karmazin and Houston graduated this spring, the incoming season still looks very bright for Elkhorn North. 
"We are really just focused on keeping a positive mindset and learning from each other's games," Karmazin said. "We're trying to improve as much as possible for each other."
The Wolves return Karmazin (junior), Emily Huff (senior), and Emma Hartnett (junior) from last year's team and the competition for the final two spots is strong. 
"It is really difficult but our girls have stepped up to the challenge and are willing to put in a lot of effort and time to improve their games," Karmazin said when asked about replacing Emily Karmazin and Houston. 
The season is already off to a great start, with the Wolves taking fourth place at the Elkhorn South invite on Monday which included an individual victory from Karmazin, who shot 70. It should be an exciting season for the reigning Class B champs. 
Boys Tennis
The Elkhorn North boys tennis team may very well have had the most improved season of any fall sports team from 2020-2021. They went from having no advancements to the second day at state in 2020 to having both doubles teams place in 2021 and both singles players putting up impressive performances over the course of the season. 
This included the number one doubles team of Jon Doscher and Ian Armbrust placing 5th and the number two doubles team of Luke Butler and Sheamus Sinnott placing 3rd.
And now, with no seniors having graduated from last year, the Wolves are primed for even more improvement in 2022. 
"Everyone worked really hard over the summer and off-season," junior Eli Shada said. "If the team continues to be unselfish and listen to coach, great things will happen."
Shada was the number one singles player on last year's team and presumably will be in that position again this year. Rejoining him from last year's singles side of things is Ryan Mensch who played two singles.
On the doubles side, Armbrust will have a new partner at one doubles as Doscher is no longer playing. He will likely be joined by Sinnott, meaning the number two doubles team will consist of Butler and, most likely, sophomore Jacob Pietrick.
Shada also spoke highly of freshman Brody Amrbrust who provides some depth for the Wolves behind that top six. 
If the Wolves can stay consistent all year, a team state championship is certainly not out of reach. Head Coach Lance Kush and the boys tennis squad have all the pieces in line for a very successful season. 
Girls Cross Country
After qualifying for state in both of the school's first two years, the Elkhorn North girls cross country team returns most of its runners, all while taking in the excitement of a new coach.
Yes, after a very successful career coaching cross country and track at Elkhorn High and Elkhorn North, Bob Wolf has retired. That brings in a new head coach, Jordan Fugelstad, who comes from Millard South. 
"Coach Fugelstad is a great coach with a lot of great ideas," sophomore Ella Ford said. "He has a tremendous amount of running knowledge and it is fun to learn from him. I'm excited to have him leading our team."
The Wolves did lose a decent amount of production from the last two years, including key runners in Corinne Mead and Collette Sneau. However, the team has a lot of young talent to help fill the shoes of those runners.
"It has been difficult to not have them here this year," Ford said. "Not only do we miss them, but they were a huge part of our team so that will be an adjustment we have to make. Their impact will be missed, but hopefully some people can step up and fill their spots well."
Despite the loss of some important runners, the Elkhorn North girls cross country squad has everything they need to repeat and qualify for state a third year in a row. Ford will be leading the way for the Wolves, with basketball prospect Britt Prince and sophomore Kailey O'Brien behind her. After that, the Wolves have some great competition for the other spots.
"We hope to be just as competitive as last year," Ford said. "There are some incoming freshmen that are doing great, so it will be fun to see what they can do."
Elkhorn North will begin their season this Saturday at the John Votta invite in Norris. 
Boys Cross Country
The first two years of the program's existence saw the boys squad barely fall short of qualifying for state. However, Michael Grigsby and Jack Sinnott punched their state tickets both years and ran exceptionally well for Elkhorn North. Now, Grigsby is graduated and preparing to run cross country and track at Doane University, leaving junior Sinnott to help lead a group that will be a big time contender in Class B this year and also a group that is breaking in a new head coach in Jordan Fugelstad, mentioned above. 
"I'd say that the expectations of the team would be to make it to state this year," Sinnott said. "I know we lost half of our team, but I have faith." 
Grigsby's graduation was a major loss, but the Wolves also lost contributors in Rowan Leahy and Ethan Edwards to graduation. All three helped build the foundation of the Elkhorn North cross country program in two years and saw individual success.
"It's definitely hard to replace Michael Grigsby, but I feel like I'm making more ground," Sinnott said. "Hopefully by the end of the season I can be where Grigsby was."
Changing coaches is also always a big deal, but Fugelstad brings great coaching and running experience to Elkhorn North and is setting up both boys and girls teams for successful seasons.
"He has Class A experience, which I like," Sinnott said. "The fact that he trained Class A runners brings a lot to the table."
Alongside Sinnott, Ryker Pithan, Conner Ross, Jake Sullivan, Luke Hunsberger, and Jose Jacquez are all making noise early in the preseason for Elkhorn North. It's a deep team with a lot of potential to do great things. With Fugelstad at the helm, the Wolves have high expectations for 2022. 
They, like the girls team, will begin their season this Saturday in Norris.
Softball
The Wolves finished 2021 with a 14-13 record and barely missed the state tourney in a season that was a rollercoaster at times. Winning streaks and losing streaks were the name of the game, but it was an improvement from 2020. Now, the Wolves are tasked with replacing a fantastic group of seniors which included Bailee Rinn, Michaela Palmer, and EMC All-Conference outfielder Mattea Martin. There are some challenging replacements to be made, but the Wolves have some serious untapped potential. 
"We have replaced some of the seniors with young players like freshman Delaney Phalen, who plays right field, Reese Pearson, who is a catcher, and junior transfer from Elkhorn South, Ashlyn Caniglia, who plays second base," junior pitcher Halle Pribnow said. 
The Wolves will be a young but talented team, and they return Pribnow, who pitched tremendously last season, EMC All-Conference player Addy Maxell, Reagan Pearson, and Jade Noonan just to name a few. 
"We hope to be more consistent hitting wise and to have a lineup that will bring good things to every game," Pribnow said. "I am also hoping to have more consistent pitching so that we have a strong defense." With Pribnow back after last year's fantastic season pitching and a lot of young but talented hitters filling the lineup, Elkhorn North certainly stacks up well on both sides of the ball. 
The Wolves are already off to a solid start beginning the season at 3-1, defeating Lincoln Northwest, Tekamah-Herman, and Fort Calhoun. They lost to Beatrice on Tuesday and will take a short commute to Millard South for a tournament this Saturday. 
Volleyball
Usually, when a team loses a heartbreaker in the state semifinals to end a season, the feeling is bittersweet. It's the case for every sport. Teams have to face the fact that a fantastic season has concluded and then say goodbye to a crop of seniors. However, that was not entirely the deal for Elkhorn North volleyball following a down-to-the-wire, 3-2 loss against Norris in the state semifinals last season. Sure, it was a tough loss as the Wolves were so close, but everyone walked away from Pinnacle Bank Arena with a sense of unfinished business. Why? Well, the Wolves are returning essentially the same roster for a third season in a row. 
"The will to win after that game is huge and it also helps that we are all so competitive and want to go even further," senior and Purdue volleyball commit Grace Heaney said. 
In 2020, the Wolves were composed of all freshmen and sophomores. 2021 was made up of all three classes except seniors. This year the Wolves will finally have a senior class and will enter a third season with the same players, meaning the chemistry runs high. On top of that, most Elkhorn North volleyball players are multi-sport athletes. 
"The cross training that we all get makes us stronger for volleyball and it also makes us mentally stronger since other sports require different competition," Heaney said.
The Wolves played very well in their preseason jamboree last Thursday, defeating Wahoo and playing competitively against reigning Class A state champions and nationally recognized Papillion-LaVista South. Elkhorn North will be led by Heaney, her younger sister Shay Heaney, Reese Booth, Ava Spies, and many others. They will begin their season Thursday at Elkhorn.
Football
Two wins in two years obviously doesn't look great on the schedule. Football may be the most difficult sport to win in without seniors, as was the case for Elkhorn North in 2020. It also becomes very tough to win when you have lost the majority of your playmakers to injury by the final few weeks of the season, proven by the Wolves in 2021.
When the schedules are viewed in that way, and it is also taken into consideration that Elkhorn North played some Class B contenders very competitively last year, mindsets start to change a little bit.
Nevertheless, Elkhorn North is due for a breakout football season, and the Wolves seem to be set up to do just that in 2022.
"The players have been working to bring in real success this season since June," senior running back Christian Young said. "Physically we are prepared but it's how everyone prepares each week leading up to Friday that will give us an edge," Young said.
Young's injury in the third week of the season last year against Plattsmouth was a prime example of the struggles Elkhorn North faced with guys going down. If they can escape the injury plague, the Wolves have some serious chances to elevate the program to a much higher level this year.
In addition, the schedule this year is much more favorable to Elkhorn North than it has been the previous two years. Last season, for instance, the Wolves faced a Class B top ten team for the first five weeks of the season and played two more later on. Only two teams, Ralston and Mount Michael, were not top ten teams when they played Elkhorn North. 
This year, the Wolves will face two brand new schools. Only three teams on the schedule finished in the Omaha World-Herald's Class B top ten rankings in Bennington, Elkhorn, and Grand Island Northwest. It sets up nicely for Elkhorn North.
As far as the field goes, the Wolves lost a lot of production from the last two years, most notably Easton Mains, Kyree Bennett, Sutton Johnson, Shan Acharya, and many more. New players will be filling positions across the field, most notably Josh Basilevac taking over at quarterback. 
With the roster turnover, Elkhorn North could look different stylistically this year. 
"Our offense is going to constantly change to fit the strengths of all our personnel and give us an advantage against what we think teams will bring to us defensively," Young said. 
Even though a lot of playmakers from the last two years are now gone, Elkhorn North's roster this year is exciting and, if they can stay relatively healthy, the Wolves will see substantial growth within the program.
The Wolves kick off their season this Friday against Hastings at 7:00 p.m.
Leave a Comment
Your donation will support the student journalists of Elkhorn North High School. Your contribution will allow us to purchase equipment and cover our annual website hosting costs.
About the Contributors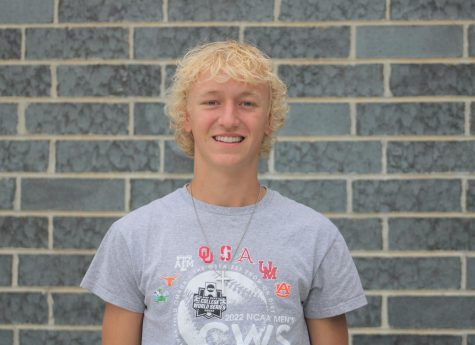 Caleb Polking, Sports Editor
Caleb Polking is a senior in his third year on staff. He's a STRIV guy and helps run the Howler's sports scene. He also loves to jump on desks and put peanut butter in the ceiling.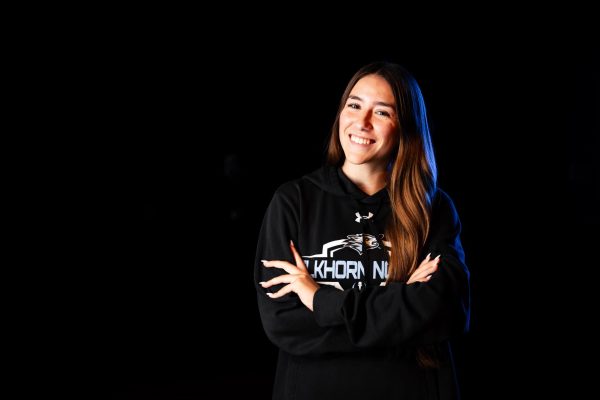 Mallory Ringenberg, Editor In Chief
Mallory Ringenberg is the Editor in Chief of the North Howler and it is her third year on staff. She participates in many school activities such as Bowling, Student Council, and NHS. When not in school she enjoys reading, walks, and hanging out with friends.