Boys Varsity Tennis Update
The boys varsity tennis team has started off their season strong and is getting ready for the state tournament.
September 16, 2022
The Elkhorn North varsity boys tennis team is not just a group of guys who play tennis; they have a passion and love for the sport unlike any other. They are also known for their hard work and sportsmanship towards other teams. This year, the boys have one goal: to win state. 
"After I saw the girls win state, I texted the coaches and said, "Lets go get one of those,'" Armbrust said. Ian Armbrust is a senior and plays in the one doubles position on the team. 
"I am really looking forward to playing McCook this year," Armbrust said.
 McCook is the biggest competition for the state tittle. From one doubles to two singles, McCook is a huge rival for the tennis team. This is the first year the team dynamic has really changed.
 "It does feel different to have a senior on the team," coach Lance Kush said.
 Armbrust is the first senior on the boys varsity team. Junior Luke Butler also plays doubles on the team. He and Jacob Petrick hold the two doubles spot on the team.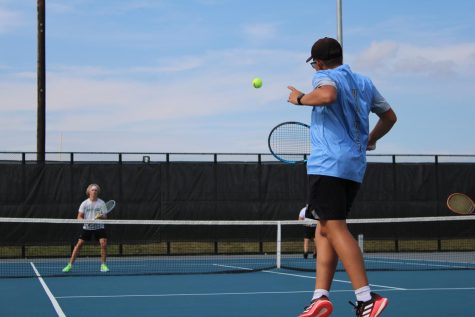 "So far what has gone well is that we have won all of our matches," Butler said. 
With an undefeated record and a good work ethic they are on the road to a state championship. The state tournament is by far what the boys are looking forward to most. 
"I am excited for the state tournament and to see how the boys compete," Kush said. 
As the tournament gets closer these boys are mentally preparing fo the amount of pressure they will be under. 
"I try not to be nervous because if you get nervous you start to overthink. I also try not to look at it as winning or losing and as just going out and playing confidently." Armbrust said. 
"Nerves will always pop up, but these boys have been preparing for this" Kush said. 
The boys varsity tennis team is not only full of passionate tennis players, but full of guys who have a work ethic like no other, and a love for the game that brings them together.