Student Spotlight: Britt Prince
All around sports star has made a name for herself.
By Anja Kovacevic, Reporter
September 29, 2020
Britt Prince is currently a freshman at Elkhorn North High School and has built an impressive sports resume during her athletic career.  
Though originally from Fremont, Nebraska, Prince enrolled in Elkhorn Public Schools over the summer and has continued her successes here. She has shown her skills at Elkhorn North by playing for the soccer team, running cross country, where she came in first place in her first two races, as well as being a part of the track team. 
When not at school, Prince also has other sports that she is a part of. She plays for the Elkhorn Soccer Club and plays basketball for Elite. Prince is majorly known for playing basketball and she's been playing for almost her entire life. She began to play at the age of three and is still in love with the sport. She has received two Division 1 offers because of her skills in basketball: one from Creighton University and another from the University of Nebraska-Lincoln. When talking about the offers she received, she said, ¨I definitely feel like it's my favorite thing that I have gotten because of sports.¨  
Prince hopes to continue her basketball career to bigger terrain and is very excited about the schools that have approached her so far. She strives to be able to play for a university but said that she thinks that she will have to continue to work extremely hard if she wants to get there. Prince even hopes to be able to join the WNBA one day.  
Juggling all these responsibilities can be tough for a new high school student, but her motivation for continuing all her activities is the fact that she does it because she enjoys it. Prince said "I do it all because I really love it and want to have success,"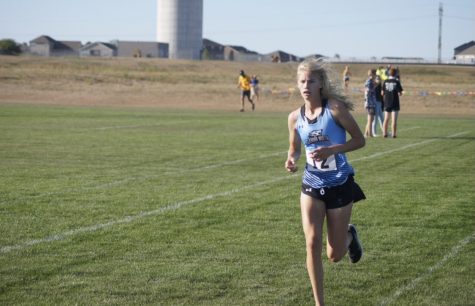 She has found a way to be an important member of her school in both sports and academics. Keeping up her grades is an important part of her life and she seems to have no issues with balance, when mentioning school she said, "it hasn't been that difficult, I usually have a good amount of time to get all my work done and have success in school and sports."
In the time she has when she's not playing or studying she likes to hangout with her friends. For any of the other kids who have the same hopes as Britt Prince, the advice she has is "just take your chances and do your best in everything".