National Honors Society Induction
National Honors Society welcomed the next class of juniors, and new seniors on September 11, 2022.
September 20, 2022
On September 11th, National Honors Society welcomed its next class of juniors, as well as seniors who were not admitted last year.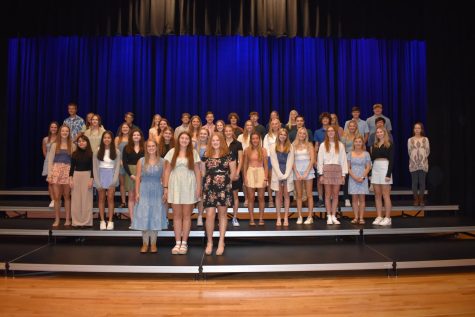 While reasons for joining National Honors Society may vary, newly admitted member Jon Doscher said, "It looks great on a college resume and allows for more scholarship opportunities." 
The academic requirements for members show colleges students' interest in academics and commitment to serving the community. The annual NHS inauguration welcomes members who have maintained a cumulative 3.5 GPA and have several hours of service.
The National Honors Society recommends 100 hours of service to have the best chance of acceptance.
The 2022 inauguration included a reading of the list of members, a speech from both the Principal and Vice Principal recognizing the members success, and presenting the official National Honors Society certificate of membership to the new inductees. 
For the next year, these new members will help organizations all around the state with their volunteer work. National Honors Society is the prime example of academic success and Community involvement within Elkhorn North.