Standing Above the Rest
A look into the athletic, academic, and social life of Elkhorn North's, Sam Thomas.
October 3, 2022
Sam Thomas is a junior at Elkhorn North who has experienced a plethora of success in different areas throughout his high school career. His participation in athletics, such as football and track, are only a part of his well-rounded extracurricular list. He was inducted into the National Honors Society earlier this year and he has taken on the workforce in addition to his already full schedule. 
This Fall, Thomas has been a starter for both varsity offense and defense on the football team. He has brought his size and great athleticism to the line, and continues to be a key contributor to the Wolves victories. 
Head football coach, Sam Stanley, has been thoroughly impressed with Thomas's accomplishments under his coaching but believes the sky's the limit with his potential. 
"He's been playing varsity since he was a freshman, about halfway through his freshmen year we had to call him up. That's not an easy thing to do for anybody, especially in his position (linemen)," said Stanley, "He handled that tremendously well and ever since he has just built upon that. I think his biggest accomplishments are yet to come."
Thomas's skill-growth since his first high-school season hasn't gone unnoticed by his coaches. Michael Zeplin, an assistant football coach, has been impressed with the increase of, "His confidence and learning how to play with his ability," Zeplin said, "He's been blessed with a great deal of athleticism and learning how to develop that has been his biggest improvement."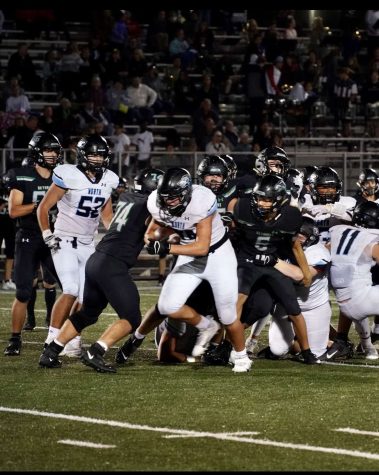 Zeplin is not only on the football coaching staff, but he has been Thomas's most prevalent track coach since Thomas's seventh grade season. Thomas throws shot put and discus for Elkhorn North in the Spring and even got the opportunity to represent the wolves at the 2022 state track meet. 
"The thing I'm the most happy about was making state and then medaling at state as a sophomore, which is pretty rare for shot and discus," said Thomas, "I was a little disappointed because I didn't throw as well as I had during the season, but I am hoping that will change next year."
Thomas's sophomore year personal records are 54′ in shot put and 161′ in discus, which is impressive at any level. Still, he and his coaches hope to increase these numbers and become a state champion. 
Being a multi-sport athlete is a time consuming commitment on its own, but with the added dedication Thomas has to his academics and out-of-school activities his schedule is quite full. Outside of athletics he is an honor-roll student and involved within his church. Thomas manages to maintain an advanced GPA while working on and off the field. 
He works alongside several other Elkhorn North students at Jersey Mikes, a sub shop located off 180th. One of his coworkers and companions, Zac Horner, appreciates Thomas's work ethic and his friendship.
"Sam is one of the hardest working guys I know, either on the football field or at school he's always trying to give it his all. He is a pretty active person and doesn't get many breaks," said Horner, "I've been good friends with him since early elementary school and to this day he's been a great friend."
Coach Stanley believes Thomas to not only be a phenomenal athlete but a genuine person and teammate. To his coaches, Thomas's attitude and coach-ability goes hand in hand with the array of success. 
"One of Sam's best attributes is his humility and the way he treats other people. Sam is a very selfless person and he naturally puts everyone else before himself," said Stanley, "I don't know if I have ever heard Sam ask for anything for himself, he does the work in front of him and what the team asks of him."
"Where he can go from here, I don't think anybody really quite knows where that is. I think he is going to be a pretty special player by the time he's out of here," said Stanley.