Monday Rewind: Defeat in a Defensive Showdown
A low-scoring affair ended in a 21-7 victory for Bennington over Elkhorn North
Elkhorn North gave Class B's very best a run for its money on Friday night. In fact, the Wolves played Bennington closer than any other team has so far this season, with the next closest game the Badgers have competed in being their 41-21, 20 point victory over Elkhorn High. 
There are no moral victories in sports, but the Wolves have to be excited at the fact that they were in the football game, essentially, until the back half of the fourth quarter. Defensively, Elkhorn North put up one of its best performances in the program's three year existence, limiting the most proficient offense in Class B to 21 points, well below its season average of 43.71 points per game heading into the match-up.
However, it was still a loss, dropping the Wolves to 5-3 on the season and improving Bennington to 8-0 alongside extending its win streak to 21 games in a row. While the Wolves certainly put up a resilient fight, the Badgers proved to be a bit too much. 
The temperature was 62 degrees and fairly windy at kickoff which posed the question: Would Bennington be able to execute its ultra-efficient passing attack as seen throughout the season?
The answer ended up being no as the Wolves limited Badgers' star quarterback Trey Bird to just 78 yards on 12 completions. However, it didn't matter for Bennington.
Elkhorn North constructed two productive drives to start the game, pushing deep into Bennington territory both times. However, the first drive ended in a fumbled handoff between Josh Basilevac and Christian Young which forced the Wolves to punt and the second ended on a failed fourth down attempt which was set up by a false start a couple of plays earlier. 
Bennington was able to march down the field in commanding fashion on their second possession of the game and the Badgers took the lead on a Nick Colvert touchdown run within the final minute of the first quarter. The scoreboard read 7-0 after one. Not a bad first 12 minutes for Elkhorn North.
The Wolves punted right away to start the second quarter and Bennington put together another successful, drawn-out drive in which the Elkhorn North defense played well but were eventually overrun by the Badgers' rushing attack. Colvert scored on a pass out of the backfield on a botched play by Bennington. The Badgers took a 14-0 lead with 6:38 to go in the half.
Following a weird kickoff that was killed by the wind, recovered by Bennington, and eventually ruled a kickoff penalty, Elkhorn North amassed another nice drive led by Basilevac and Jett Tingelhoff, fresh off of an injury which sidelined him during the Mount Michael game. 
However, Bennington's Gunnar Lym intercepted a pass inside the Badgers' 30 yard line which decimated Elkhorn North's momentum. Tingelhoff was able to force a fumble and the Wolves got the ball in Bennington territory again, but the Elkhorn North offense was unable to put the ball in the end zone with a couple of overthrows. The Badgers led it 14-0 at halftime.
Bennington got the ball to start the third quarter and Colvert continued to run well behind a cohesive Badgers' offensive line. However, a big stop by Sam Thomas on third down forced a missed field goal from Bennington's Vaughn Anderson. 
This brief increase in momentum was quickly diminished by a Basilevac interception on the next play. The Badgers got the ball back and scored quickly on another Colvert touchdown from four yards out, his third of the day. Bennington extended its advantage to 21-0 with 7:23 left in the third quarter.
The rest of the game followed a similar pattern. A couple of fantastic punts by Chase Loftin for a combined 77 yards were followed by stout Elkhorn North defensive play. However, the offense couldn't find a way to do enough to get the Wolves back in the game.
Elkhorn North eventually broke through offensively as Christian Young scored on a six yard touchdown pass after a methodical drive to make the score 21-7. It was too little, too late, however, as only 2:21 remained on the clock. The ensuing onside kick failed and Bennington solidified a 21-7 victory to secure its eighth win of the season.
Elkhorn North, while losing, still showed a lot of promise.
First of all, this is the healthiest this team has been since the beginning of the season and easily the healthiest it has been heading into the final week in the program's three year existence. Big name players like Cole Sharar, Tommy Meckna, and Tingelhoff, who have all been slightly banged up recently, played against the Badgers without any major issues.
The Wolves put on a fantastic defensive show. Yes, they gave up 21 points, but they gave up 21 points to a team that hadn't previously scored below 33. That's pretty good. And it wasn't just the point total. The Wolves looked gritty and stingy on defense. They were filling gaps, locking down talented receivers like Isaac Conner and Jonathan Williams, and overall making life difficult for the Badgers on offense.
Sure, Bennington had a nice day in the run game. The Badgers put up 160 yards on 22 carries for a clip of 7.3 yards per carry. However, the Wolves made some big plays when they mattered in terms of rushing defense. 
Passing wise, Bennington was essentially nonexistent. Trey Bird ranks third in Class B in terms of passing yards per game, averaging 178.5. On Friday, he was held to just 78 yards. Conner is second in Class B when it comes to receiving yards per game at 69.5. He was limited to 22 yards on only four catches. Props to the Elkhorn North defense, particularly the secondary, on that level of play.
It wasn't a win, but it was a hard fought one from the Wolves and there is no doubt about that.
Elkhorn North will travel to (5-3) Blair this weekend who currently sits at seventh in Class B power points, although only a little over 1.5 points ahead of the Wolves who are in twelfth. Elkhorn North is a lock in the playoffs, but could find itself hosting a first round game with a win this Friday. It depends on how other games in Class B shake out. We will see what happens.
Leave a Comment
About the Writer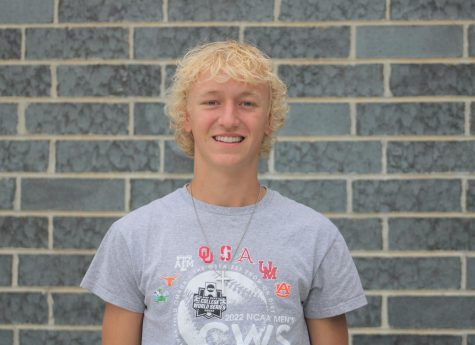 Caleb Polking, Sports Editor
Caleb Polking is a senior in his third year on staff. He's a STRIV guy and helps run the Howler's sports scene. He also loves to jump on desks and put peanut butter in the ceiling.